Past Peekskill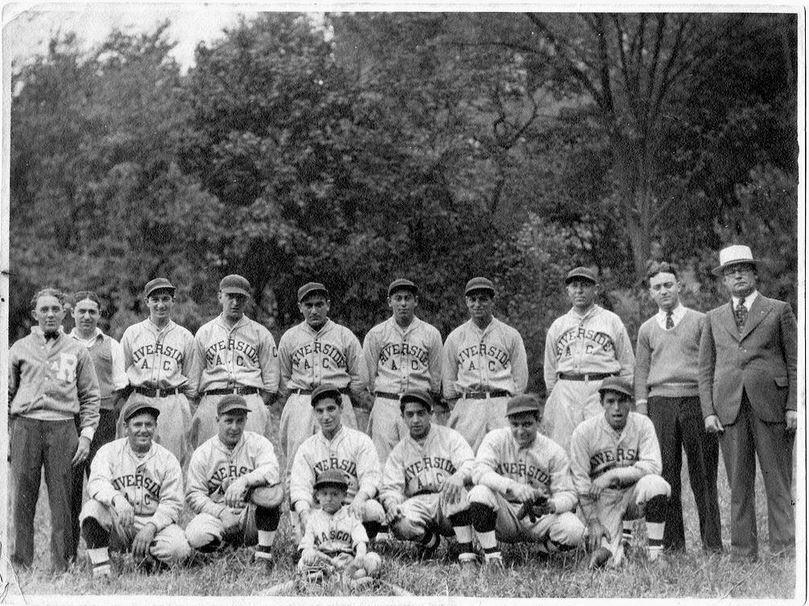 The semi-pro Riverside AC Baseball team from the 1930's had lots of familiar Peekskill names. First row from left to right: Jim Mosco, Ernie Burchetta, Gerard Chefalo, Joe Bertoline, Willie Bianco, Babe Carano
Second row from left to right: Leo Palmero, Don Bianco, Jim Chefalo,Gabe Scalzo, Angelo Alimonte, Charlie DeMeo
Bat Boy: Charlie Rinaldi, Jr. Managers from left to right: Leon Heady, Charlie Rinaldi Sr., Fred Bianco Sr., Martin Smith
Sports photos from the 1930's are the subject of a photographic display on the walls of the Kurzhals Coffee Cafe on the corner of Main Street and Nelson Ave. The images were captured by working press photograpers of The Sun, a daily New York newspaper published from 1833-1950.
According to the statement by artist Andrew Aronstein who created the exhibit, the all-new, digital scans of the original glass plates have been utilized to restore the historic content. None of the photographs, featuring both Hall of Fame subjects and long-forgotten professionals, have previously been offered to the public in the large size and with the intense level of clarity that are displayed on the brick walls of the coffee shop. Many are being presented at Kurzhals for the first time. The exhibit runs through the end of February.