Those Amazin' Mets and How They've Perfected the Art of Losing
Author Talk at The Field Library Tuesday night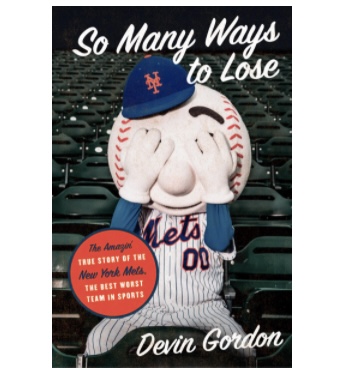 Those amazin' Mets know the difference between being bad and being gifted at losing. Just exactly how they know will be the subject of a free talk at The Field Library on Tuesday, July 20 at 7 p.m by journalist and Hendrick Hudson graduate Devin Gordon. So Many Ways to Lose: The Amazin' True Story of the New York Mets, The Best Worst Team in Sports is a hilarious history of the Mets and love letter to the art of disaster. The event is sponsored by Friends of the Field Library. For this in-person event, guests are required to wear masks.
Ron Darling, a pitcher on the '86 World Series champion NY Mets said Gordon's "ability to explain the Sisyphean plight of all Mets fans is truly remarkable, and I was thoroughly entertained with the knowledge that coming up short can be an art form."
The Mets lose when they should win. They win when they should lose. And when it comes to being the worst, no team in sports has ever done it better than the Mets.
To register for this free event, click here
Copies of So Many Ways To Lose, signed by the author, will be available for purchase at the event.  You may also purchase a copy through the above web link.
Devin Gordon is a contributing writer for a number of publications, including The Atlantic, New York Times Magazine, and ESPN the Magazine. He has served as executive editor at GQ Magazine for eight years and was a writer and editor at Newsweek.
He grew up in Peekskill and was voted "Most Stubborn" by his peers in the Class of 1994.  After living in New York for more than 20 years, he now lives outside Boston with his wife and two children.  One of his parents still lives in Peekskill, the other lives right across the city line.
This author talk is one of the many events sponsored by Friends of the Field Library which is beginning its first annual membership drive. The support of members of Friends of the Field Library provides financial assistance to the Library. "Our goal is to assist the Library in its strategic vision for the future as an engaging place for all members of the community to gather and learn."
For the past few years, the Friends have held numerous author talks (both in-person and virtual), including Allison Pataki and Mark Bittman. The Friends have presented trivia contests on Peekskill history and popular culture.  Two years ago, the Friends became the host of The Field Library's prestigious annual Chester A. Smith Award; this year they plan to present the Award to Rev. Jeannette Philips in the Spring.
Payment can also be made by check made out to Friends of the Field Library and mailed to: Friends of The Field Library, P.O. Box 2383, Peekskill, NY 10566