There were tears and songs and voices cracking with emotion. And there was plenty of talk of the situation being personal. That's the way speakers described the massacre of first graders at Sandy Hook Elementary School during a vigil at Peekskill's Neighborhood Center last Saturday on the 7th anniversary of the shooting of 20 children and 6 adults in a Connecticut school.
The tears and moments fraught with emotion came as people recalled what happened on December 14, 2012.  "It is one of those days where you remember what you were doing and where you were when you heard the news," state Assemblywoman Sandy Galef told the crowd of about 70 people.  Peekskill Police Chief Don Halmey, in a written statement read by Deputy Mayor Kathie Talbot, compared the words Columbine (scene of a mass shooting at a high school in 1999) and Sandy Hook to Pearl Harbor and 9/11/2001 because they are synonymous with death and destruction.
The event was held to commemorate the lives that were lost and to raise awareness around the issue of gun control. It was sponsored by CD 17 Indivisible, Hope Indivisible and Brady Westchester, part of Brady United Against Gun Violence along with community activists Jay Forbes, Tina Bongar, Marianna Stout and Deputy Mayor Kathie Talbot.
In addition to politicians telling how New York State and Westchester County passed tough gun laws in the wake of the Sandy Hook tragedy, Peekskill School Assistant Superintendent for Elementary Education Mary Foster spoke the words to a song, Twenty Six Star,s  that were written by current 11th graders when they were in 5th grade at Hillcrest Elementary School 7 years ago. They worked with music teacher Crystal Hernandez who is now acting principal of Oakside School to compose the song.  Foster also talked of measures taken in the schools for children's safety. "Teachers love and protect children as if they were their own," said Foster in describing the security systems implemented in city schools.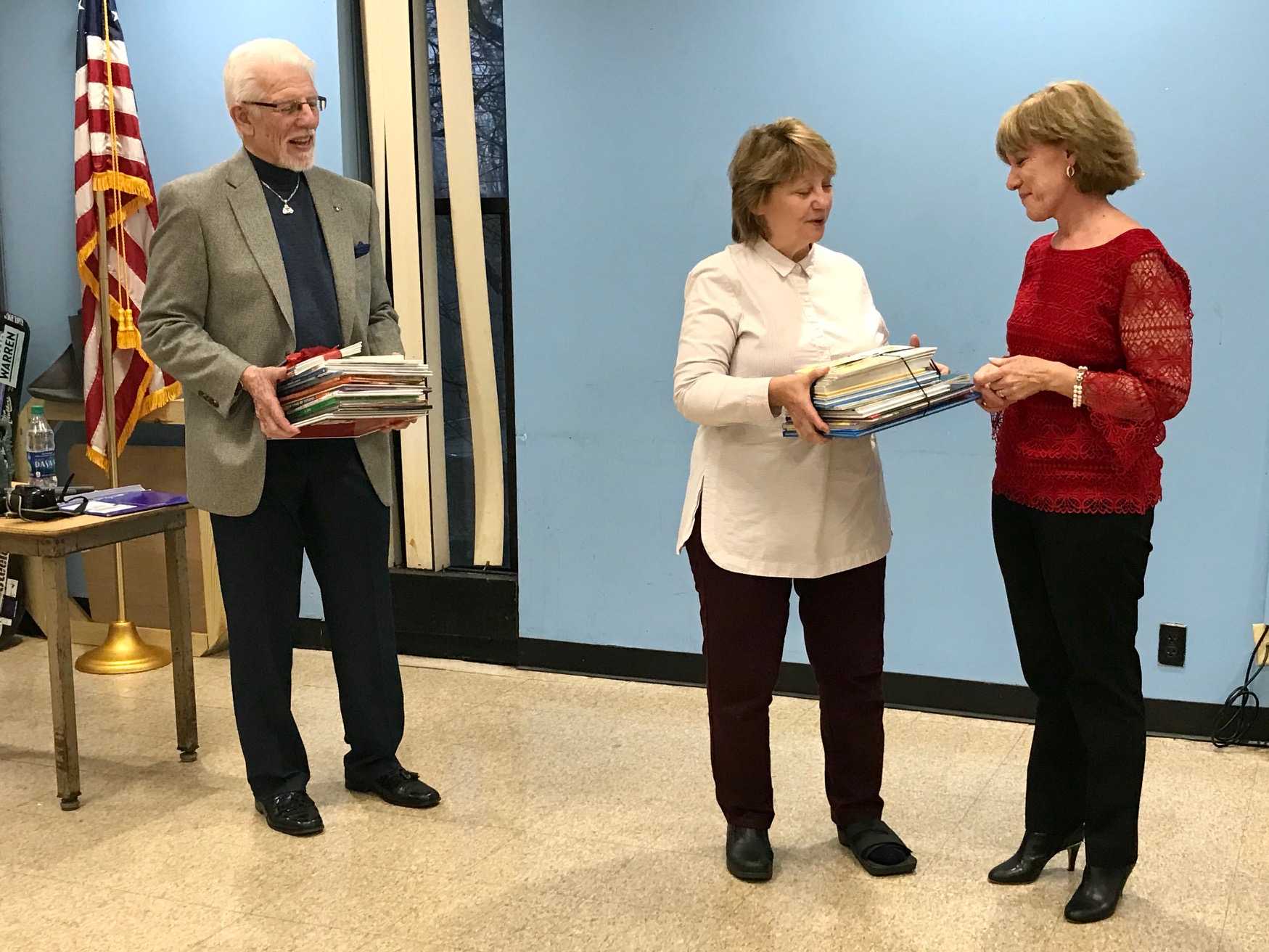 She also received from Mary Foster, former mayor Peekskill and a Field Library trustee,  a collection of books for the school district's first graders. The books were ones that would've been read to and by the children who were killed at Sandy Hook. Some titles included: The Dancing Tiger by Malachy Doyle, Yertle the Turtle by Dr. Seuss, I am Human by  Susan Verde, The Patchwork Quilt by Valerie Flournoy and Madeline's Christmas by Ludwig Bemelmans.
Assemblymembers Galef and David Buchwald spoke of how New York State passed tough gun legislation including the SAFE (Secure Ammunition and Firearms Enforcement) Act a month after Sandy Hook. The law prevents criminals and the dangerously mentally ill from buying guns, cracks down on illegal guns and bans only the most dangerous assault weapons.
County Executive George Latimer said he was at this event that he wished he didn't have to attend. "This is a tragedy that can't be forgotten, and it not only makes us sad but moves us to action." He spoke movingly of his 4-year-old granddaughter Lilly and 2-year-old grandson Cooper as to how he personalizes the issue of gun control and said he doesn't know how parents and grandparents who lost children to gun violence go on. "They are pillars of strength and they look to us in public office to make prudent decisions."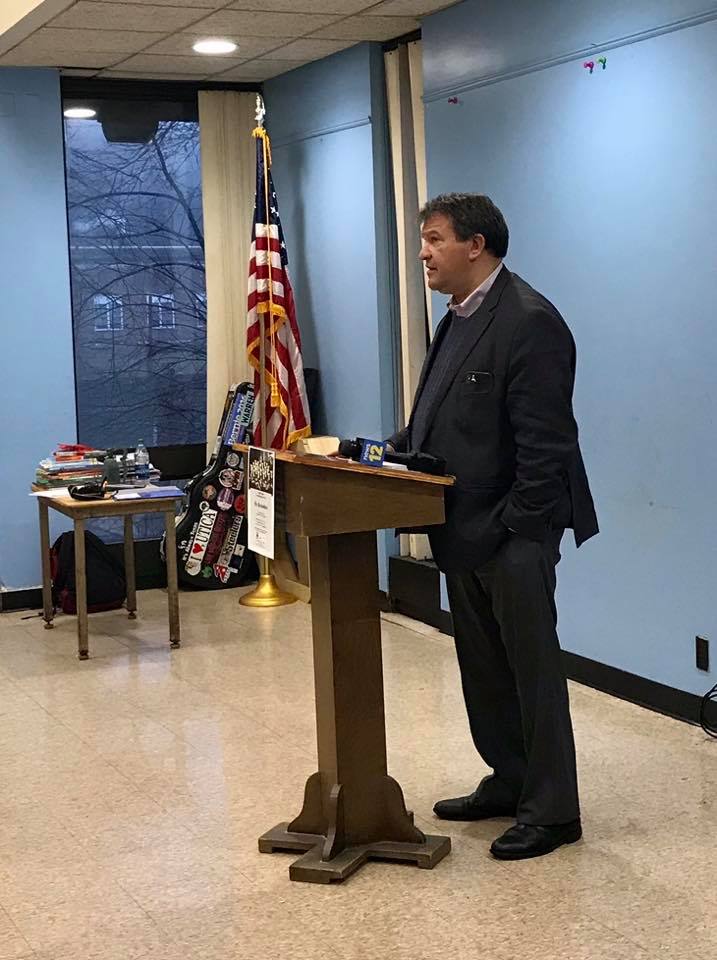 One such decision Latimer enacted, by executive order the second day he was in office, was banning gun shows at Westchester County Center and now it's a law in the county. He spoke, to applause, of the need to have federal laws that control guns. "We have to make a strong, assertive case about why we are behind something," said Latimer. "What happened at Sandy Hook is the fuel that give us the fire to speak this way to make public policy." He talked of the argument that gun proponents cite regarding the Second Amendment to the Constitution allowing for a militia: "A well-regulated Militia, being necessary to the security of a free State, the right of the people to keep and bear Arms, shall not be infringed."
In 1789 when the law was written there were no police officers and there were wild animals. People needed a musket to protect their families, said Latimer and noted that it takes a while to load the musket with a ball and powder.
"There are some who say the answer to this issue is more weaponry," continued Latimer. "And if that happens, we will resort to the wild, wild, West like the shows of Gunsmoke and Bonanza where they swept up the dead bodies every morning. He said we would then become a society like a scene from a Quentin Tarantino movie where everyone pulls out a weapon. That's what happens when your arm teachers, hospital workers, waiters, who are soft targets. If we don't get this scourge under control, we're back to the wild, wild, West."
Rose Rowland co-president of Brady Westchester said she frequently hears: "I wish I knew how to prevent gun violence."  She then recited ways people can work around the issue.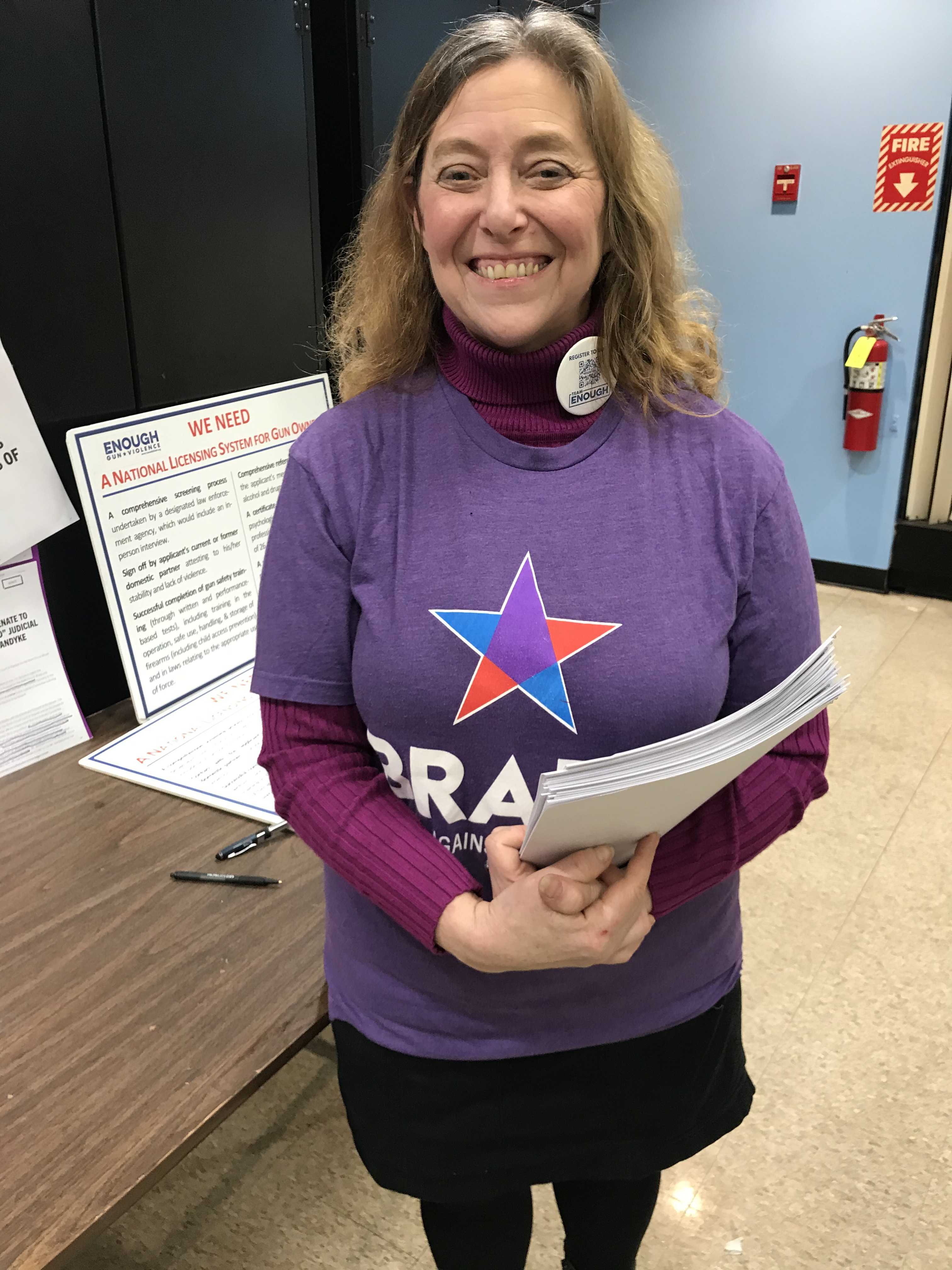 One of the main ways to take action involves showing up at gun violence prevention vigils and rallies. This shows the media that there is a groundswell of people who want common sense gun legislation.
Another action step involves Identifying candidates with strong gun violence prevention positions and during election season attending candidate forums. Work and fundraise for candidates that support gun violence prevention measures and when they get elected, keep them focused, said Rowland.  Gun violence prevention needs to stay at the top of their list, she said.  When you learn of a state or federal bill to prevent gun violence, seek out legislator offices with other gun violence prevention supporters. If you can't go to their office in person, call your representatives and make your voice heard.
"Gun violence is the deadliest public health crisis we have with 310 people shot every day," said Rowland.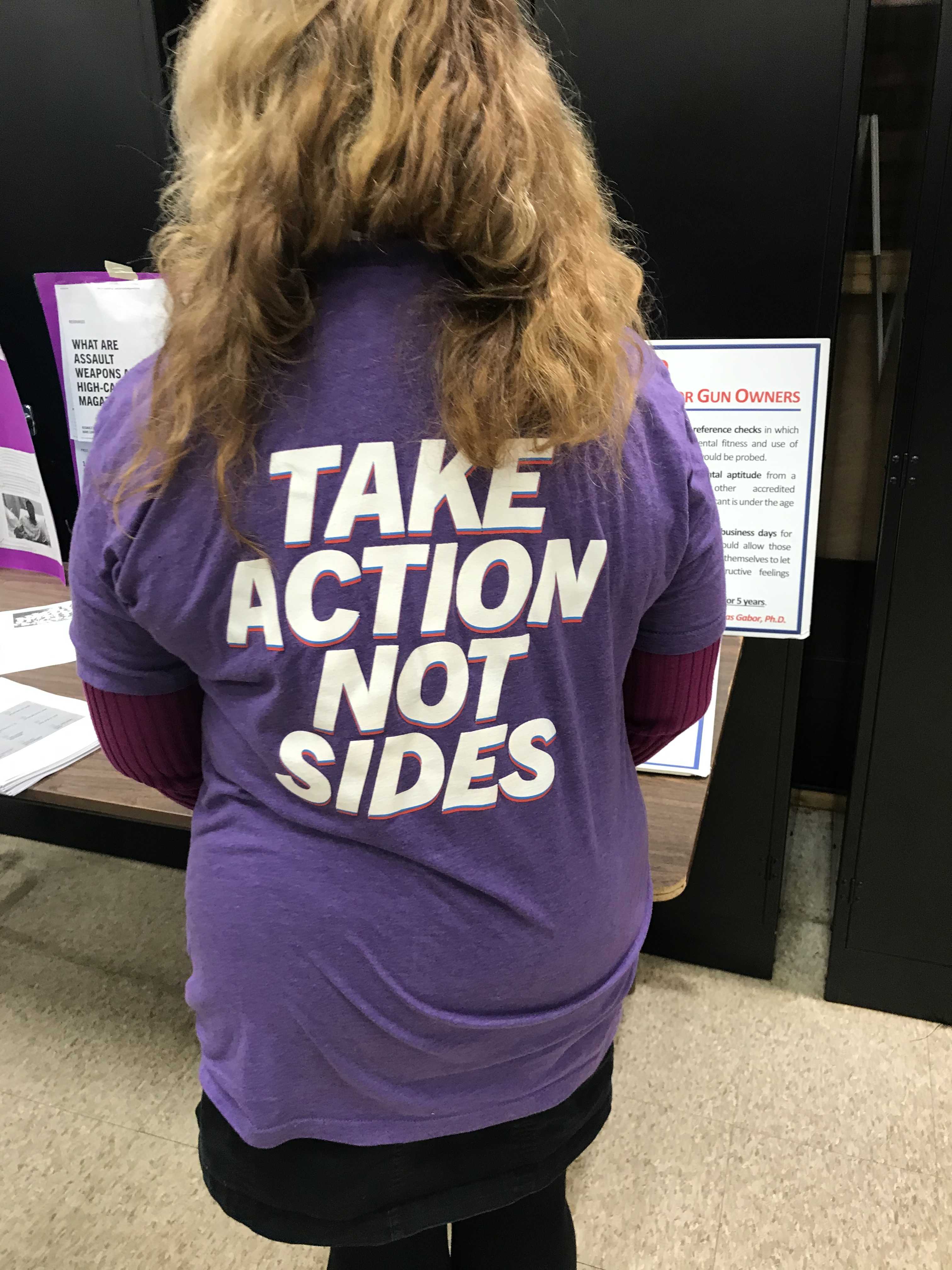 Gun violence prevention is not a sprint but a marathon she added and one action a month involving showing up at an event, calling politicians, learning more and engaging friends, relatives and neighbors in conversation about the issue will collectively make a difference. She ended her remarks with the call to "Be brave. Be persistent and don't take sides, take action."
Peekskill school district parents Lorenzo Dominguez and Dr. Chelsea Hollander, who have five children, spoke of their first and second graders telling them about drills they do at school and how they practice being quiet so the 'bad people' won't hear them. Dominguez and Hollander solemnly recited the names of all those who died at Sandy Hook.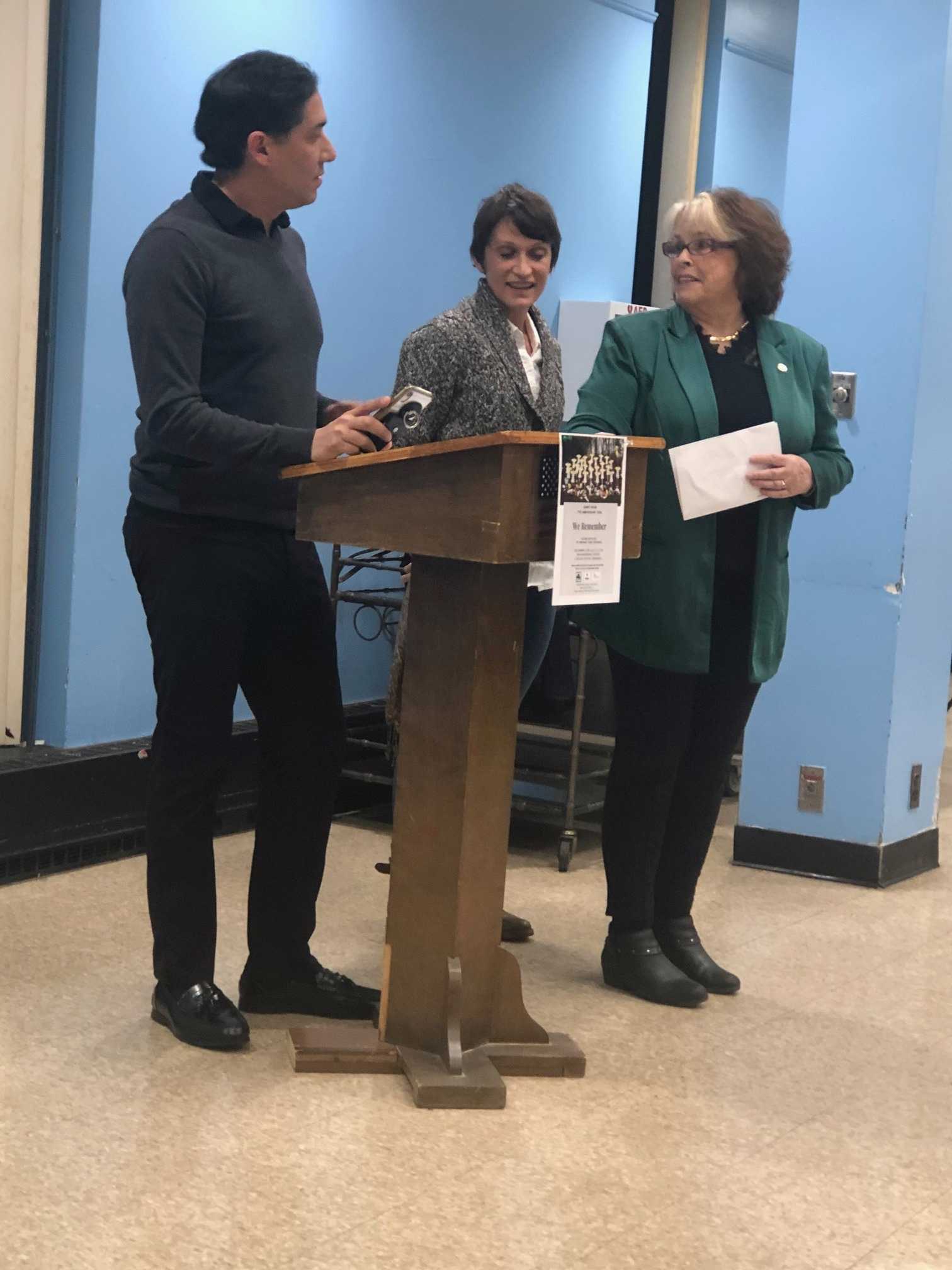 1981 Peekskill High School graduate Susan Fisher Wright performed a song she wrote after Sandy Hook. A music teacher in Beacon, Fisher said she was on bus duty at her school the day Sandy Hook happened. One of the other teachers asked her if she heard about the shooting and she hadn't. She got in her car to drive home and put on the radio. "I had to pull over because I was so upset," she recalled with tears streaming down her cheeks. She took action by composing "A Mother's Kiss" performed with musicians Steve Kirkman and Fred Gillen, Jr.
[wpvideo wEZ1NFHr]
A Mother's Kiss by Susan Fisher Wright
Another day at school, another day along the path of wrong and right. A day like any other a day that every mother said, "Good morning sleepy, see the light?"
Have you got your gym shoes on? I need a kiss and it won't be long till we'll come home again…
Whoever could have known a day would bring so many mother's kisses to an end?
Refrain
Sweet sunlight streaming through the window. A broken pencil on the floor, abandoned desk with books wide open, someone pounding on the door.
Sweet sunlight streaming through the windows as the children hid in fear. I wish I could hide their eyes from seeing and block their ears from what they hear.
So, children come, and children go and every day there's sadness and there's suffering and pain.
And everyone who has a heart sheds a tear and stands apart and wonders what is gained. But God damn it, children, children does it need to come to this? Is our right to bear a weapon worth more than a mother's kiss?
Refrain
And yet, the debate goes on. Is it right when a right leads to wrong?  How many children lost and gone till it ends? It ends, it ends.