A billion gallons of water, through 65 miles of pipes
City's aging infrastructure getting help from state grants and developer improvements
Over the course of a year, the City of Peekskill Water Department delivers about 1.5 billion gallons of water to homes and businesses. That safe, clean drinking water flows 24 hours a day, seven days a week through an aging system of 65 miles of underground pipes and valves that needs more than $90 million in upgrades, given the age of the pipes and their deterioration over time.
The challenge of running that system reliably while responding to breaks and disruptions falls on the Department, headed by the city's Water and Sewer Superintendent David Rambo. Tight budgets don't leave much room for capital improvements but the city administration is finding success in winning grants to address some needed upgrades.
Peekskill is receiving $3 million from a recent state grant to replace some of the aging water valves and pipes, with work slated to start next year. "We'll use that $3 million water infrastructure grant to replace some valves," Rambo said. "We also have four inch water mains throughout the city that are undersized so we want to replace them with six or eight inch ones.

"It's a small piece of all the work that needs to be done, but along with that is a $2 million match from the city, so it's $5 million – but still a drop in the bucket," said Rambo, speaking literally.
Peekskill water's long journey to the tap
 Surface water for Peekskill is collected in two Wiccopee Reservoirs (upper and lower), both located in Putnam Valley. Water is released to the Peekskill Hollow Creek and then recollected at the Hollow Brook dam, located approximately 12 miles downstream.
Raw water collected at the Hollow Brook dam is then pumped to the Camp Field Reservoir, where it is treated, pumped to the clear wells and storage tanks, and then distributed throughout the city by the distribution pipes network.
The city operates more than 65 miles of water pipes with diameters ranging from four inch through 20-inch (four to six inch water pipes are mostly cast iron while 8- to 20-inch pipes are ductile iron). According to a 2019 engineering report, the exact year of installation of the pipes is unknown and assumed to have been installed prior to 1969.
The distribution system also includes at least 512 hydrants and 653 gate valves.

"It is also noted that recent water repairs showed significant pipe deterioration through severe tuberculation," the report concluded. Tuberculation is corrosion of the interior of the pipes from soft or acidic water. "Although pipe jetting and slip lining can reduce tuberculation, much of the City ductile iron pipes is beyond repair," read the report.
The city's overall water infrastructure improvement strategy includes several elements: disconnection of storm water and sewage systems; improvements to the City's reservoirs; replacement of aging valves and hydrants; and replacement of one of the city's three water storage tanks.
The system transports three types of water – drinking, sewage and storm water. With a second grant of $1.1 million, Peekskill will replace more pipes that have failed over the years. That grant comes from New York State Regional Economic Development Council through the Water Quality Improvement Project.
"The sanitary waste water and storm water are separate and have their own piping networks," Rambo said. "Some of the sewer pipes are cracked and some of the storm water pipes are cracked, and if those two are in the same vicinity, when it rains some of that storm water will end up going into the sewer pipes. That creates an additional treatment nightmare for the Westchester County treatment plant (off Highland Avenue). It dilutes the sewage and creates extra pumping for us."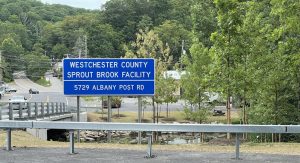 Handling the growth in housing
Peekskill is undergoing a housing construction boom right now, with several hundred new apartments under construction or in the planning.
Adding new residents will increase demand on the water system, but the department can handle extra service needs, said Rambo. In fact, developers who build here are being asked to help offset this new demand.
"Development often offers great opportunities to have the developer put in improvements to the distribution system that we wouldn't be able to do otherwise," said City Manager Matt Alexander. "It helps us to knock off some of the $100 million of work that needs to be done in the city of Peekskill."
One example is the new apartment building developed by Wilder Balter Partners on Main Street and Central Avenue. The company built a connection for the city between the existing water mains on the two streets, increasing the water pressure for fire fighting.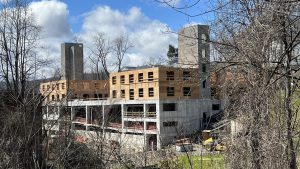 "We are building a lot of new apartments, but with today's technology a lot less water is being used in these homes now," Rambo said. "We're now providing 4.2 million to 4.5 million gallons a day, and our treatment plant has the capacity to treat 8 million gallons a day, so we have plenty of extra capacity and the overall impact of an extra couple of hundred thousand gallons extra is manageable."
Smoothing out disruptions
Given the age of the system, water main breaks and temporary disruptions are inevitable. Crews respond at all hours and repair the breaks rapidly. Rambo asked for and received preliminary approval from the Common Council at Monday's work session to purchase an insertion valve machine that will limit the number of homes out of water service during repairs. Using the Bid Net process that City Manager Alexander is familiar with, Rambo learned the city of Brighton, Colorado purchased the exact device in September and the company that sold it to them would be willing to sell the device to Peekskill for the same amount of $43,384.90. At Monday's work session, Alexander explained that the purchase would be a capital item and would come out of the water department's budget.
"At the end of each street is a three-way cluster of valves or four, one for each street the line services," Rambo said. "A lot of times during a repair we go to close a valve and it doesn't close all the way.
"We can't work with water gushing out of the pipe so we have to go back further to shut that off, leaving more residents without water. With an insertion valve tool we can install a valve without shutting the water down." The company that makes the value also includes as part of the price a three to five-day onsite training in live situations. Rambo added that the water department recently hired an employee who worked in Poughkeepsie and has experience in using the value.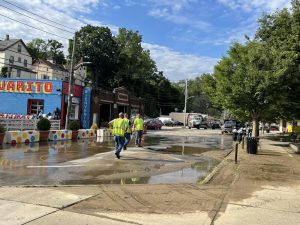 The challenge of keeping Peekskill's water up and running, flowing down from the city treatment plant off Frost Lane down through miles and miles of aging pipes keeps the Department on its toes.
"The Peekskill water system is reliable – it's hardly ever out," Rambo said. "I'm sure some people are going to read that and say that's not the case but you always will have hiccups.
"It's an old system, but when the power goes out they don't lose water because we have a gravity system and we have generators at facilities. It's good clean drinking water, it's tested regularly and meets or exceeds all EPA standards," he said.