Interesting Developments: What's "Coming Soon" to Peekskill
  A few weeks ago we wrote in some depth about the state of affordable housing in Peekskill, focusing on some proposed and under-way developments along Central Avenue just west of downtown.
This week we take a look at every residential and mixed-use project we're aware of that's been approved – or proposed – to be coming soon to our Friendly Town.
Note that new construction and real estate development is often a secretive business – there's just not much incentive for developers or builders to share more than required for permit filings or presented in public meetings. Most of the information and images below were gleaned by the Herald from publicly-available records.




BROAD HOWARD DEVELOPMENT
What We Know: Broad-Howard is a 74 unit mixed-use residential building proposed for the intersection of North Broad and Howard Streets (an L-shape that wraps around the existing structures at the southwest corner, with fronts on both streets). The project was presented to the City Council on February 1st. As currently proposed, the four-story structure would house 48 one-bedroom and 26 two-bedroom apartments, with a pair of retail spaces on the Broad Street frontage.
Developer Chuck Lesnick touts a potential green roof, construction jobs, and broadband connectivity as community benefits, and says the residences would likely be priced as workforce, with some component of affordable units.
What's So Interesting? The location is currently zoned R-1C residential, so the proposal requires a zoning map change to extend the downtown C-2 commercial district half a block north. The developer is also seeking a zoning text amendment to allow ground-floor residential units (rather than retail) on the side facing Howard Street. This would also affect other "transition zone" buildings along Diven Street and areas at the south end of the C-2 district; most of which face residential streets.
Also, Broad-Howard as currently conceived, will seek a special permit to allow up to 60 off-site parking spaces in the city's James Street Garage – a proposal that led Councilman Douglas to ask that the developer try to incorporate more on-site parking.
Next Steps / Projected Completion: Because it's sited in, and aims to benefit from Peekskill's Federal Opportunity Zone, the project has a completion deadline of December 2023. Look for a formal zoning change petition from the developer to the Common Council in early April.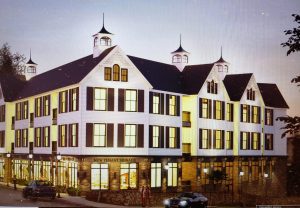 216 SOUTH DIVISION
What We Know: 22 unit mixed-use residential building at the corner of South Division and 2nd Street. Another Opportunity Zone project; it was approved by Peekskill's Planning Commission in June, 2020. The site was cleared late summer, including demolition of a long-abandoned home and removal of several large trees. 
What's So Interesting? The building would effectively stretch the downtown commercial district a block farther south, with walkable retail beyond Bucko!, Peekskill Coffee House, and the newly-active Esther Place public space. So far it is unclear if the market-rate residential units will be rentals or condos.
Next Steps / Projected Completion: Site work has been paused since fall. However, building permits have been issued, Unicorn is selecting a general contractor, and the developer received an extension of site plan approvals at the February 9th Planning Commission meeting – with an expiration in July, 2022 (additional extensions are possible).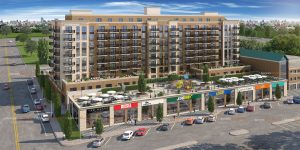 ONE PARK PLACE
What We Know: A nine story, 181-unit mixed-use market-rate rental building at the corner of Park and Broad Streets at the east end of downtown. 
What's So Interesting? The project ground to a halt in July, 2020, when developer Alma Real Estate sued Peekskill-based general contractors Green Works and TPK Construction for $7 million, alleging the contractors had improperly diverted funds from this building and a second development in Yonkers. By late August, permits had been reissued and work was restarted by a new general contractor. Besides a significant influx of new residents, One Park Place will bring street-fronting, walkable retail to the east end of downtown, with a restaurant space and large outdoor dining terrace on the second floor.
Projected Completion: As of this week the building is well along, with brick facia being installed and interior work underway, but as of yet no glazing. When the Herald spoke to the developer in late August, they projected an opening date in late 2022.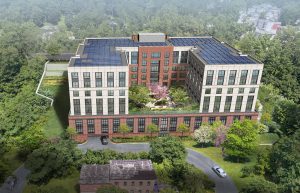 645 MAIN STREET
What We Know: Foundation work for this 82-unit "workforce" apartment building on the hillside between Main Street and Central Avenue has been underway since late summer 2020. The Herald spoke to developer Wilder-Balter Partners for a feature on affordable housing in Peekskill in January 2021.
What's So Interesting? The project is cited by many as an example of public/private cooperation to create modern housing that's affordable to a number of different income levels. 645 Main Street expects to be LEED Gold certified, with a rooftop solar array, and will create a new pedestrian route between Main Street and Central Avenue, as well as offering new walking trails on the north side of MacGregory Brook.
Projected Completion: Worksite signage anticipates completion in the summer of 2022.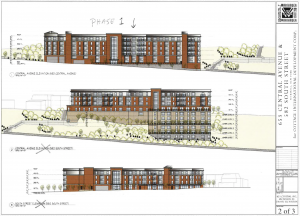 MAGNOLIA HEIGHTS (653 CENTRAL AVE / 582 SOUTH ST)
What We Know:Two-building residential project proposed for the hillside between South Street and Central Avenue. The complex, to be built in two phases, could eventually bring up to 167 new rental apartments within walking distance of Peekskill's Metro North rail station. 
What's So Interesting? The developer, Cottage International, presented various versions of the development to the Common Council between January and July of 2020 as they sought to purchase several city-owned lots needed to complete their footprint. After significant debate surrounding the proportion of units to be priced affordably, as well as discussion around potential public amenities such as a stairway connection between South St and Central Ave and a proposed sculpture court, the Council approved the land sale with a 10% affordable component and 90% market-rate pricing for the eventual apartments.
Next Steps / Projected Completion: Completion date is unclear.  The developer is now in contract to purchase the city-owned 657 Central lot, contingent on project approvals. The final privately-owned parcel (653 Central) now appears to be off the market – suggesting the builder may have acquired it as well.
Expect to see Cottage International back in front of the Planning Commission to seek site plan approvals, and before the Common Council as well – to petition for special permits – relatively soon, though as of this publication no date has been set.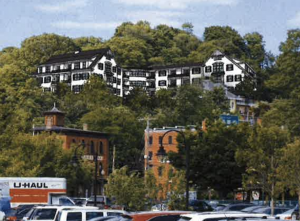 RIVERVIEW PLACE / 505 SOUTH STREET
What We Know: 51 units of market-rate condos in a five-story building arrayed around an elevated courtyard with underground parking, on the knoll at South and Grove Streets with views of Peekskill Bay. The development was first proposed in the summer of 2019, and given conditional approval in June 2020.
What's So Interesting? The project requires demolition of an 1835 Greek Revival home (one of few remaining in Peekskill), and the NY State Historic Preservation Office (SHPO) has requested documentation of "potential archaeological and historic resources" at the property. 
The building will be a significant new landmark on the hillside overlooking the Peekskill waterfront, and is one of the only non-rental multifamily developments currently proposed.
Next Steps / Projected Completion: At Tuesday's Planning Commission meeting, the developer – Louis Lanza – received an extension of final site plan approval due to delays caused by the SHPO's request. The site plan extension expires July 14, 2022, however additional extensions are possible.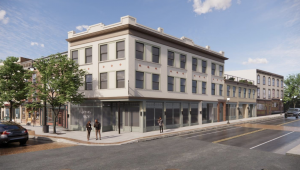 BUSY CORNER / 108 NORTH DIVISION STREET
What We Know: A head-to-toe restoration of the nearly-vacant former Busy Corner Drugstore at Main and North Division will bring a dozen new apartments, renovated retail spaces, and an outdoor tenant roof deck to this key downtown intersection.
What's So Interesting? The nearly-vacant building has become a high-profile, neglected eyesore over the past several decades. A group led by Louis Lanza purchased the property for just over $1 million in 2019.
Next Steps / Projected Completion: Completion date is unclear. The project received site plan approval from the city's Planning Commission, and conditional approval from the Historic Landmarks and Preservation Board in the fall of 2020, and the Herald has confirmed that building permits have been issued.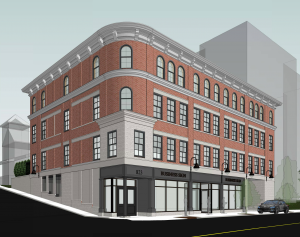 823 SOUTH STREET
What We Know: A brand-new four-story mixed-use building proposed for the vacant lot on the southwest corner of South St. and Union Ave. The contextually-appropriate brick structure would bring 13 apartments and new ground-floor retail to the corner. Tenant parking would be underground.
What's So Interesting? A rare instance where even the initial designs look like a building that's fully appropriate for its surroundings. After some minor revisions, the Historic Landmarks Preservation Board (HLPB) granted a conditional Certificate of Appropriateness in its July 2020 meeting. 
Next Steps / Projected Completion: Completion date is unclear. The developer, Najeb Kabuli, has not yet initiated the site plan approval process. Watch for the project to appear on a Planning Commission agenda sometime soon.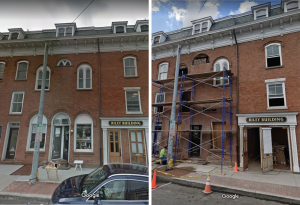 104 SOUTH DIVISION (RILEY BUILDING)
What We Know: Conversion of upper-floor commercial space to nine new apartments.
What's So Interesting? Renovation of the historic Riley Building which sits alongside Assumption Church and across from Peekskill's Flatiron Building at South Division and South Streets, caused a public outcry in 2019 when the new owner was allowed to remove a set of iconic arched windows and doors on the Division Street facade.
Projected Completion: Unclear. Work has been underway since 2019, with a sidewalk shed spanning the length of the building for the past two years. The last public hearing was for a site plan amendment brought before the HLPB in May 2020, requesting permission to place 12 HVAC condensers on the rooftop. Since then it appears the project may have slowed or even stalled.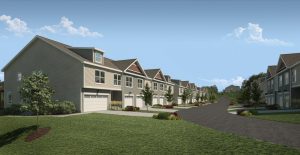 MOUNTAIN VIEW ACRES
What We Know: 45 market-priced townhouses in a new proposed residential development on a currently-vacant 16 acre parcel off Lockwood Drive behind the Hat Factory complex at the northern edge of Peekskill.
What's So Interesting? The site received approval in 2008 for a subdivision consisting of 33 single family homes, but was never built. The new development, as presented by Louis Lanza's Lockwood Development Partners to Peekskill's Committee of the Whole in September 2020, requires a zoning text amendment that changes the way residential developers calculate the maximum buildable density ("clustering") on sites that include steep slopes. The amendment would also affect up to a dozen other potential building sites in Peekskill, increasing the number of buildable housing units in those locations.
Next Steps / Projected Completion: The Peekskill Common Council approved the proposed zoning text amendment in December 2020, which allows Lockwood Partners to return to the Planning Commission in 2021 to seek site plan approval. However, as of publication time, the developer had not yet submitted site plans.  A project of this scale is likely to take at least two years once approved.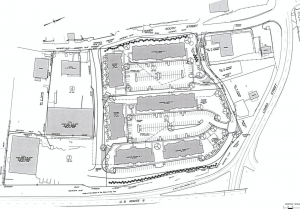 1005 – 1017 LOWER SOUTH STREET (SOLO)
What We Know: Up to 231 affordable apartments in six four-story buildings (including one reserved for senior citizens) to be built on lots currently owned by the city on the east side of Lower South Street just south of Louisa Street. Presumably "SOLO" is short for "South of Louisa".
What's So Interesting? The city-owned lots are former industrial sites, and currently used by the DPW for storage of debris and retired city vehicles. At least some of the lots are also part of the state's Brownfield Opportunity Area program, which incentivizes developers to perform environmental remediation.
The parcels are currently zoned M-2B, which allows commercial and light industrial uses – but not residential. SOLO's developer, Parkview Development (represented by Ken Kearney), proposed a zoning text amendment to allow some residential development alongside commercial or light industrial uses, or "Diversified Use Development". 
In its presentation, Parkview alludes to additional properties along Lower South Street, currently owned by Mearl Corporation (a subsidiary of BASF), that "may potentially be aggregated" at some point in the future – which, under the new zoning language – could support an additional 441 apartments.
Next Steps / Projected Completion: The Peekskill Common Council adopted the new zoning text on November 23, 2020. Watch for a tentative March 1st Council presentation for special permit review, followed by a March 9th Planning Commission presentation.
A project environmental assessment states "construction is projected to take 12 to 18 months or more," but given the complexity of the project and the required brownfield cleanup, don't expect to see SOLO occupied before late 2023.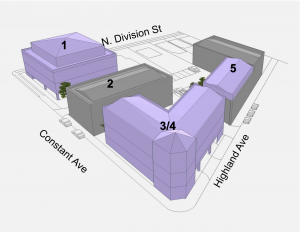 WHITE PLAINS LINEN – 407 Highland Avenue
What We Know: Peekskill's winning 2019 DRI application mentions a "potential investment of $25M at the former White Plains Linen site in downtown for approximately 100 market rate residential units and a boutique hotel". Note that this is not one of the projects submitted to the state for funding consideration.
What's So Interesting? In 2015, the city commissioned a 150-page study exploring potential uses for the site. Brooklyn-based CW Realty Group bought the sprawling Highland Avenue industrial site in 2018. We spoke to CW's CEO Cheskie Weisz, who confirmed the residential / hotel plan, implying it could be some combination of new construction and adaptive reuse. 
Next Steps / Projected Completion: Asked for a sense of timing, Weisz said it's likely to happen "not right away", and that no site plan nor renderings have been produced to date. A project of this scale would appear before the Common Council and Planning Commission for review, and would likely require special permits and/or zoning amendments allowing the change of use from commercial to residential.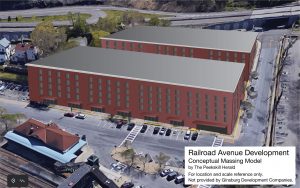 RAILROAD AVENUE DEVELOPMENT 
What We Know:  In an October feature, based on current zoning, the Herald estimated the Ginsburg Development Company site could support 50 – 75 apartments across two or more five-story buildings directly across from Peekskill's Metro North train station, and could potentially incorporate a commuter parking lot currently owned by the city as part of the development.
What's So Interesting? In December, 2020, the Planning Commission proposed a zoning text amendment to allow smaller apartments in the WF-2 zoning area, which incorporates Railroad Avenue. Current code sets the minimum average unit size at 700 square feet. The proposal would lower it to 600 square feet, allowing developers to increase the number of buildable apartments in the zone. After a short discussion, the proposal was tabled for further review by the Common Council.
Next Steps / Projected Completion: Unclear. Since the October Herald piece, Ginsburg has acquired the lot at the corner of South and Requa Streets – one of the last "missing pieces" needed to develop the entire southern end of the block (the city still owns the "Sorrento" commuter parking lot at 305 Railroad Avenue). Reached for comment, a GDC contact said it would be inappropriate to share any project details prior to presenting formally to Peekskill city departments. As of this week, no presentation has yet been scheduled.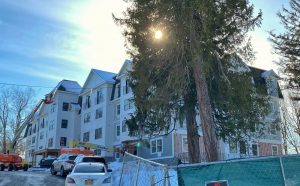 1847 CROMPOND ROAD – SENIOR APARTMENTS
What We Know: 52 affordable senior apartments in a new four-story building at the eastern edge of Peekskill.
What's So Interesting? When the Herald reported on the new development in August, 2019 the building was well along in its construction, nearing the fourth floor. Just four months later, on December 8th, the nearly-completed structure burned to the ground in a massive inferno that damaged fire trucks and rained ash and debris on nearby neighborhoods.
Projected Completion: Just over one year since the fire, the complex has been fully rebuilt by developer Trinity Associates, and appears close to completion.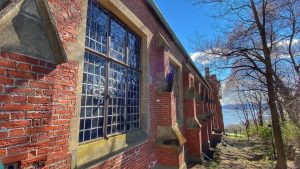 AND FINALLY…
Two Peekskill residential projects that we have minimal information about, but would be interesting to see come to fruition:
       A proposed expansion of the Chateau Rive apartment complex on Fort Hill, mentioned in the same 2019 DRI application:       "renovation of historic Chateau Rive to add 36 apartments for $6M". Pure speculation here, but we wonder if the new units would go into the Cass Gilbert-designed gymnasium wing, currently used for storage? (Gilbert is noted for designing New York's Woolworth Building – and the US Supreme Court in Washington, DC).
      Word on the street is that the new owners of 205 Nelson Avenue (the Kathleen Court apartments) are planning to develop their adjacent lot at 924 Diven Street. Next door at 930 Diven, a multifamily home has been vacant since a fatal 2017 fire. Given the two Diven Street lots have special R-6 zoning (which allows additional density beyond the adjacent R-1C residential area), additional development here seems plausible.