Travel without leaving home?
Robin Goldsand has perfected the art
Among her many talents, Peekskill resident Robin Goldsand is a home designer and artistic storyteller. Goldsand has traveled extensively, gathering years of mementos and memories. And she enjoys these treasures and trips in a most unusual way. Her home is filled with theme rooms, each evoking the sights, sounds, and stories of past dwellings and vacations.
House Turned Memoir
A new, unfurnished house on Longview Avenue was the blank canvas upon which Goldsand and some artist friends became inspired. "I had just built my house in 2005 and was starting to decorate when I reunited with an art counselor from summer camp who became an Interior Designer. The late Regina (Reggie) Kipperman and I collaborated on installing wallpaper murals to capture scenes such as the beach, The O.K. Corral, and Tuscany. She also painted 'extensions' of the murals in several rooms. Each room tells its own story," says Goldsand.
 A Day at the Beach
The basement-turned-tropical getaway is complete with a sandbox, driftwood mobiles, and two Tiki bars, compliments of Goldsand's brother, Robert and friend Jonathan Thaler. Pictured here is Goldsand getting ready for some oceanside relaxation.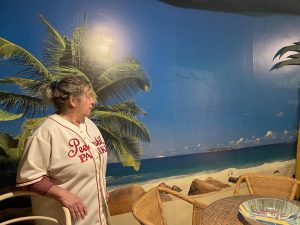 Dinner in Tuscany
Upon entering her dining room, murals of Tuscany's diverse landscape captivate. The harmonious union of rugged mountains, rolling hills, lush plantings, and olive groves is exquisite. These scenes depict the natural beauty that Goldsand's father enjoyed while living in Northern Italy. The table is set and ready for friends to enjoy a Tuscany-style celebration!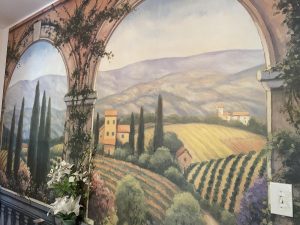 Wonderful Waterfalls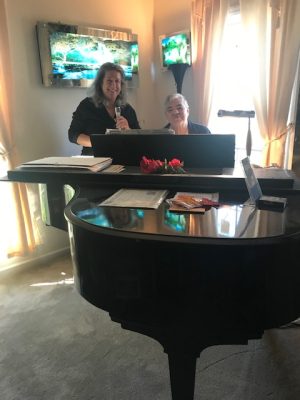 The Waterfall/Music room brings an immediate sense of calm. "The idea for a waterfall mural came from a real waterfall in Dickey Brook that flowed through my backyard at a previous home," says Goldsand. She has a live waterfall flowing behind this home as well. The indoor waterfalls and Japanese Tea Garden that beautify these walls are complemented by live music filling the air. Goldsand enjoys singing popular tunes accompanied by her boyfriend Donald Singer on piano.
When Décor Inspires Cuisine
Goldsand's guests should not be surprised if they are served Southwestern fair in her kitchen. "A kitchen backsplash was inspired by memories of my father's house in Taos, New Mexico and visiting the Pueblo and Sedona," says Goldsand. "Artist Lisa Breznak made my kitchen backsplash in her kiln, replicated from pictures of the Taos Pueblo and Sedona Rocks."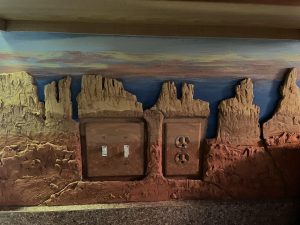 Portraits from the Past
Portraits and photographs spanning over 100 years line the walls of The Relative Room. This priceless collection pays homage to many generations of Goldsand's family. "I was fortunate to have received these wonderful family images from my grandfather."  There are many stories associated with each image, some of which Goldsand has shared with others over the years.
A Trip for Every Map
Maps aren't just paper versions of a GPS for Goldsand. Years ago, her title insurance business, the RG Agency, included working with maps, some of which are from an early Peekskill Atlas and others from the Chamber of Commerce. Amazingly, she has visited every destination for which she has a map, which is quite a few over the years.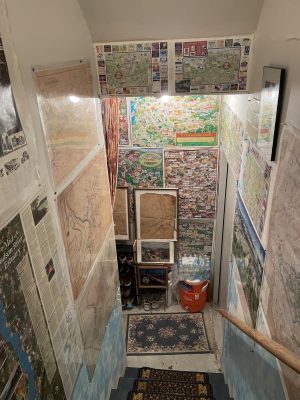 A Sanctuary of Remembrances
Goldsand has created an inventive way to keep special journeys close to her heart. Theme rooms transport her to former dwellings, memorable vacations, and moments with loved ones. Whether the enchantment of Tuscany, burbles from a New York waterfall, the allure of Sedona, enticing ocean breezes or another sojourn, Goldsand will make the trip without leaving home.
Cathy Ryan Sherman is a freelance journalist, content writer and advertising executive. She currently resides in Connecticut and has travelled to many of the places Robin Goldsand has visited.