Advice for the holidays
Walking and driving around Peekskill recently we saw the cleverness and holiday spirit of Peekskill residents. We continue to take pleasure driving along Hudson Avenue and seeing the colorful lights on the tree in front of Andrew and Joanne Bell's home.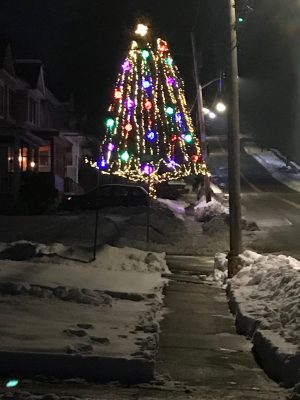 This is the week of the winter solstice, Hanukkah, Christmas and Kwanzaa. Here's some advice for these holidays, penned by that famous author Anonymous.
This season end a quarrel.  Seek out a forgotten friend. Dismiss suspicion and replace it with trust. Write a love letter. Share some treasure. Give a soft answer. Encourage youth. Manifest your loyalty in word and deed. Keep a promise. Find the time. Forgo a grudge. Forgive an enemy. Listen. Apologize if you are wrong. Try to understand. Flout envy. Examine your demands on others. Think first of someone else. Appreciate. Be kind; be gentle. Laugh a little. Laugh a little more. Deserve confidence. Take up arms against malice. Decry complacency. Express your gratitude. Welcome a stranger. Gladden the heart of a child. Take pleasure in the beauty and wonder of the earth. Speak your love. Speak it again. Speak your love still once again.