Bonanza of Holiday Boutiques
Anyone looking to purchase unique, handcrafted items for holiday gifts will have a plethora to choose from this weekend as the Peekskill artistic community brings out their creations at three local fairs. The Peekskill Arts Alliance hosts its Holiday Boutique at 925 South Street, potters at the Peekskill Clay Studio will have their creations available for sale at The Hat Factory, 1,000 North Division Street and Railroad Avenue will be the location of the Holiyay Market. All three will be open Saturday and Sunday.
And for those who would like to shop keeping the environment in mind, Remake/Retake at The Hat Factory is hosting an eco-craft fair featuring the work of artists who use repurposed or rescued materials in their work. There are handmade books, journals, ornaments, paintings, wind chimes, clothing and accessories.  The shop will be open all three days for purchasing a great gift then wrapping it in affordable paper and ribbons.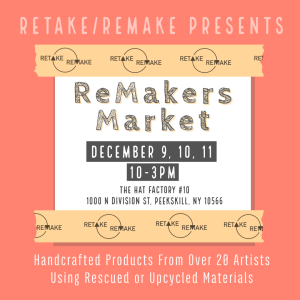 For those looking to travel to Verplanck, the Let It Shine Christmas Market will be located at the Mt. Carmel Hall, 155 Highland Avenue at 8th Street on Sunday from 11 to 4. The Let It Shine's Old Fashion Toy Drive is collecting books, balls, trucks & dolls. There will also be pasta and prosecco along with crafters, jewelry, art, maps, cards, gifts, chocolate and more.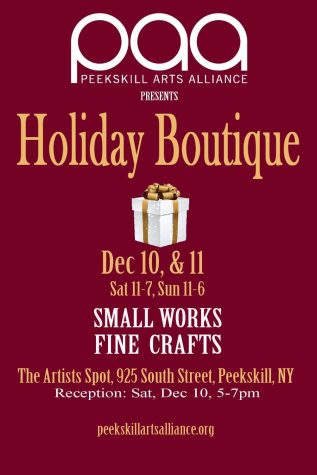 In the Peekskill Arts Alliance Boutique participating artists are: Paula Lewis, Liz Peterson, Karen Nelson, Robing Kline, Mindy Kombert, Candace Winter, Davis Moskowitz, Judith Heineman, Aaren Connelly, Noah Berger, Lisa Medoff, Christine Williamson-White, Joann Brody, Whadafunk. Hours for shopping are: Saturday 11-7 and Sunday 11-6.  There is an artist reception on Saturday from 5 to 7 p.m.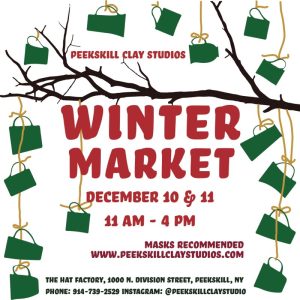 Potters from the Peekskill Clay Studio will be displaying their creations at The Hat Factory at 1000 N. Division Street on Saturday and Sunday from 10 to 4.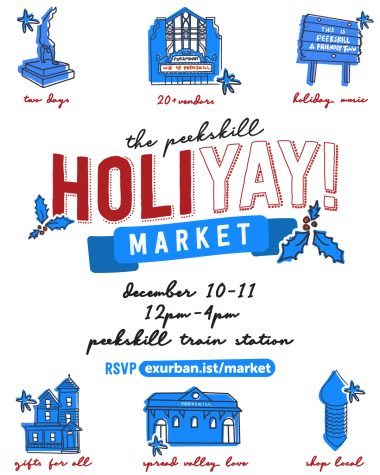 The Holiyay Market features over 20 vendors including, POME florals, The Central, Persephone's Pearl, Acorn Wood Shop, Rebbecca's Paradise, Maru, Papi's Secret Stash, Lamoureux Fragrance Atelier, Sweet & Salty Queens, Emily Bicht Designs,Stark Vintage, Dayna Does Art, Purgatory Vintage, Hayes Clay, Novelty by Noelle, Kim Ginger, Feet In The Sand Studio, Happy Places NY and Manzer's Christmas Trees.  The market is open from noon to 4 p.m. on Saturday and Sunday. Saturday's music will be by Adam Fitch and Sunday will feature Kristina Koller, The Holiyay Market will also be hosting a fundraiser for Arts 10566.