Kawanzaa and Hanukkah connect to fight racism and antisemitism
15 Days of Light ceremony celebrated in Downtown Peekskill 
United by their shared history as frequent subjects of hate, members of Peekskill's Jewish and Black communities came together on Monday evening in frigid temperatures to light candles and be part of the movement to dispel the darkness of racism and antisemitism in America by participating in Fifteen Days of Light. 
The event at the downtown Gazebo saw some 75 people attend, and was organized by Chuck Newman, a third generation Peekskill businessman,  and outgoing NAACP President Valerie Eaton.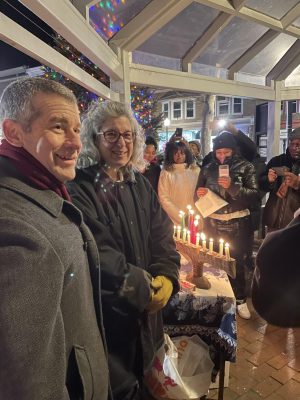 Newman explained how a full page newspaper advertisement he read two weeks ago about the "Fifteen Days of Light" to fight racism and antisemitism motivated him to facilitate the evening as part of a nationwide display of light and unity.
Monday was the first night of Kwanzaa where African Americans light seven candles on the Kinara – a traditional seven-branched candle holder. Monday was also the last day of Hanukkah, the Jewish festival of lights, where eight candles are lit on the menorah to commemorate the rededication of the temple in the second century BC.
Eaton explained that African Americans created Kwanzaa as an event to celebrate their heritage, and the candle lit the first night symbolizes unity. The black candle represents the skin color of African Americans, the green represents the richness of their motherland, Africa, and red represents the blood that's been shed in their struggles throughout history.  
Rev. James Perry, pastor of Mt. Olivet Baptist Church and the new president of Peekskill Area Pastors Association (PAPA), referenced Psalm 133 that tells how good and pleasant it is when God's people live in unity. He told of how the lighting of candles was not just a baton passing between Jews and Blacks – but rather a marathon where "we run together."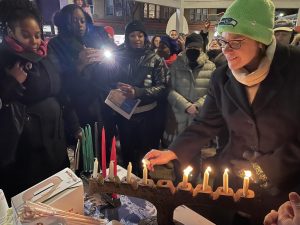 "Everybody needs light at this time of year," said Rabbi Dana Bogatz of Peekskill's First Hebrew Congregation. "The amazing thing about candles is they are the spark of God within us, and our sparks – our souls – are all connected to each other." 
As the candles on the menorah were lit, members of the Jewish congregations sang, Hinei Mah Tov, which says 'Behold how good it is when brothers dwell together in unity," based on the same Psalm 133 that Pastor Perry referenced. 
One verse of the Black National Anthem, "Lift Every Voice and Sing" was sung and the Kinara candles were lit.  
Deputy Mayor Patricia Riley said events like this make Peekskill the fantastic and great community it is. "My parents were immigrants from Italy and it's important as a community that we stay connected, honoring our faiths." 
Newman, in his remarks, quoted Dr. Franklyn Richardson, chairman of the National Conference of Black Churches,  "African American and Jewish communities share a common struggle to live in human dignity, devoid of hatred and oppression. We both believe in a powerful God and have a legacy of strong faith…and are mandated to link resources to hold back the darkness of racism and antisemitism. We must do this not just by condemning those responsible for the oppression, but by partnering together to create our self-liberation to a world where race, gender, ethnicity, and religion does not abort the possibility of human dignity for all. That must be our resolve. To never rest until our national and global communities find the peace that we seek. That peace will destroy the darkness."