Dog rescues Peekskill resident from freezing death
K9 Bones leads police to missing 75 year old man
When a Winchester Avenue resident discovered his 75-year-old dad was missing around 1 am on Christmas Eve, he knew the situation could end fatally. 
With the temperatures hovering around 5 degrees, wind chills well below zero, and his father suffering from Parkinson's Disease and early stages of dementia, his plea to the 911 dispatcher was desperate for immediate help.
Peekskill police responded with all available officers to lead the search for the man – who was last seen wearing slippers, jeans and a sweatshirt – not the sort of clothing that would keep him warm outside for long. They also requested help from the Westchester County Department of Public Safety and New York State Police. Those agencies responded with aviation and K9 units.. 
Officers began canvassing the area, located at the edge of woods on a dead end street in Society Hill II. About 45 minutes later, Peekskill police officer Jon Saintiche and his K9 partner Bones began a new track of the search at the dead end portion of Winchester Avenue. About a minute into the followup search, Bones began to pick up the pace and ran towards a wooded area where about 50 yards in, he found the missing man on the ground on a pile of leaves. He was cold to the touch and unable to move, but was still alive and conscious, said Peekskill Police Lt. Jack Galusha.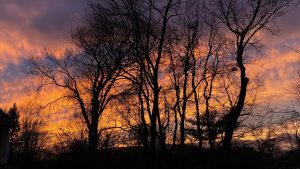 After confirming his condition, several officers ran into the woods to carry him out to a patrol car, wrapped him up in blankets and hats, and turned up the heat. He was then taken by ambulance to NY Presbyterian Hudson Valley Hospital Center for treatment. His family updated the police on Monday that he will make a full recovery. 
Peekskill's police department has used a K9 program since 2017 with a German Shepherd named Charlie and handler Officer Anthony Nappi.  Two years ago the unit grew with the addition of K9 Bones, a German Shepherd from Slovakia and his handler, Officer Saintiche. In order to be K9 handlers, officers train with their dogs for seven months at an academy where they learn about explosive detection, with the ability to locate firearms and spent shell casings. They are also trained in patrol functions, with the focus on tracking suspects of a crime or missing persons, and article searches such as evidence recovery.