Ever wonder where your Peekskill tap water comes from – and exactly how it gets to your faucet? After reading the Riverkeeper press release, we began to wonder too. So we hopped in the car and took a look for ourselves.
We decided to start at the source, so our investigation took us to northeast Putnam Valley, about 18 miles from Peekskill.
Our tap water begins its journey to our faucets from a pair of pristine man-made lakes in the north end of Putnam Valley, collectively called the Wiccopee Reservoir. The reservoir is owned by the City of Peekskill, and sits on a very remote, forested plateau, 722 feet above sea level. Conservation easements protect the surrounding lands.
Locating an unmarked driveway off a country road, we hike a half mile uphill on a very rocky trail through the woods. As we crest a small bluff, the reservoir unfolds before us: a lake holding 1.5 billion gallons of water interrupts the dense foliage, held back by a 30-foot high, 400-foot wide concrete dam; the low roar of water rushing continuously over the spillway, into Wiccopee Creek, maintaining a constant flow of fresh water to Peekskill – even during dry seasons and droughts. From atop the dam, the shallow water near the banks is clear enough to see layers of fallen leaves on the bottom.


Below the reservoir, our water flows downhill via Wiccopee Brook, past stands of maples woven with pastel rubber tubing; the young trees tapped for syrup by a nearby sugar shack. The Wiccopee soon joins Peekskill Hollow Creek for the long journey southwest through Putnam Valley. Driving south through the valley, the creek is visible almost continuously, winding its way along the road, through backyards, under numerous little hand-built driveway bridges, passing a pair of summer camps, a riding academy, and two small cemeteries. A number of small tributaries feed into the creek as it flows through the Hollow, and the creek is especially visible from Oscawana Lake Road at Oregon Corners, where it passes alongside a Mexican restaurant.
Two miles west, inside an unassuming brick building in Cortlandt, two large industrial pumps draw water from Peekskill Hollow Creek, forcing millions of gallons a day uphill through pipes buried deep beneath a quiet suburban neighborhood near Cortlandt's Town Hall, emptying into a much smaller reservoir at the northern edge of Peekskill.
The Camp Hill Reservoir holds 40 million gallons of untreated ("raw") water alongside Peekskill's state-of-the-art $40 million water treatment plant, which went online in 2010. It quietly outputs over four million gallons of clean drinking water on an average day – and can purify up to eight million if needed.
Inside the calmly humming plant, Maintenance Mechanic Chris Matra gives me a quick tour. Our first stop – the DAF room – has three massive open pools filled with what looks like brownie batter. The room smells musty, and hisses with the sound of water running off slowly-churning skimmer blades beneath us.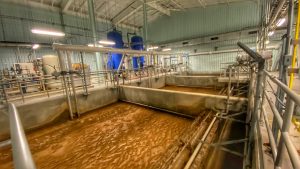 The first step of the system – flocculation – uses a coagulating agent to clump microscopic silt and other contaminants into much larger particles, then using a process called dissolved air flotation ("DAF"), floats those particles to the surface where the sludge is skimmed off by those massive blades, and disposed of.
Next, we cross the hall to the comparatively placid Filter Room, where the semi-treated water stands in dark green pools as it slowly percolates down through 18 inches of anthracite coal, and 36 inches of sand. Finally, out of sight, the water is disinfected with chlorine, and PH-adjusted to limit corrosion of metal pipes and valves.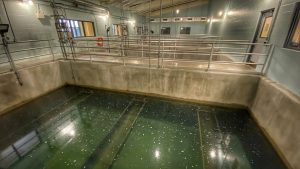 The purified water exits the plant through massive pipes, with 3 million gallons stored onsite in underground tanks, and another 2.5 million gallons pumped to a destination even farther uphill.
We leave Camp Hill and head to one of the highest points in Peekskill – Benefield Drive, a densely-packed cul-de-sac lined with modern townhouses that almost seem to touch one another. At the west end of the development, two light blue water tanks loom above the luxury homes, and a third sits in the woods just beyond the cul-de-sac, overlooking Bear Mountain Parkway. That the tanks perch near the top of Jacob Hill is no accident: from this 550-foot elevation, the 2.6 million gallons stored in these steel monoliths has enough potential energy to provide pressure to the highest homes and hydrants in Peekskill.


Meanwhile, back at Camp Field, the three million gallons stored underground at "only" 375 feet, use gravity to push water through mains to lower-lying customers. Beyond its own residents and businesses, Peekskill can provide raw water for other nearby municipalities when needed during maintenance shutdowns or emergencies: an aqueduct connects the Camp Field reservoir with the Northern Westchester Joint Water Works, allowing it to send water for use by Yorktown, Cortlandt, Somers and Montrose. The same pipeline can accept water from the adjacent utility and thereby serves as a backup supply for Peekskill.
When asked about the prospect of additional protections for Peekskill Hollow Creek, Matra smiles and nods. "It only makes sense." He's enthusiastic about Peekskill's water system as a whole, marveling at "the incredible foresight" the engineers of the system had back in the early 20th century, in creating the Wiccopee Reservoir so the city would have its own private source of drinking water, unusual for such a small city. "We're lucky to have it," says Matra who has been with the city for four years.
To see a video of Peekskill's water system go to: https://www.youtube.com/watch?v=O94bfuZ51Gs
By Jim Striebich