Giving Peekskill a gift through his lens
Ocean Morisset reflects on his years documenting daily life here
Photographer Ocean Morisset credits Peekskill – its people and places – for giving him the chance to spread his wings to fly as an artist. By pushing 'reset' on his life and moving to Costa Rica, he's leaving a legacy far greater than the eight years worth of images capturing life in the city. He's reflected back to people the pride they feel for Peekskill – and that may be one of the reasons why his departure is such a loss. 
As he and his partner prepare to begin a new life in Costa Rica in February, he said he's 'blown away' by the outpouring of affection and support from people he's never met, but who know him through his images, and are experiencing a loss because he's moving away. "I was able to explore and find inspiration from living here through the people and the beauty of this area. Peekskill will always hold a special place in my heart."  
He announced on social media the week of Thanksgiving that he and Kahlil Koromantee made the decision to leave the United States for two reasons. The first involved the direction they feel the United States is heading, in which they've found to be very divisive with negative energy. The second involved wanting to get off the 'hamster wheel' and create a better work – life balance. "We want to experience life and ourselves more, and be open to new experiences," he said. 
Morisset, who is 52 and Koromantee, 60, had been thinking about their future and didn't want to be making a decision when they were older. "We didn't want to be products of our circumstances. We're doing what we've dreamed of doing. There's a lot of uncertainty but we're excited.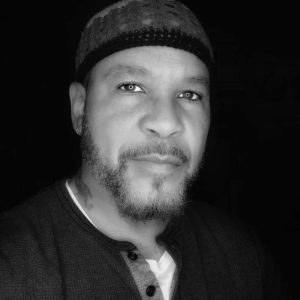 It's the right thing for us as a couple who've been together for 14 years. We're trusting the process. He quoted the German proverb, "Leap and the net will appear."  "We have the energy now, and it takes energy to pack up a house and move to a different country," joked Morisset.  
"There's a large black expatriate community in countries like Costa Rica, Columbia, Portugal, and Mexico," he said they learned upon investigating. They were intrigued and decided to vacation in Costa Rica a few times. On their recent trip in September they purchased a piece of land on which they'll build a home. 
The hotel where they stayed in Puerto Viejo is owned by a Canadian expatriate who was a marketing executive before he moved to Costa Rica 20 years ago. "He had no experience in the hospitality business and he told us he made a million mistakes along the way," but loves what he's doing. That advice resonated with Morisset and Koromantee who plan on incorporating an Airbnb addition into their home. "We learned it was better to be on location when the house is being constructed," said Morisset. Neither of them are fluent in Spanish, although they are learning quickly and know that once they are immersed in the culture it will be easier to pick up.  
When they decided to move from their tiny one-bedroom apartment in Harlem eight years ago because the rents were increasing, they looked at Nyack but ruled it out because there wasn't a rail connection to New York. They landed in Peekskill because they could afford to purchase a house here, and there was an artist community. "Our house in Forestview was the first one we saw and it felt like a mansion with the 18-foot tall ceilings and more bedrooms." Morisset said he wanted to explore his photography and was able to do that in Peekskill.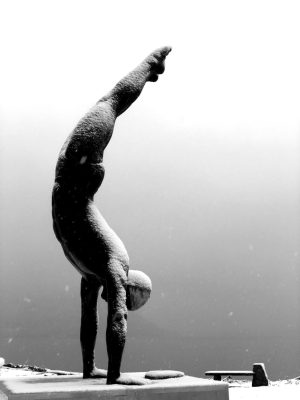 He knew that he couldn't take a lot of his slides, negatives and prints to Costa Rica because of the climate. Costa Rica is on the land bridge that connects North and South America, bordered by the Pacific Ocean and the Caribbean Sea. It's hot, humid and heavily forested, and his collection of photos would not do well in the environment. His friend and colleague Maureen Winzig said she'd help him plan an exhibit of his prints – and in a week and a half pulled together a show that saw him sell 85 of the 100 prints he displayed. "When she said she'd organize that, it took this huge weight off my shoulders," said Morisset. The exhibit, at the Artist Spot on South Street the first weekend in December, was an opportunity for people to come and say goodbye to him. "People came who I didn't know but they knew my photos." He still has plenty of images to sell and they can be found at his Etsy shop here.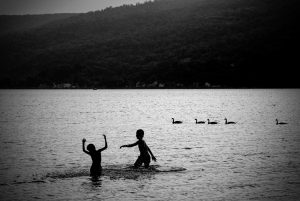 Work plans in Costa Rica will focus on cataloging his images and publishing books of his collections of photos from Peekskill and New York City. "My social media accounts will still be active," he said, "but the scenes will look different." He and Koromantee will also be teaching English as a second language online, and Koromantee, an author, will be offering writer retreat workshops – which is one of the reasons why they are building the Airbnb. 
"I don't know you, but I feel a sense of loss" is a frequent refrain these days on his social media accounts where he posts pictures of Peekskill. He credits his consistent work in producing images of the city he and others love as the reason people are reacting the way they are. "I believe I have the largest collection of pictures from the period of 2014 to 2021. I've been to every parade, festival, public event, rally, protest and public celebration.  I've also photographed the natural beauty of this area. "I engage with a wide range of subjects through portraits and still lifes. I look at my work as a piece of history, a document of the time. This is a critical time in Peekskill's history. I'm an artist who has made an impact through my work. People hold that work in high esteem, and that means a lot to me. I love the phrase that people say about my work, 'that it has an essence to it, people are drawn to it.'" 
What he loves about Peekskill is the little bit of country charm here in a city. "I didn't get that anywhere else," said Morisset, who has lived in New York City and Saudi Arabia during a stint with the US Air Force. "The quality of life is better here. Peekskill is a city that is trying to find its identity as a 21st century city. There are growing pains of course, but it's a tight knit community. People really care about Peekskill. You know your neighbors and you know the clerk in the store."  He hopes Peekskill can retain that small town feel as the population explodes in the coming years and there is the chance that people will become strangers to one another.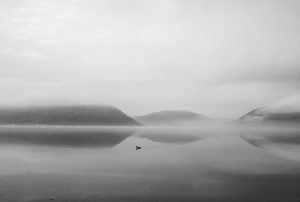 "I was just an outsider coming in, and my photos reflected back to the community what is here. I've had people who lived here their whole lives tell me they've never seen what I've photographed. I think the photos reflect the sense of pride that people have. The photos bring back a sense of nostalgia and the memories.  The power of the photo at work is that it gives people a sense of time and place." 
"Peekskill has given me inspiration to develop as a human being. The kindness stays with me and helps shape the world. I can give back what I've received." He tells of people stopping him in a grocery store and saying, 'you're Ocean, right? I love your photographs.'  I'm a local celebrity," he jokes. 
His lenses captured the essence of what was before him, seeing what we could easily miss. And we have him to thank for the images that show us what we don't see.  But it's our memories that hold the true gifts he gave us – letting us see with new eyes who we are.