Peekskill responds to fire victims with monetary and material support
Find out how to become a 'helping hand'
The number of 'helping hands' who've come forward in Peekskill to assist the 25 people who lost their homes and all their possessions in a devastating fire at Hillcrest Condominiums a week ago today harkens back to 1890 when the city's first hospital was called the Helping Hand Association. 
Today's incarnation of Helping Hands has taken form through social media.  A Facebook page (Hillcrest Fire Peekskill Community Support) was created by fire victim Jenna Reilly, who works at Peekskill Coffee House. Friends and families of those impacted have also set up GoFundMe pages. At exurbanist.com resident Fred Dennstedt created a listing of the various fundraising efforts including the GoFundMe pages.
Reilly wrote in her initial Facebook post, "I know how overwhelming it can be to start to try to find access to resources. Especially when those resources are all in different social media streams. My intention for this group is to bring together my neighbors who are in need with the Peekskill Community so that there is ONE resource we can all have access to. I am hopeful that this group will be helpful in the immediate needs of my neighbors as well as the long term needs that will continue to arise for us as we begin to rebuild our lives." 
Residents can now bring new or gently used clothing and toiletries to the community center of Hillcrest Condominiums at 5 Rolling Way, according to City Manager Matt Alexander.  Alexander said the city has been partnering with the Salvation Army at 117 Nelson Avenue to assist people with finding housing and helping accept monetary contributions. Donations can be made via the Salvation Army webstie by clicking here. 
In the immediate aftermath of the fire, Peekskill resident Wendy Kelly  arranged with Spare Cube on Highland Avenue for the use of a 10 foot by 20 foot garage to collect donations, but that proved problematic regarding transport of the collected items to those who needed them. 
The Buddhist Thu Chi Foundation of the Northeast will be distributing cash cards on Thursday, Jan. 19 from 10 a.m. to 12 p.m. to people who register and show that they were living at 3 Woods End Circle when the fire broke out. Residents can register here.  The distribution will take place at The Salvation Army, 117 Nelson Avenue. 
The Peekskill Elks Club on Brown Street is accepting donations of clothing, pet supplies and toiletries from 6 to 8 pm this Friday, and they plan to open their lodge all day Saturday and Sunday for victims to come and collect donated goods. 
Monetary donations are still being collected by the Peekskill Rotary Club on behalf of victims of the Hillcrest fire. To donate please click this link. 
Caring for the Hungry and Homeless of Peekskill (CHHOP) has new men and women's clothing, personal hygiene items and food for people impacted by the fire. Call (914) 736-2636.
Sue's Sunset House on Water Street is accepting clothing and canned goods. Call 914-734-4192 to find out their drop off times.
The Bean Runner Cafe is collecting gift cards for fire victims, and will distribute them on Friday. 
Peekskill Coffee House – which became a spontaneous donation drop-off location in the hours after the fire – has received hundreds of calls from citizens looking to help those who lost every possession. Coffee house employees are now directing people to the Hillcrest Community Center at 5 Rolling Way.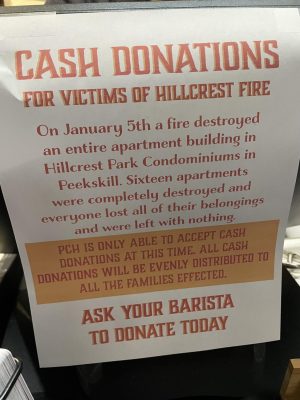 Families who lived at 3 Woods End Circle have GoFundMe pages started by friends and or family members. They include: 
Alice Anderson and her furbaby Violet are starting all over again she said on her page. As of Friday evening she had raised $1850 of $5,000.
Jae Pierson created a page for his wife and ten-year-old son.  As of Jan. 12, $870 raised out of $10,000 requested. 
Emanuel, 72,  and Liz Gonzalez who are senior citizens had their page organized by his daughter Anabeli. As of Thursday morning, $3,325 out of $15,000 requested. 
Jessica Fitzpatrick had her page organized by boyfriend Stephen Coon She lost two of her kittens. As of Thursday morning, $3,904 raised out of $5,000 requested.  
Ashley Evangelisto and her mother Toni's page was organized by Ashley's grandfather Salvatore Mongiovi As of Thursday morning, $4,534 raised of $25,000 requested. Ashley lost her cat Luna and is in need of eyeglasses. 
Adrienne and her son Jayden have a GoFundMe page organized by Adrienne's friend Marcie Kaplan. As of Thursday  morning the page had raised $1,575 of its $15,000 goal.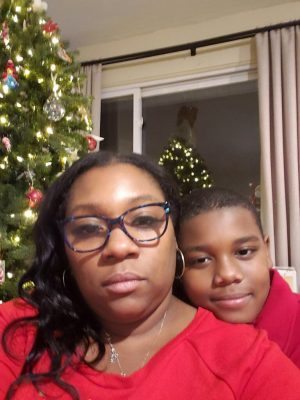 Nereida Nevarez and Carlos Alarcon have a page organized for them by friends Marilyn Calderon and two others  $3620 of $20,000. 
Jenna Reilly's page was organized by Kristen Niemiec. As of Thursday  morning, January 12th, $22,941 raised of $25,000 requested. 
Valerie Pawlows friend John Tigano organized her page which as of Thursday morning saw $4510 of $6,500 requested. 
Linda Gadaleta has exceeded her goal. Her page was organized by Nanette Romanella, her childhood friend. With $11,000 raised, she exceeded her goal.