Harckham returns to Senate; Levenberg wins Assembly seat 
Mike Lawler defeats Maloney for US Representative in NY-17
Ossining Town Supervisor Dana Levenberg will take a seat in the New York State Assembly in January. The chamber won't be unfamiliar to Levenberg, a Democrat, who served as chief of staff for Assemblywoman Sandy Galef – who retired this year after 30 years in the position. Levenberg defeated Republican challenger Stacy Halper, garnering 63 percent of the vote. 
State Senator Pete Harckham retained his seat in the NYS Senate, defeating Republican Gina Arena to return to Albany for his third term. Harckham received 53 percent of the vote to Arena's 46 percent. His district – the 40th Senate district – includes Northern Westchester including Peekskill, four towns in Putnam and Dutchess counties, and the town of Stony Point in Rockland County.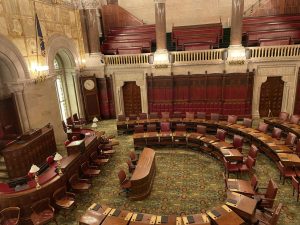 Peekskill Common Councilman Brian Fassett will retain the seat he was appointed to in February. He was elected with 4,133 votes according to unofficial results from the Westchester County Board of Elections. County Board of Election employees are working throughout the weekend and should have a total of the number of votes received for write-in candidate Lee Esther Brown by Monday said a representative on Thursday. 
Peekskill's proposition to fund an additional $125,000 for the Field Library's annual budget of $1.4 million was approved with 70 percent of the vote. 
In the race to represent Congressional District 17 in the US House of Representatives, Sean Patrick Maloney was defeated by Republican state Assemblyman Mike Lawler, 52-46 percent. Maloney, chairman of the Democratic Congressional Campaign Committee, had been representing the 18th Congressional District since 2013. A fraught redistricting process  saw state Democrats lose a GOP lawsuit, leading to a new Republican-favoring state district map. 
Following what many saw as a debacle, Maloney elected to switch to the newly-redrawn NY-17 (which includes Peekskill). Many pundits speculated he saw NY-17 as a safer race; his move effectively pushed freshman Mondaire Jones to primary the crowded field in the Manhattan 10th District; a primary which he lost to fellow Democrat Dan Goldman.   
NY-17 winner Lawler currently represents the 97th district in the state Assembly that covers Rockland County including Suffern, Airmont, Spring Valley and Pearl River. Democratic leader Maloney's loss to the Republican is seen as an unusual dark spot in a midterm that otherwise went surprisingly well for Democrats. 
A statewide ballot measure, the Clean Water, Clean Air and Green Jobs Environmental Bond Act of 2022, the first such measure in 25 years, passed with 68 percent of the vote. Passage will allow the state to issue $4.2 billion worth of bonds to make environmental improvements that preserve, enhance and restore New York's natural resources – and reduce the impact of climate change – by funding capital projects. The project includes $1.1 billion for restoration and flood risk reduction, up to $650 million for open space land conservation and recreation, up to $1.5 billion for climate change mitigation and at least $650 million for water quality improvement and resilient infrastructure.