Voters urged to 'flip the ballot' for clean air, water and green jobs
Standing at the river's edge on a brownfield that's been transformed into a spacious park, about two dozen representatives from environmental groups, organized labor, and health and emergency services agencies spoke with a unified voice to support the $4.2 billion "once in a lifetime" initiative on the November 8 ballot. Tuesday's press conference, organized by Scenic Hudson, at Peekskill Landing illustrated how partnerships among environmental groups, municipalities and funders can restore what was once deteriorating, neglected land.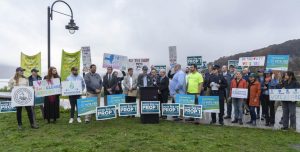 The "Clean Water, Clean Air, and Green Jobs Environmental Bond Act of 2022" was authorized by the state legislature to issue $4.2 billion in bonds to make environmental improvements that preserve, enhance and restore New York's natural resources – and reduce the impact of climate change – by funding capital projects. The project includes $1.1 billion for restoration and flood risk reduction, up to $650 million for open space land conservation and recreation, up to $1.5 billion for climate change mitigation and at least $650 million for water quality improvement and resilient infrastructure.  Bonds are sold by the state comptroller to incur debt that funds projects. There are no tax increases associated with bond acts. This is the first New York State environmental bond act proposed in 25 years. The bond needs a majority of all votes cast in order to pass.
The specific proposed projects include: protecting clean drinking water for millions of New Yorkers; updated roads and stormwater infrastructure to prevent dangerous flooding; expansion of renewable energy and increased energy efficiency in public buildings; improvement of public health with clean school buses; more street trees; ensuring lead-free drinking water; conservation of wildlife habitats; protection of local farms; and expanded access to parks, campgrounds and nature centers. According to its sponsors, the bond act would create nearly 100,000 local jobs at family-sustaining wages.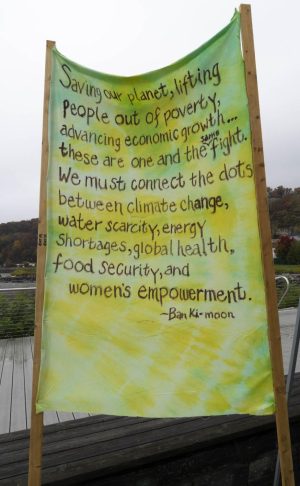 Two representatives of labor unions – a cohort not often seen at environmental rallies – spoke and noted why they joined forces with Scenic Hudson for the conference supporting the bond act. "Sometimes we're on opposite sides in different ways, but we all want the same thing.  We've just got to find a way to do it together – and we can," said Stephen Reich, business manager of Rockland Laborers Local 754 which are the construction craft laborers on highways, bridges, hospitals, roads and schools.  He thanked Governor Kathy Hocul for bringing the initiative to the voters. "It takes a lot of guts and she gets things done," said Reich. He noted the 100,000 new jobs that will be created as a result of the bond act are an important factor in keeping young people in the area.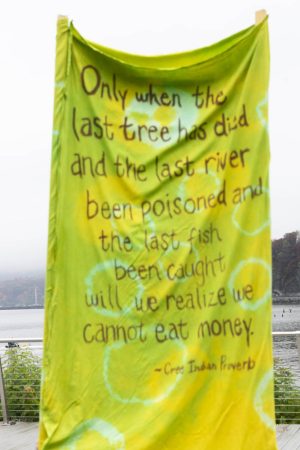 "What's this labor guy doing with the environmentalists?" asked Daniel Ortega, representing Local 825 of the International Union of Operating Engineers. "It's about the jobs," he said. There are 8,200 plus members of the operating engineer union throughout the Hudson Valley. "Our members just don't work here, they live here. That's an important part of why we're involved in getting the bond act passed," he said.   
Some of those projects translate into very specific actions, according to Dr.  Stuart Findlay, a consultant to the DEC. "When we talk about climate change there is a reason for urgency and a reason for rapid action. For the Hudson Valley we know what needs to be done." He referenced the tidal wetlands that are central to what the bond act can do. Certain habitats will reap ecological benefits, in particular the tidal wetlands of the Hudson River. "Tidal wetlands are at risk now from sea level rise; as the water rises too quickly these habitants can literally drown. What the bond act can do is protect what we have – you never want to go back and build what you have if you don't have to. The bond act will build resilience for habitats into the future, providing benefits, and some of these places need restoration. The bond act is quite clear and has funds to support these science-based solutions." 
Speaking to the issue of expanding access to parks, campgrounds and nature centers, was Roland Zorrilla of Outdoor Promise, an organization in Newburgh whose programs are centered around equitable access for youth, families, and individuals that have been traditionally underrepresented in outdoor recreation. "You can't take care of something if you don't know about it," he said, and referenced a 'fun fact' that in the city of Newburgh, there are more empty tree pits than street trees. The bond act would ensure that 35 to 40 percent of funds go to environmental justice communities (which includes both Newburgh and Peekskill).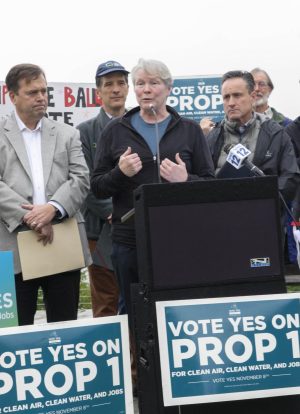 Pediatrician Kathy Nolan, who is with Catskill Mountain  Keeper, said the bond act gives the voters the chance to move all the information into action. "We have the solutions, we just need to fund them and implement them and we will see immediate changes in our world." She also called the bond act "the opportunity of a lifetime to really change the course of where we are headed." Nolan said she trained as a pediatrician, but realized treating one patient at a time was not effective in ways of efficiency and economy. She turned her focus to correcting the causes of the health problems children had from the toxins in the environment. "Lead poisoning, for instance, it's very difficult to restore a child's health once they've had exposure." 
Tim Guiney, a first responder, had just returned from a trip to states along the Gulf of Mexico, where the petrochemical industry puts residents at risk. "I'm proud to be part of a state that uplifts creating a clean environment, a state where we uplift promoting human health and creating jobs." Projects in the bond act will help manage water from the severe weather patterns we've experienced, he said, adding that there are funds in the bond act for the eradication of invasive species in our forests which fuel the likelihood of fires that endanger the public and put first responders at risk.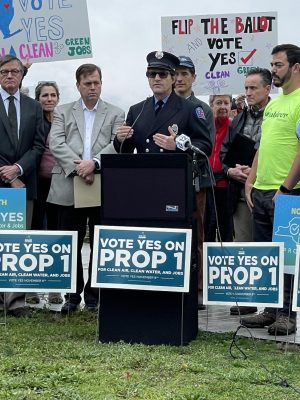 Two members of Peekskill's Conservation Advisory Board, Kay Barthelmes and Elaine Coccoma, were present holding up their signs saying "Flip the Ballot." Other members of the environmental justice groups present included Clearwater, Riverkeeper, Mothers Out Front and Green Ossining.     
The Bond Act was passed by the State Legislature and Governor Hochul in this year's budget session, but the financing of it requires voter approval. Republican candidate for Governor Lee Zeldin has been noticeably silent on the proposal – but other conservatives have largely criticized the measure's financing (and not its substance), saying the state should find a way to budget the projects without increasing its debt load.
However, most economists agree that issuing public bonds to finance capital projects is sound fiscal policy: much as most individuals take out a mortgage when buying a home rather than paying cash up-front, borrowing to cover the costs of infrastructure projects allows for immediate job creation; improvements to aging infrastructure result in cost savings; and public investments generally result in larger returns, covering their own costs as the bonds are paid off over time.
The last NY State Environmental Bond Act was passed in 1996 and signed into law by Republican Governor (and Peekskill native) George Pataki.