Herald represented at national newspaper conference 
Local publisher Regina Clarkin traveled to Austin, Texas last week for the Independent News Sustainability Summit hosted by Local Independent Online News (LION) – of which the Peekskill Herald is a member. The conference focused on the three pillars that make for a sustainable news operation: journalistic impact, financial health, and operational resilience.
 Local news is undergoing radical transformation as more and more daily print publications are ceasing to exist. Filling the information gap in communities like Peekskill are digital publications that are formed as nonprofit organizations.
 There is much to be learned about the nonprofit world of grants, foundations and development.  Clarkin and Herald board member John Smith attended workshops on the various aspects of creating newsrooms that are financially healthy by relying on donations from members. In addition, they learned about strategies that help news operations stay in touch with readers through multiple platforms such as social media and newsletters.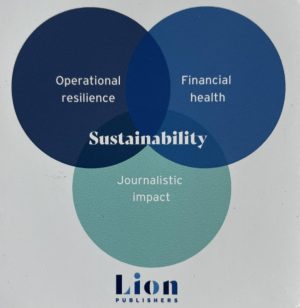 Some 500 people attended the three-day conference that featured talks by industry professionals including the founder of the 13-year-old Texas Tribune, one of the largest nonprofit news outlets in the country. Participants included founders of small digital operations such as Documented, a media outlet that covers the Gambian community in New York City; and the Red Hook Daily Catch which was founded in 2021 to cover the communities of Red Hook and Rhinebeck in the Hudson Valley.
 "It was encouraging to meet other publishers who are facing the same realities as we do here in Peekskill – how to create quality content while working on development and organizational systems," said Clarkin. "It's also a great chance to network and get new ideas. The timing couldn't be better, since our News Match grant program begins today, November 1, where every dollar is matched (up to $1,000 for an individual) and $15,000 in total."