Violinist Daisy Jopling: from Peekskill to the Pyramids
     The Pyramids of Giza are the only ancient wonders still standing today, so it seems fitting that the fiery classical/rock violinist Daisy Jopling, a musical wonder in our modern world, is performing there in November. The concert is called Irradiance. The word, which is defined as the fact of shining brightly, can also be used to describe Jopling's musicianship, her career, and her philanthropy.
         Jopling was a musical prodigy. Her Aunt Louise was a professional violinist and was always playing at Jopling's house as well as her own. "Apparently when I was three years old I told my mother I wanted to be like my Aunt Louise," Jopling remembers. "Initially my mother gave me an oblong tissue box and put some rubber bands on it, just to see if I seemed to be serious. She told me I plucked away, and she decided to give me a violin and a wonderful teacher."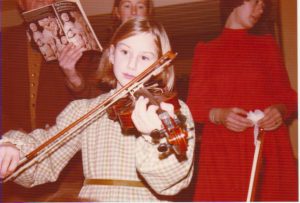 It soon became clear that Jopling was a gifted musician. By the time she was 11 years old, she was the leader of the school orchestra in a school where students ranged in age from 11 to 18. While she played solos at school concerts, her solo career truly began when she was 14 and played at London's Royal Albert Hall.
         "My most important and transformative memory of that concert was the fact that I literally felt sick with nerves the week before the concert," Jopling remembers. "But the moment I stepped out on that stage, it was if I was floating. My performance seemed to go by in a split second…. I told everyone that it must have been the spirits of the great musicians who had performed on that stage inspiring me. From that moment on I knew I loved performing."
         Jopling continued her studies at the Royal College of Music in London. "It was an amazing institution," she remembers, "but my inner creative spirit somehow needed to break out of the classical mold." Jopling's training up to that point had been focused on classical music. She took an improvisation course at Guild Hall School of Music, another London conservatory, and says that it changed her life. "It introduced me to ways of finding my own inner creative voice."
         Jopling was studying at the Vienna Conservatoire when she met Aleksey Igudesman and Tristan Schulze, fellow musicians with strong creative spirits. Together, they formed the string trio Triology, "which was all about playing different styles of music other than classical and crossing boundaries that had never been crossed by classical string musicians."
         The trio decided to put on a concert in a café for 20 people. It was a fateful night for Jopling and her fellow musicians. "Unbeknownst to us the person in charge of signing new artists for BMG was there, and he signed us!" Jopling says. She recalls this moment as "life changing. I had grown up in such a very specific classical music world. I had no idea that I could earn my living and sign to a major label creating my own music."
         Jopling spent the next thirteen years touring the world as part of Triology. She has wonderful memories of these performances and recalls one in particular.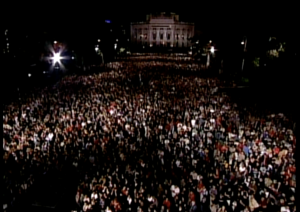 The trio performed in the Tajin Festival in Mexico. Jopling sets the scene: "Behind us was a rainforest and in front of us, behind the audience, was an ancient pyramid. At one point we were performing a piece that was inspired by Senegalese birdsong, and all the birds in the rainforest started singing loudly with us. When we finished the piece, the birds were still singing. Nobody moved. The whole audience was transfixed. It was mesmerizing."
     Performing at Bannerman Island in the Hudson in 2020 was also magical as well as "crazy." Jopling says, "we pulled off a miracle" to make it happen. All the equipment had to be carried up 72 steps," she says, "and there is no electricity on Bannerman Island." It was also the start of the pandemic. The show was filmed, and you can watch it on the PBS site here.
     Over the years Jopling, 53, has performed with a variety of musicians and played all types of music. She has collaborated with superstars such as Bobby McFerrin, Hans Zimmer, and Tony Award winning director Tom Morris. She has combined her classical roots with reggae, Celtic folk, rock, pop, jazz, funk, Latin, gypsy, and Serbian folk music. "I love continually exploring," Jopling says. "Right now I am totally into playing Egyptian music!"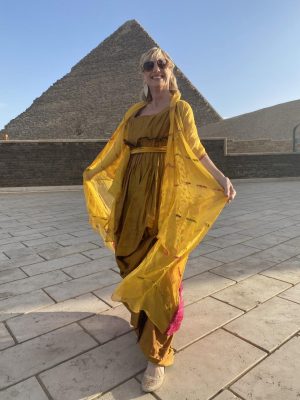 The artist is sure to create more magical memories when she performs at the Giza Pyramids in early November. The idea for the concert originated with members of her Bannerman Castle team. Jopling says that, at the time, "I wrote it off as impossible." But since she didn't have any concert tours during the pandemic, she had time to begin researching the pyramids. "I was hooked," she says. "I couldn't get the idea out of my mind." Before long she had a producer. Jopling says that this has taught her "to trust that everything will work out. We have faced so many obstacles! Yet the magic of it supersedes everything.
         "When I'm next to the Pyramids, I feel as if I'm tapping into a higher perspective of powerful love, peace, and compassion," Jopling says. "I've become addicted to it. Sometimes I remember to embody that energy wherever I am."
         Jopling will perform with a variety of musicians at the Pyramids. She will share the stage with some of Egypt's most well-known musicians. There will also be some lesser known artists, Jopling tells us. "We are partnering with the UNHCR (United Nations High Commissioner for Refugees), and we will have an opening act called AfriCairo which includes refugee artists."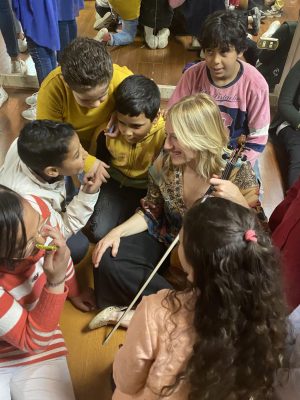 Some special children will also share the stage with Jopling at the Pyramids. "My foundation [Daisy Jopling Music Mentorship Foundation] and the Peekskill and Bronx Rotary Clubs have been supporting a beautiful arts program for emotionally traumatized children in Cairo called Harakat for the Performing Arts. Ten of these children will perform with us at the Pyramids."
     Jopling is excited to be able to share the performance with audience members around the world as it will be livestreamed on November 6. There are several performances, and a link to livestream tickets is here  Peekskill-area residents will be able to see the show as it is live streamed at several local restaurants. These include the Peekskill Brewery, and RameNesque .  All proceeds from people who pay to watch the live stream in these venues will go towards the purchase of violins for the Arts 10566 Ovation Strings Program, which Jopling's foundations sponsors.
     Locals will get the opportunity to see Jopling live in Peekskill on December 8 at Peekskill High School and on March 25, 2023 at the Paramount.  The December 8 concert will benefit the Peekskill Education Foundation. All proceeds of the concert will be donated to The Peekskill Education Foundation and will go towards fulfilling a grant to be given to the Peekskill City School District for their music programs. Special focus will be given to purchasing new and additional instruments across the orchestra and band programs, which run from 3rd to 12th grades, over 4 different school buildings. A special VIP meet and greet with Jopling will take place at 6 p.m. and the show will begin at 7:30 Tickets are on sale now. Click here to purchase.
When she performs at the Paramount on March 25, the show will be called Transcendence. This musical theater piece traces the influence of African American music over the last 100 years and, according to Jopling, is "set to a poignant, intimate theater experience of Sarah Bracey White's Memoir Primary Lessons." The performers will include Jopling, her band, Judah Praise led by Tuesday McDonald, and students from the Peekskill City School District choirs.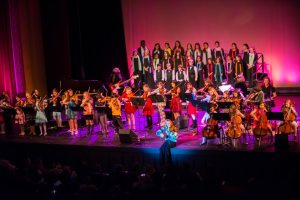 "Concerts like these are life-changing not only for the participating students, but also for our community," Jopling says. "It is truly inspiring to see the amazing talent right here in Peekskill."
         Jopling has been discovering the amazing talent in Peekskill since she moved here with her late husband Joe Brown in 2010. "Joe and I actually met at a George Benson concert at the Paramount, so the Paramount will always have a special place in my heart," Jopling says.
         The artist created her foundation the year after she moved to Peekskill. "DJMMF came into existence when five moms came up to me after my first concert at the Paramount in 2011 and asked if I could help start a strings program in the Peekskill schools," Jopling remembers. "I said yes, and the rest is history. Since then, I have partnered with countless incredible people and organizations in Peekskill to create opportunities for students to experience world-class music-making firsthand."
         Jopling delights in sharing music and passion. "When somebody does anything to the level our mentors achieve," she says, "it means they are passionate about it. … My goal is that their passion rubs off onto our students, giving them the confidence to be, do, or have anything they want."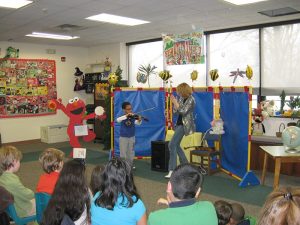 Music made a big difference in Jopling's own childhood. "Like so many children, I was a child who completely did not fit in at school," Jopling remembers. "I lived in a very sheltered home in a remote part of the English countryside two hours outside London. There was no internet back then. But I had music. My music gave me an identity and an avenue of self-expression. I want to give this opportunity to children who are interested. That is why I have spearheaded my music mentorship foundation."
         Jopling has touched the lives of more than 8,000 children through her foundation. This makes her feel, "Blessed beyond words!" She adds, "I adore playing for and working with children. They inspire me infinitely. When I first came to Peekskill, I had never played in a school before, and I was incredibly nervous. But the reaction I received was amazing from all age levels. I still sometimes meet students that I played for 10 years ago, and they remember my performance. That is amazing to me."
         Jopling is happy to call Peekskill her home when she is not touring around the world. "The people are fantastic," she says. "I know so many amazing, open-minded, generous, kind, creative, positive, forward-thinking, and inspirational people here. It is also a stunningly beautiful place. I love going for hikes in the woods and kayaking or sailing down the Hudson. The food is awesome and always getting better with all the restaurants opening up."
         Jopling's description of Peekskill makes it sound irradiant. "I love the energy of the place which is ready to grow and change," Jopling says. The people are "ready to come together and uplift each other. I am honored to be part of this wonderful city and excited about the direction in which we are going."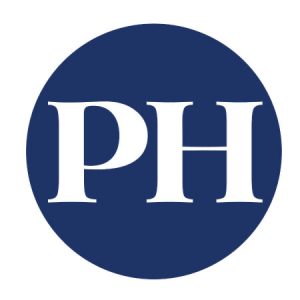 Peekskill resident and Herald writer Jeannette Sanderson is more of a late bloomer than a prodigy. She took piano lessons as an adult and once played in front of an audience of 15 people. 
You'll find stories about Peekskill people and their lives in the Peekskill Herald. These stories contribute to creating a community. Communities where people know one another leads to communities where people care about each other and make for a more resilient place. Support this type of community journalism here.