Peekskill in a pilot competition for electric vehicle buses  
Meeting with pizza dinner offered tonight at the Central Firehouse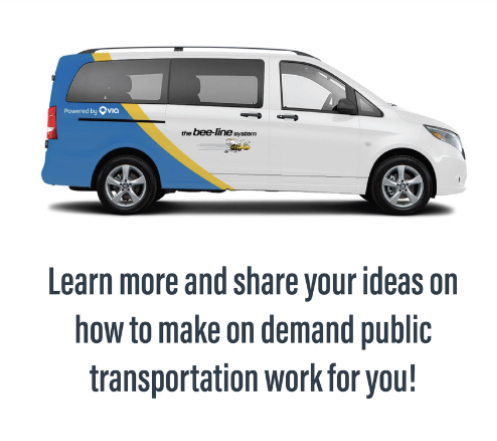 Peekskill is competing in a statewide competition that will award winners up to $10 million to operate a fully electric on-demand public transportation. If Peekskill wins, residents could receive better options for fast, frequent, reliable local trips on vans through Bee-Line On Demand. The proposed service will also serve Buchanan, Montrose, Verplanck and Cortlandt Manor. 
The Electric Mobility Challenge supports projects that use electric mobility options to address underserved communities, and it aims to expand access to convenient, sustainable, and affordable transportation for Peekskill residents who live and work far from the existing local fixed-route bus network. Supporters also hope the service will result in less cars clogging area roads.
The city is hosting a community meeting tonight, May 18th at 6 p.m. at the Central Firehouse on Main Street and streaming on Zoom to learn more and hear ideas from residents, even those who don't currently use public transit. The city is working with Westchester County, Sustainable Westchester, Via, and Tri-State Transportation Campaign to apply for the NYSERDA Electric Mobility Challenge. There's also a survey that residents can complete to help shape the application for the grant. It takes about five minutes to complete the survey.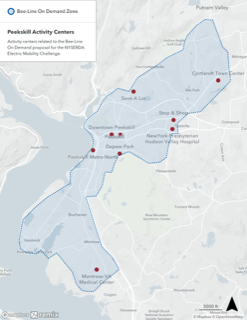 According to the proposal, the service's goal is to demonstrate how technology and electrification can create efficient, equitable public transportation for all New Yorkers — especially transit-dependent populations who may lack other mobility options. Similar on-demand transportation services have proven to help cities and transit agencies expand the reach of public transit, improve the rider experience, enable sustainable economic development, and encourage the reduction of single-occupancy vehicles. Bee-Line On-Demand is partnering with Via, which bills itself "the global leader in TransitTech". According to Via, its intelligent algorithms will enable riders to book a ride to a location in the city, and then direct them to a "virtual bus stop" within a short walking distance – allowing for quick, efficient shared trips that provide more flexibility than traditional public transit's fixed routes and schedules.
The program, supported by the New York State Energy Research and Development Authority (NYSERDA), will fund projects that electrify transportation, reduce air pollution, and enhance clean mobility for disadvantaged communities in New York State. 
"In addition to more transit options, this would mean safer streets, less pollution, and better quality of life for all of us," said Peekskill Walks in a statement. 
The news that Peekskill was selected for a Phase One grant award as part of Sustainable Westchester's Bee-Line On Demand project in this challenge was welcome news against the backdrop of the Climate Action Council hearing last Thursday at the Paramount that saw more than 100 people from the Hudson Valley tell the state Climate Action Council what they saw as priorities for how the state will reduce greenhouse gas emissions 40 percent by 2030 and no less than 85 percent by 2050 from 1990 levels. That is the mandate from the Climate Leadership and Community Protection Act (CLCP) that was signed into law in July of 2019. 
Research suggests that buildings and transportation account for more than 50 percent of greenhouse gas emissions. Using electricity to power vehicles and heat homes is becoming mainstream. Bee-Line On Demand is one initiative addressing the transportation part of the equation. On the housing component, electrification in new construction is a priority.