New pastor continues social justice tradition at Mt. Olivet
Rev. James Perry to be installed on Sunday
James and Sabrina Perry moved to Cortlandt from the Bronx in 2007 and one day they were shopping at Walmart. As Sabrina enjoys doing, she struck up a conversation with an employee.  The employee, who was getting ready to retire and move South, told them about Mt. Olivet Baptist Church.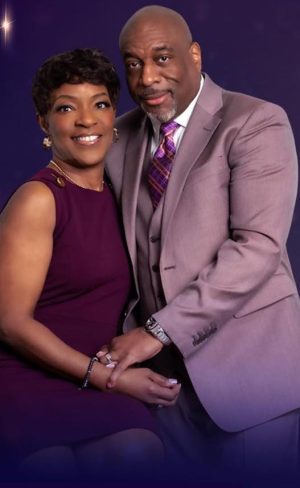 About two months later, the couple visited Mt. Olivet and never looked back. That chance encounter was evidence of a divine hand says James Perry, who will be installed as the congregation's 16th pastor on Sunday, May 1 at 4 p.m. "I wasn't looking for a leadership position when we came to Mt. Olivet," said Perry, "we were looking for a community to join."
The warm and inviting community that the Perry's found at Mt. Olivet Baptist Church is equally delighted to have him returning as their pastor. Soon after the Perry's joined as members, he became active as a Deacon and a Minister who was involved in the technology ministry along with the men's fellowship and bible studies. He was also active in the archive ministry which catalogues the rich history of the 138-year-old congregation. My great grandparents William and Liza Tinsley and great aunt Elizabeth Tinsley Phipps co-founded the church in 1893.
Perry, 53, received his religious and spiritual training at Creston Avenue Baptist Church in the Bronx where he was ordained and served as an Associate Pastor (Elder) of Finance and Congregational Care.  He speaks fondly of his 'Spiritual Mentor' Bishop Michael McConnell at Creston Avenue Baptist Church.
A graduate of Brooklyn Technological Institute, he holds a Bachelors Degree from Baruch (CUNY) and has been a Vice President of Finance, a Diversity Equity and Inclusion Officer as well as an executive mentor during his career in the book publishing industry.  He and Sabrina are the parents of three adult daughters and the grandparents to five.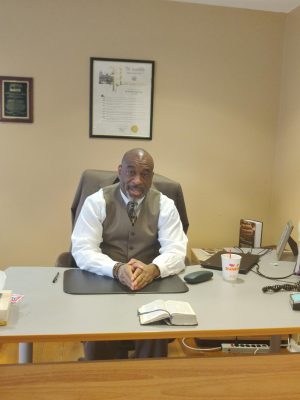 In 2015 he enrolled in Union Theological Seminary to begin a Masters of Divinity degree. As part of that program, he was assigned to do an internship at Bethany Baptist Church in Brooklyn where he was the Associate Pastor of Spiritual Formation and Information Technology.  During that period of time Perry says sleep wasn't an option. He was working full-time in the publishing industry, working at Bethany for three weeks and coming to Mt. Olivet for one week. "But the Lord is good," he said about that period and acknowledged the support of his family and the communities at Mt. Olivet and Bethany and at his job.
That internship prepared him to apply for the position of pastor at Mt. Olivet now that he had his divinity degree and in October of last year the congregation elected him as pastor.
His vocation to serve the people of God rests on four pillars: love, family, discipleship, and service.  Through the journey that's brought him to this point, he has graciously been blessed to exercise his spiritual gifts of preaching, teaching, leading prayer and worship, administration, service, counseling, outreach, and discipleship building. Perry's vision is to edify the people of God, while transforming Christ's church though inclusivity and equity for the individual and the community.
A firm believer in social justice and equity, he joined the Peekskill NAACP and served as a second vice president.  He is a board member of the Atlanta based youth empowerment organization, The New Tenth Foundation.
Mt. Olivet has been known for their community activism in Peekskill especially in the 1960's during the Civil Rights movement as well as hosting NAACP forums and elections.  The congregation is multi-generational as well as multi-cultural where all are welcome to worship. Perry recognizes Mt. Olivet's rich, active and diverse history which is a perfect fit for his leadership.
"Legacy is the foundation of Mt. Olivet," said Perry and he plans on continuing that legacy by restoring and making the community relevant in the ever-changing world.  He believes the church can contribute to the community and be the change in a troubled world.
Having strong women such as his aunts, grandmother and mother in his formative years gives him deep admiration and respect for seniors. "We need to check on our seniors," and he sees the way technology has impacted people who are unable to get out for worship. "We have to reach out and let them know we're here. We need to transcend barriers and be inclusive."
"We saw a need for community during the pandemic. We reached out to members of the community and said 'we know you can't come, but you are a part of the community.' People can stay home and pray and make contributions in ways other than physical presence."  Having a strong outreach through technology is a way to keep people connected. It's also one of the ways to expand as the world changes.
Mt. Olivet Baptist Church will be celebrating the Pastoral Installation of Rev. James Perry as Senior Pastor, Sunday May 1, 2022, 4:00PM at Mt. Olivet Baptist Church in Peekskill.  Info:  hhtps://tinyurl.com/MOBC-Sunday-Service
Also on Friday, April 29, 2022 at 6:00PM there will be a Pastoral Installation Gala for Rev. James Perry at Villa Barone Hilltop Manor, 466 US-6, Mahopac, NY.   Info:  hhtps://tinyurl.com/MOBC-Sunday-Service