Why Girls Flag Football Game Resonated With Me
The importance of investment in girls sports
Picture this:  it's 1988 and a 9-year-old girl on Long Island tells her parents that she would be the first female official in the NFL. Or that she would be the first female kicker for Notre Dame football. That girl was me, and I believed it. Those are long forgotten dreams, but they resurfaced this week when I watched the Peekskill Lady Red Devils Flag Football team play their first ever game at Torpy Field. Being there on game day reminded me of a seminal moment in my own pioneering sports career. 
My friends and I were buzzing, discussing our intentions for trying out for the newly announced girls lacrosse team. It was 1996, my junior year of high school and it was exciting.
None of my friends had ever played lacrosse. There was no girl's lacrosse program in our town. If girls did play sports, we either participated in soccer, basketball, or softball. So, we were a little nervous. It's not like we could google YouTube videos to learn the game (YouTube wasn't founded until 2005!) or see other girls playing in town, or on TV for that matter. 
I decided that we were all in the same boat and I went for it. Sure, the more athletic players in the group would most likely rise to be the best players, but I had nothing to lose and I made the team. 
I could spin you all the stories about the amazing memories we made as a team, how we weren't very good, but gave more experienced teams a run for their money. But to me, the most important thing was how it impacted girls who had never played a sport in their life and how it helped me in my pursuit of a career in sports. 
I can't speak for all my former teammates who were part of a sports team for the first time, but what I experienced  was new friends, new confidence, and new interests. Suddenly sports weren't a negative thing and jocks were not so intimidating. Competition could be fun!
But joining the lacrosse team would also help me when I became a sports writer at Newsday in 2005. It was my dream job! When the lacrosse beat became available because I had the experience of playing,  I was able to step in and cover it. On Long Island, the lacrosse beat is huge. It was a feather in my cap and I was so proud to be reporting about a sport I once played. But it was also clear that my on-the-field experience led to a viable career option. 
Oh, and that dream I told my parents about when I was 9 years old of officiating a professional football game –  it's finally become a reality, just not mine.  In 2015 Sarah Thomas brought that dream to life, some 27 years after I envisioned it, becoming the first female officiating at an NFL game. In 2021 she was an official in the Super Bowl, another barrier crossed.  
We need to continue expanding the exposure and access that girls and women have to sports. It's imperative to the survival of youth sports and for the success of professional sports.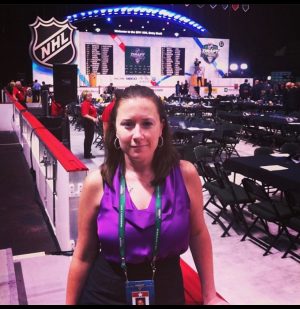 Peekskill resident Katrina Doell Mullaney went on from covering the lacrosse beat at Newsday to work for the NY Islanders hockey team. She is the digital media manager at Peekskill Herald and occasionally covers sports here.