Strong Women From History Are The Subjects of this Novelist
Allison Pataki's memoir shows she's as strong as her subjects
In honor of Women's History Month, Renee Smith Leisengang interviews a person with a Peekskill connection who writes about fascinating women from history.
Allison Pataki is a New York Times bestselling author, a wife, mother and a daughter of former Peekskill Mayor and Governor of New York George Pataki and Libby Rowland Pataki.  She's also written historical novels, children's books and an uplifting memoir about navigating through her husband's stroke at age 30.
Allison, 37, is a fourth generation Peekskillian.  At the Pataki family's farm on Frost Lane she had an apple cider stand as a child.  She knew from a young age she wanted to be a writer. She loves everything about books; reading them,  discussing them and writing them.  Immersing herself in a great story gives her the opportunity to see a new world through a fresh set of eyes.
Allison attended Hackley School in Tarrytown where she said Hackley gave her the foundation to become a writer.  At Yale University she majored in English and graduated cum laude and also met her husband Dave there.
After college, Allison moved to New York City where she spent several years in journalism.  She was a writer and producer for the New York Times, ABC News, The Huffington Post, USA Today, Fox News, and other outlets.  She felt the hectic pace of writing and meeting deadlines wasn't meant for her, so in her free time she started writing novels and became energized. She chose subjects that connected to her life growing up in the Hudson Valley and her family's Hungarian heritage.
Her first historical fiction novel, 'The Traitor's Wife', published in 2014, is about Peggy Shippen. She was the wife of Benedict Arnold who was part of the plot to deliver West Point to the British.  The book was a bestseller and received excellent reviews from the late Mary Higgins Clark, a renowned mystery author. "I consider this to be the debut of a major writer of historical fiction," wrote Clark.    "Historical fiction lovers will look forward to more from this promising new novelist," read the review from Publishers Weekly.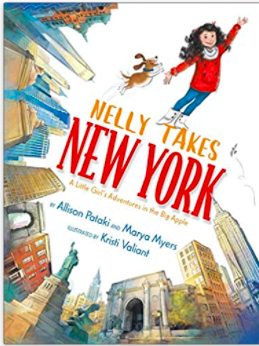 Her second book 'The Accidental Empress' (2015) another New York Times bestseller, is the love story of Sisi the Austro-Hungarian Empress and her husband Emperor Franz Josef. 'Sisi: Empress On Her Own' (2016) which is Allison's third fictional novel is also a Times bestseller, it picks up where 'The Accidental Empress' left off.  Sisi is known as the Princess Diana of her time.
Allison's other historical fiction novels are:  'Where The Light Falls' (2017) ,  'The Queen's Fortune' (2020), and her latest work 'The Magnificent Lives Of Marjorie Post' which was published last month.
Her novels tell the story of strong women.  Marjorie Merriweather Post was the first woman to chair a corporate board and for a woman to have such a powerful position at that time in America was a huge feat.  Upon the death of her father in 1914 Marjorie became the owner of the Post Cereal Company, which is now known as General Foods, becoming the wealthiest woman in America.
'Beauty In The Broken Places' is the memoir about determination and gratitude, and the value of putting one foot in front another during a crisis said the Washington Post in its review. The book chronicles, through daily letters Allison wrote to her husband, the period when he was recovering from a rare stroke.
In 2019 and 2020 Allison wrote two children's books, 'Nelly Takes New York' and 'Poppy Takes Paris'.  Both books feature adventures in the most exciting cities in the world.
A member of the Historical Novel Society, she has appeared on 'The TODAY Show', 'Good Morning America', 'Fox & Friends', 'Good Day New York', MSNBC's 'Morning Joe', and 'Good Morning Chicago.'
She and her husband Dave have three children ages six, three and a one-year old.  They live in the Hudson River Valley. Her books (personally signed) can be found at Split Rock Bookstore in Cold Spring.
Writing children's books is what we can expect more of from Allison. "It's where they can explore and find their place in the world," she said.
Renee Smith Leisengang, also a fourth generation Peekskillian, retired from a career at Warner Brothers Entertainment in 2009 where she was as a celebrity handler. She is a former member of Peekskill's Human Relations Commission and was chairperson of the Peekskill Housing Authority Board from 2008 to 2010.