Sweet Memories of Treat and Flowers
Turning the browning pages of the early March issues of the 1992 Peekskill Herald is bound to conjure up memories of neighbors and businesses and events and government issues that tumble on and on. However, I was not prepared for the deep dive into nostalgia, which sucked me in, as I looked at the advertisements on the thirty-year-old pages of the Herald.   
For any of you who lived in this area "back in the day," I'm certain that you would have the same reaction and be met with a similar list of stories and people and traditions of your younger self. When my eyes fell upon an ad for the Modern Bakery, it conjured up layers of memories and they weren't all of chocolate layer cakes. Modern Bakery on South Street and Larry's Bakery on Washington St., were civic institutions of the highest order and most of us knew right where they fit into our weekly schedule. 
With my family, one of these bakeries was always featured after a visit to the Assumption Church on Sundays.  In a family with lots of kids, there was always some child that had to stay behind on Sundays, which meant one parent stayed back and the other led the way down to Church.  If it was my mother who took us to church, then we knew we'd be hitting the Modern Bakery before we headed back up Union Avenue.  I remember the friendly service always on display by the owners, Ann and Mafred Gallwitz, and the staff, like Mrs. Alice Perrotta and teenager, Joyce Miner.  It was major news when the founding owners decided to retire in 2006 and the bakery was purchased by Joanne (Bonnie) Boniello.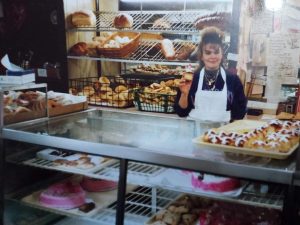 At one time Kenny LaFountain was the early bird baker, starting before dawn and finishing after lunch.  He worked hard to keep the shelves full of tempting treats, then strided cheerfully along Nelson Avenue each afternoon on his way up the hills to Peekskill Towers.  He would pop into the Field Library at least two or three times a week, where he picked up books for his young daughter, Candice, and his wife, Maureen, who was always in need of books for her college courses.  Eventually, Maureen took a job with the City of Peekskill School District and Kenny joined the maintenance staff  at Peekskill Towers. Recently, they have each retired  and relocated to Myrtle Beach, but residents of the Towers still miss him and sing his praises.  
It's a sorry sight nowadays to see the Modern Bakery dark, unused and boarded up.  Never-the-less, it's quite possible that the scent of newly baked cookies lingers inside in the air. 
Now back to Larry's Bakery.  If it was Dad who took us to church,  it was a pretty sure bet we'd be driving down Washington Street to get crumb cakes and coconut buns from Larry's.  We'd cruise past Hatch's Service Station, where Dad routinely dropped off our one family car for servicing, before he hiked down to the train station for his commute into New York City.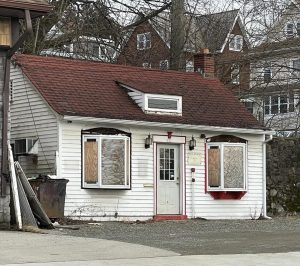 Once inside Larry's Bakery we'd breathe deep, taking in all the delicious baking smells and pick up our sweet rewards and a bag of hot-from-the-oven dinner rolls, then we headed home for the Sunday roast.  How I loved sneaking my hand into the bag on the way home and licking that sticky icing off my fingers! 
Annette Gasparro's father was the proud owner of Larry's and Annette knew a secret that was not broadcast around town.  We can share it now.  Even if you bought your rolls at Modern Bakery, you were still enjoying the baked goods from Larry's, because the Modern Bakery got all their breads and rolls from her Dad's bakery.  At her Dad's insistence, Annette had to bite her tongue and not boast to everyone that they were the master bread bakers!  I know that we are all looking forward to seeing the lights back on in this building on the corner of Washington Street and Loomis Avenue when the new supermarket opens.  And the further good news: they have big plans for a specialty bakery department inside.
Of course these bakeries were woven into our lives with much more than Sunday treats and cookie rewards.  Close your eyes and picture the familiar look of a square white box tied up with red string.  Doesn't it make you wonder if that's your birthday cake inside or maybe a dozen fancy cupcakes to bring to your cousins?   I can  still feel the weight of the big sheet cake box, holding an elaborately decorated cake with "Happy 25th Anniversary Mom and Dad" painted on in purple icing, which I was determined not to drop. 
 "Back in the Day" Modern Bakery and Larry's Bakery played festive roles in many of our family and personal lives.  
They weren't the only businesses helping us to celebrate the times of our lives.  Dean Ferris Florists at the corner of Hudson Avenue and Maple Avenue were loyal advertisers in the Peekskill Herald and generous contributors to the community.  Emily and Vic Ferris and their son, John, worked long hours to respond to the needs of area residents, as we suffered losses and celebrated life's many precious moments.  The Ferris' could have supplied the Breaking News of their day, with up-to-date information on deaths, births, weddings and other special events. The premises included three or four sprawling greenhouses, with dirt on the floors and plants of varying size and appeal on tables and hanging from the framework.  The air was always tropical and close and you could wander at will and poke into corners to explore.  The greenhouses were all attached to the main shop which was lined with refrigerated coolers bursting with flowers of many colors.   Nearby a few work tables were covered with greens and flower stems, as  arrangements would be assembled with florist shears and artful precision.  I never knew what "Chaos with purpose" meant, when I first started stopping by Dean Ferris with one of my parents, as they accomplished some Ferris related errand.  Now I not only know what "chaos with purpose" means, I basically live by the philosophy.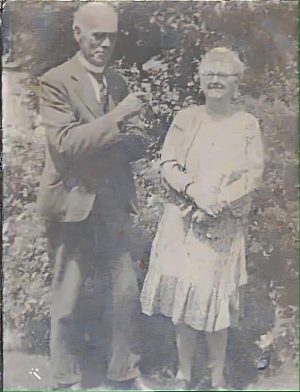 I have many memories of Dean Ferris arrangements that either arrived at our home as a commemoration of some anniversary or Mother's Day, or flowers that were lovingly displayed around a sedate funeral home.  And who could forget the clear plastic box holding a corsage of orchid and baby's breath tied with silky ribbon, which would arrive either by delivery or in the shaky hand of a prom date?  It would not be a surprise to hear that some of you still have one of those lovely corsages pressed and cherished inside a favorite book. 
But my best memories of Dean Ferris were later in life, when I joined the Garden Club of Peekskill and offered to start a Junior Garden Club at the Field Library.  Each year as we neared special occasions, we would teach a group of youngsters how to create a small flower arrangement.  Valentine's Day, Easter, Mother's Day, Thanksgiving and Christmas and many other events were brightened by giving children a chance to explore their creativity with flowers and greens arranged in various containers. John Ferris always helped us assemble all the supplies and made sure that we had great flowers, ferns and other natural materials for the children to use. I was sad to see John retire and sell the business and the land.  Several pretty houses have sprung up on the property.  But all was not lost, because Debbie DiSisto, who started learning the florist business by working for John Ferris, went on to have her own successful shop, Forever Yours Flowers & Gifts, at the Welcher Avenue shopping center.  And some years ago, she was so much in demand that she opened a second florist shop in Danbury, Connecticut.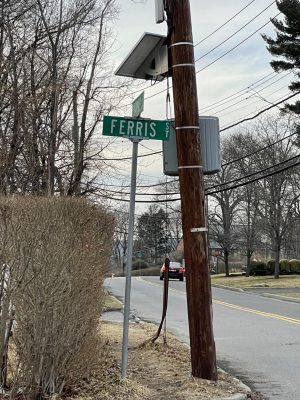 Celebrations and lasting memories call for more than cookies and flowers and the ads in the Herald could help you find lots of necessary elements of a memorable time.  If you were partying at home, you could count on Silverman's or Nardone's Furniture Store to source out some comfy chairs and coffee tables.  Silverman's was advertising a Buy one/Get one free sale of Lane Recliners from $400 to $800.  The sale is over and Silverman's is long gone, but Nardone's is still down on Washington Street, with the fourth generation of the Nardone family continuing to offer stylish furniture.  
When you're sprucing up to entertain, you might want to get a quick cut and shampoo and the Northern Westchester School of Hairdressing on Bank Street offered the cut rate of $4.50.  It's the Empire Beauty School these days, but the bargains are still out there and the same family runs it.  Today a shampoo and cut is a mere $11.  When the party was at home, you could count on Leo's Delicatessen for platters of salads, cold cuts and trays of hot food.  Located past the hospital on Crompond Road, Leo closed up shop, but Sansotta Brothers II is now located there and they can do any party planner proud.  We never need to go hungry or thirsty in this area!  
Back in March 1992, the Beach Wines & Liquors was inviting everyone  to "Come on in and see our Leprechauns."  I don't know what all that was about, but the liquor store is still out there and maybe the Leprechauns are out there, too.   After all, it is the season for seeing green. 
 Some of us like our celebrations with the least expenditure of energy.  Those folks would find enticing ads, luring them to long standing restaurants with Party Power.  Reef 'n Beef was beckoning with Prime Rib specials and Blueberry Hill was "rolling back the prices to 1957."  They featured cheeseburgers for .56 cents and a cup of coffee for a dime, along with drafts for .25 cents.  The Peekskill Fish Market had installed a dining area and was a real busy spot on Friday nights during Lent.  And the WLNA Family and Crystal Bay were advertising their annual Bridal Showcase, where families could really dig into planning some memories.  These days all those restaurants are gone, but the Reef was resurrected as Table Nine and Crystal Bay is now the event venue, The Factoria at Charles Point.
I know that at the time these and other businesses put money into advertising their services in the Peekskill Herald, it was probably as much to keep the Herald publishing each week, as it was to lure in new customers and keep the old cliental.
Looking back at the names and products of each of these ads, I feel gratitude that they made the decision to get their businesses documented in print.  Newspapers are such an important record of our current day(s), but they are also an invaluable archive of our history, including our social history.  I love being reminded of "the good old days," when little things like coconut buns and flower deliveries can suddenly flood you with the sweet moments of shared times with family and friends.  I think that Norman Rockwell would have found lots of American memories to paint, Back in the Days of  Peekskill in 1992.