New Art Center in Verplanck's St. Patrick's School opens for season
Restored school building will also offer performances and classes
The new KinoSaito Art Center in the former St. Patrick's School in Verplanck opened for the season Friday, March 4.  The beautifully restored historic building  located at 115 7th Street retains much of the interior elements of the former brick building that housed a school for generations. KinoSaito is a new 501(c)(3) nonprofit arts center rooted in the creation and practice of abstract art and committed to nurturing experimentation in every form and medium. It opened in 2021 upon renovation completion of its 1921 former school building. The facility houses two art galleries, two artist-in-residence studios, an 80-seat theater, a 35-seat classroom for artist-led workshops, a café, and garden.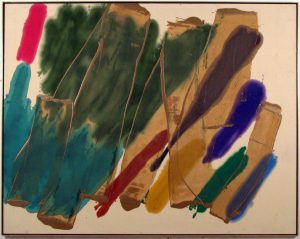 The first series of thematic rotating shows on view this spring, are titled Material Presence and feature the abstract Color Field paintings of KinoSaito's founding muse Kikuo Saito (1939-2016) in Gallery I from March 4-May 22 and New York City contemporary sculptor Jilaine Jones and Brooklyn-based abstract painter Fran O'Neill in Gallery II from March 4-April 24. In addition, California multidisciplinary artist Christina McPhee's installation, Regeneration, will be on view in the second-floor Theater from March 4-April 24, with an onsite Artist Talk by McPhee scheduled for Saturday, March 12, from 2-3 pm. Biographies on each of the artists can be found at: www. kinosaito.org/exhibitions.
Hours of operation are Friday to Sunday, 10 am-5 pm, and Thursdays by appointment for school visits and tours. Admission is free, but donations are encouraged. Event rentals of the galleries and theater are welcomed. The Center is fully wheelchair accessible and parking is available onsite.
To learn more about KinoSaito's spring programs or to schedule a visit, contact Art Center Manager Michael Barraco at [email protected] or call 914-293-7468.