Five Honored for Positive Contributions to the Community
Part of city's celebration of Black History Month
On the last day of Black History Month the City of Peekskill honored five individuals who have made an impact in the lives of Peekskill citizens. Mayor Vivian McKenzie read proclamations at Monday's Common Council meeting honoring high school student Ariana Okoth, business owner Sharon Simmons-Wright, educator Bridget Holloman and community advocate Elizabeth McCorvey. Coleman Smith, Jr. was honored posthumously and his daughter Renee accepted the proclamation on behalf of her father. 
Each recipient was given a flower arrangement in a city of Peekskill mug that was designed by an African American woman business owner, Pam Johnson of Lily of the Valley florist on South Street along with a box of cookies created by another African American woman business owner, Auzerais Bellamy of Blondery Bakery. 
Tenth grader Ariana Okoth was recognized for her involvement in school activities and community civic groups.  At Peekskill High School, she is vice president of the class of 2024 and also vice president of the Peekskill NAACP's Youth Council. She is a member of the Student Body, the Debate Club, Black Culture Club, Studio Orchestra and Interact Club which is sponsored by the Peekskill Rotary Club.  She plays in the Concert Band and sings Concert Choir and was most recently accepted into the Peekskill City Singers. She is a swimmer on the varsity swim team and runs indoor track on the varsity track team. Her involvement with the Girls Empowerment Movement and Sisterhood was on display in her acceptance remarks. She said she does not only do things for her community but for the people that come after her. "I know that they need spaces and need to look at faces that look like us. Because if you see it, you can believe it and achieve it. I can teach younger black girls that look like me that 'hey, you can do it also'."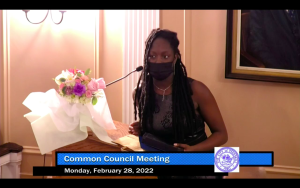 Oakside teacher Bridget Holloman was honored for her enthusiasm and dedication to the Peekskill City School District for more than 21 years.  A doctoral candidate at Fordham University who is expected to graduate this May, she is a founding member of the Peekskill Basics Committee, a program designed to reach and teach families of children under three years of age. She was recognized for changing the narrative for students by helping fellow teachers learn about culturally responsive education practices and how to help prevent the "school to prison pipeline" with the power of literacy.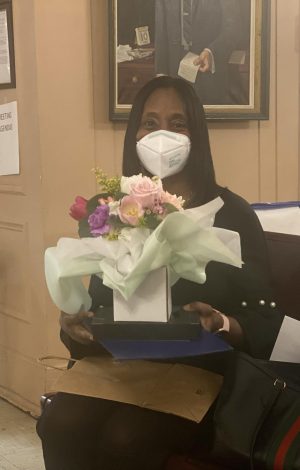 She was encouraged by the school district to join the Future School Leaders program, and has the leadership credentials to lead a building in the future. A 1989 graduate of Peekskill High School, Holloman's dissertation subject is: "Improving Literacy For Elementary School Black Boys Through Culturally Responsive Pedagogy And Professional Learning Communities. "
Sharon Simmons-Wright, an educator, an accomplished dancer and choreographer  was recognized for the business she founded 21 years ago, "Just the Place Creative Arts Center "where she blends her love of teaching, mentoring and setting educational and performance standards of excellence through supportive and nurturing training for youth.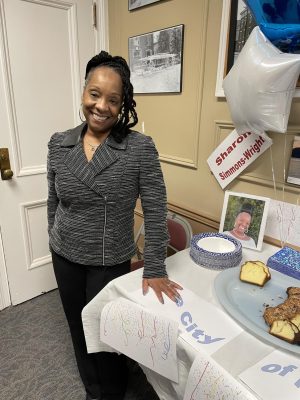 She  received a Bachelor of Arts degree from Brooklyn College and a Masters degree from City College of New York and has spent more than 33  years working in various schools teaching youth the fundamentals of reading literacy, arts literacy. She is currently an Adjunct Professor at Central Connecticut State University. She and her husband Derek moved to this area 11 years ago. 
Community activist Elizabeth McCorvey, affectionately referred to as "Carmen" became the Executive Director of the Family Resource Center in 2007 taking over after the passing of her mother, Vera. The Family Resource Center has provided housing, emergency food, clothing and crisis counseling services to the Peekskill community for more than 20 years. The proclamation read that McCorvey helps everyone regardless of race or national origin. She is the owner of BBDL Construction, LLC, a minority, woman-owned company offering general contracting services in the area. The proclamation continued that McCorvey, whether helping those in need through the Resource Center, her construction business or through charity, always does so with unwavering dedication, tenacious energy and a smile.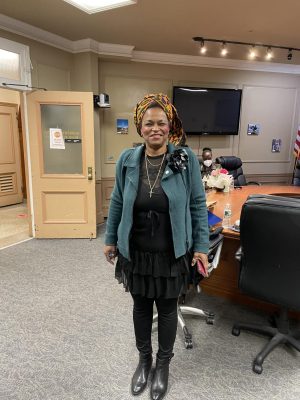 Coleman Smith, Jr. was posthumously acknowledged with honor and distinction for the many contributions he made to the city. He spent his life trying to overcome racial discrimination from enlisting in the Navy at age 18 in 1946 to attempting to become a volunteer fireman in the City of Peekskill. 
The proclamation referred to him being an unrelenting advocate for racial equality who faced many obstacles throughout his lifetime while just wanting to do for others by representing the United States in the Navy, coaching basketball and wanting to become a fireman, all the while facing racial injustices and harassment. He organized  a union for the Peekskill City School system's custodians, was appointed to the Housing Authority and finally became a member of the City of Peekskill Fire Department in 1965.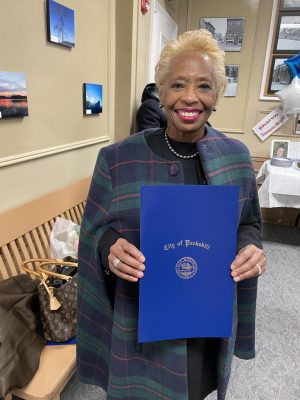 A trustee on the board of the Mt. Olivet Baptist Church, district leader for the Peekskill Democratic Committee and a lifetime member of the NAACP, received numerous accolades from many, including Senator Hillary Clinton, County Executive Andy Spano, Senator Vincent Liebell, State Assemblywoman Sandy Galef and Westchester County Board Legislator Bill Ryan.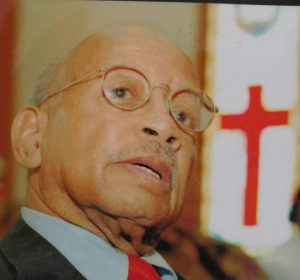 His daughter Renee said her father never complained about the hardships he experienced trying to integrate the fire department and was quick to teach her to give back to the community.