New housing law passes with 10 percent set aside for affordable units
The Peekskill Common Council voted to adopt the Affordable Housing Ordinance on Monday night with no changes following the public hearing on January 10th. In a unanimous vote, the Council adopted Peekskill's first affordable housing ordinance, ensuring that all future market rate developments set aside 10 percent of the units  as workforce or affordable housing.
Critics of the measure say that the ordinance does not go far enough, arguing that 10 percent of units of a development is too low and the ways by which the law measures "affordability" uses income metrics from Westchester County, not Peekskill, which has a lower average income. 
Still, the Common Council seemed encouraged by the milestone of putting an affordable housing law on the books – a first for the City of Peekskill. Multiple members of the council also expressed optimism that amendments to the law could be made in the future, though it is unclear what criteria would be used to evaluate if changes are needed. 
In other items on the agenda, the Common Council adopted resolutions authorizing the city to release a bid for improvements to Fort Hill Park, allowed feasibility studies for new solar projects, and set public hearings for adopting zoning changes to areas bordering the downtown. City Manager Andrew Stewart announced that Peekskill had been awarded an $800,000 grant from New York State that will help improve the city's water and sewer infrastructure and will seek financing for broader repairs by 2024.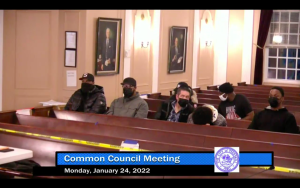 The Council also authorized the city manager to sign the contract with the Peekskill Police Association which had been working without a contract since December 2019. The new contract expires in December of 2026.  Department of Public Works employees, who were in attendance at the Council meeting, have been without a contact also.