Tour Peekskill Past and Present using Smart Technology
New Resident Creates Free History App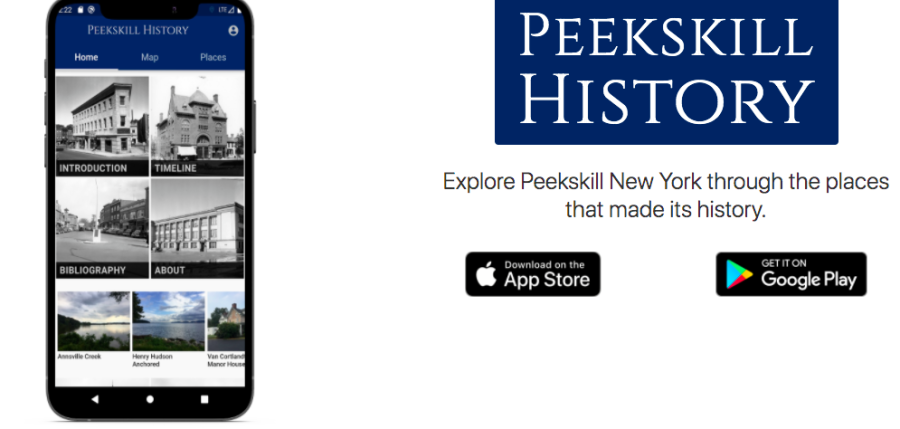 Irish native Trevor Noble's peripatetic wandering through the United States 15 years ago gave him an insight that led to the creation of Peekskill History, a free smartphone app, while earning a final grade of A for a course in his Master's in Public History program. 
Noble discovered on his solo trip across the US all those years ago that unlike Europe, where museums are often state-funded and run, America has smaller, local history museums financially supported and staffed by volunteers. Unlike more formal, well-funded museums, most of these provincial institutions are open short hours.  He also observed that the history collection in the American local museums were tied to the physical location of the museum building. 
He and his wife Amy moved to Peekskill three years ago, and during the pandemic he was laid off from his job in the finance sector. Noble, 43, used the unexpected unemployment as an opportunity to pursue his passion for history and enrolled in the master's program at SUNY Empire State. In October he needed to identify a project for his course on Exhibitions, Theory and Practice, with the final project turned in by mid-December. 
He knew he wasn't going to create an exhibit, which frequently takes years to research and mount. "I started thinking about creating something that had the potential to have an impact, using the technology that we have. It takes less than a minute to download the app, Peekskill History," said Noble.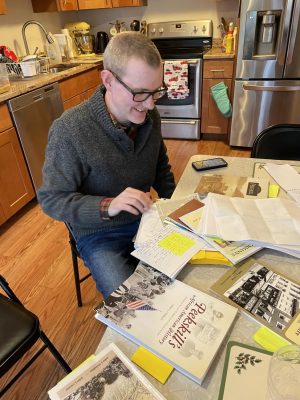 He recalled two friends from Dublin, Dan and Sean O'Connor,  who ran a software company where they developed code for other apps including one that led people on a walking tour of James Joyce's Dublin. The O'Connors told Noble they'd welcome collaborating with him on a project if he developed an idea. 
Because he was working on a tight deadline, and Peekskill's history is long and varied, he limited the scope of the project to 33 sites of interest and worked with the Peekskill Museum and former city historian Frank Goderre on securing the pictures. He then spent weeks researching and writing. All the text in the app is authored by Noble. He's done meticulous research, and it's all documented from 39 sources listed in the bibliography. 
He said he wanted to "open up some stories that haven't found a way into the history books" and acknowledged the time span between current affairs (last 20 years or so) and history (beyond 20 years)  was what he would use as a cutoff. Anything before the late 1990's to early 2000's was fair game for him to highlight.  
The app is designed to allow a person to take a self-guided tour of the historic places of Peekskill and its immediate surroundings, which he explains in the Introduction. Features of the app include Home, Map and Places. Every page has an option to click a bookmark to highlight a place as well as an option to click 'Seen', noting that the user has seen the place.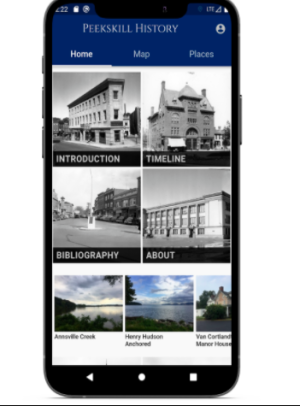 There are also directions on how to access a site. That ability to locate a site following directions is something we've come to expect from technology. But it wasn't the case in 2008 when Noble was traveling across the country on his own. He had an iPod so he could listen to music, but didn't have a GPS system – so he got 'lost' a lot. But he also realized that when you're traveling on your own you really get a feel for a place and people are more inclined to talk to you. "You're forced to look more."  
In creating the look of the app, Noble chose blue as the backdrop color, since it's on the New York State flag. He also decided to use black & white photos to keep the historic feel, except for current ones he took. And he wanted a font of type that conveyed a degree of importance, limited to what was publicly available. He is determined to not make the app a commercial venture. But he also sees how it could be replicated in other regions. 
In addition to the introduction, the five other categories that pop up on the screen when the app is opened include: Timeline, Bibliography, About, Museum, and First Americans. 
The images illustrating the Dutch settler Jan Peeck, after whom Peekskill was named, offer an example of Noble's photography and writing style. 
The entry around Jan Peeck Trading Post reads as follows:   Around 1640 Jan Peeck, a resident of the Dutch settlement of New Amsterdam, settled in this area. New Amsterdam was the Dutch settlement at the lower end of Manhattan that would later become New York City. 
He set up a trading post at this location on Hollow Brook Creek and traded with the local Kitchawank tribe (see "First Americans" on the homepage for more details on the Kitchawank and the impact of European settlement on Native Americans in the area).  
Not much is known about Jan Peeck. He first appears in local records when he gets married in 1650. At some point after this he returned to New Amsterdam and ran a public tavern. There is no public record of him after a 1660 purchase of two houses in Albany, NY.  
The name Peekskill is a combination of his name and 'kill' which is Dutch for stream. It is this waterway that is referred to in the name. He was the first European settler in the area but was followed by more in the coming years. There was considerable violence between the Dutch settlers and the Kitchawank.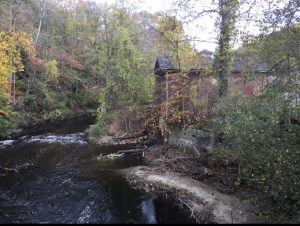 There are three current images illustrating this site. The idea for this mobile way to explore history had been percolating around his head for years and he wanted to present the facts in context.  "It's only by understanding that we give ourselves the best chance of not repeating history," said Noble. There are the '"facts', and then the history that people want to feel comfortable with." 
The most troubling – and unfortunate – event that he discovered in doing his research was the 1925 rally on a 15-acre site off Lafayette Avenue that saw some 20,000 people attend from all over the tri-state area, sponsored by the Peekskill branch of the Ku Klux Klan. "It was the largest Klan rally ever in the Northeast," said Noble. 
Three years earlier, in 1922, Peekskill resident William Henry Singleton, publishes his memoir that features his time as an enslaved person, and his fighting in the Union Army during the Civil War. He moved to Peekskill in 1906 and left in 1924. This entry shows a picture of the private home with the notation that Singleton's home was behind the property shown and a request to respect the privacy of the residents.
For a newcomer to the area, the app is an invaluable resource, as it is to those who have lived here their entire life, and may not know the backstory of places they've driven or walked by for years. 
Peekskill History is free, and can be downloaded from the Apple App Store or Google Play.