When we began the Peekskill Herald newspaper 33 years ago, one of the most encouraging aspects of our shoestring start-up was the response from Peekskill merchants. They were so supportive of our community newspaper that they took advertisements out for the entire year and payed upfront for the ads.  In addition to the funeral homes who were first on board were many of the business owners featured in John Curran's newest book, Peekskill's Jewish Community in the 1900's. 
The 112-page paperback is a collaboration between the Peekskill Museum and First Hebrew Congregation.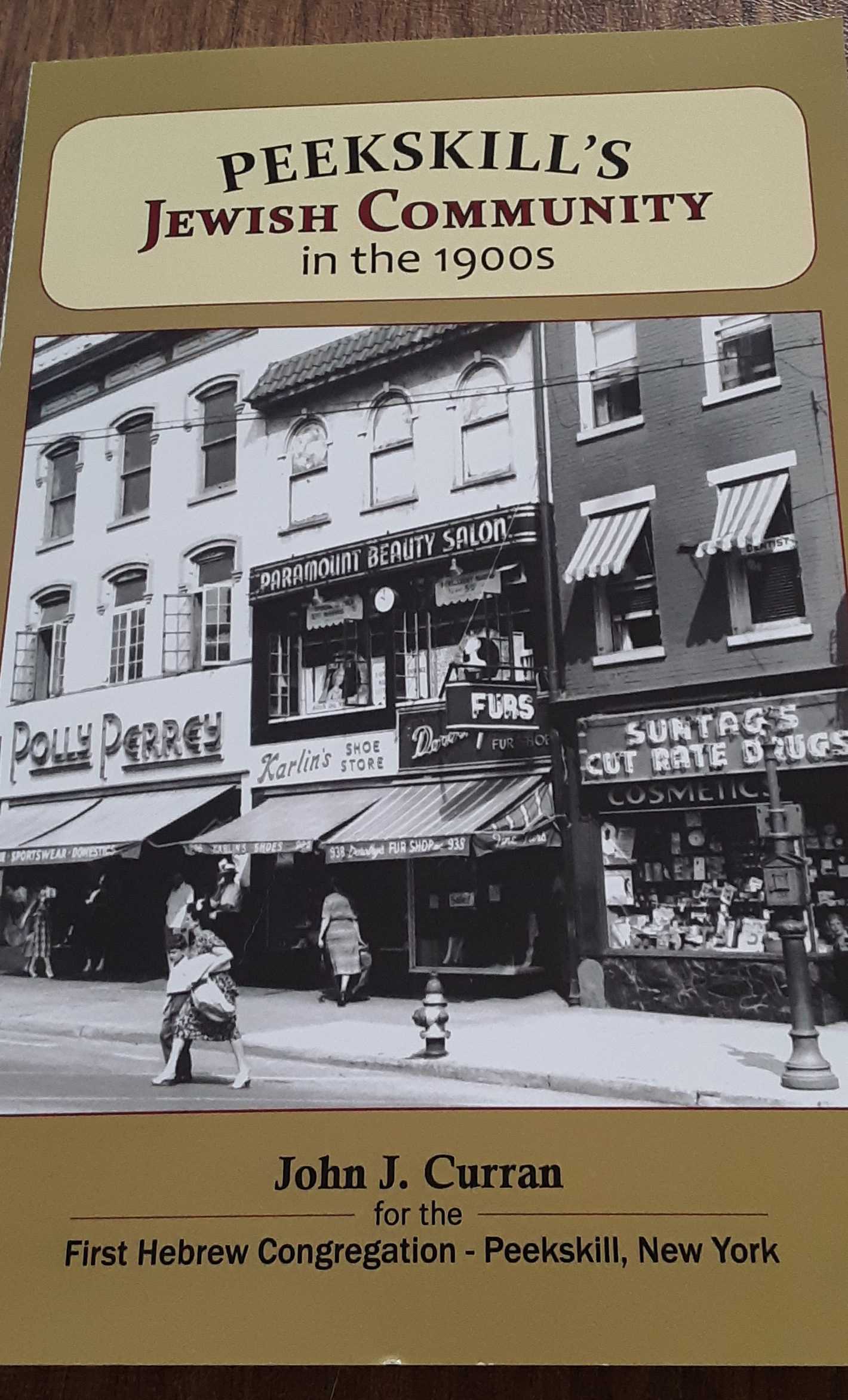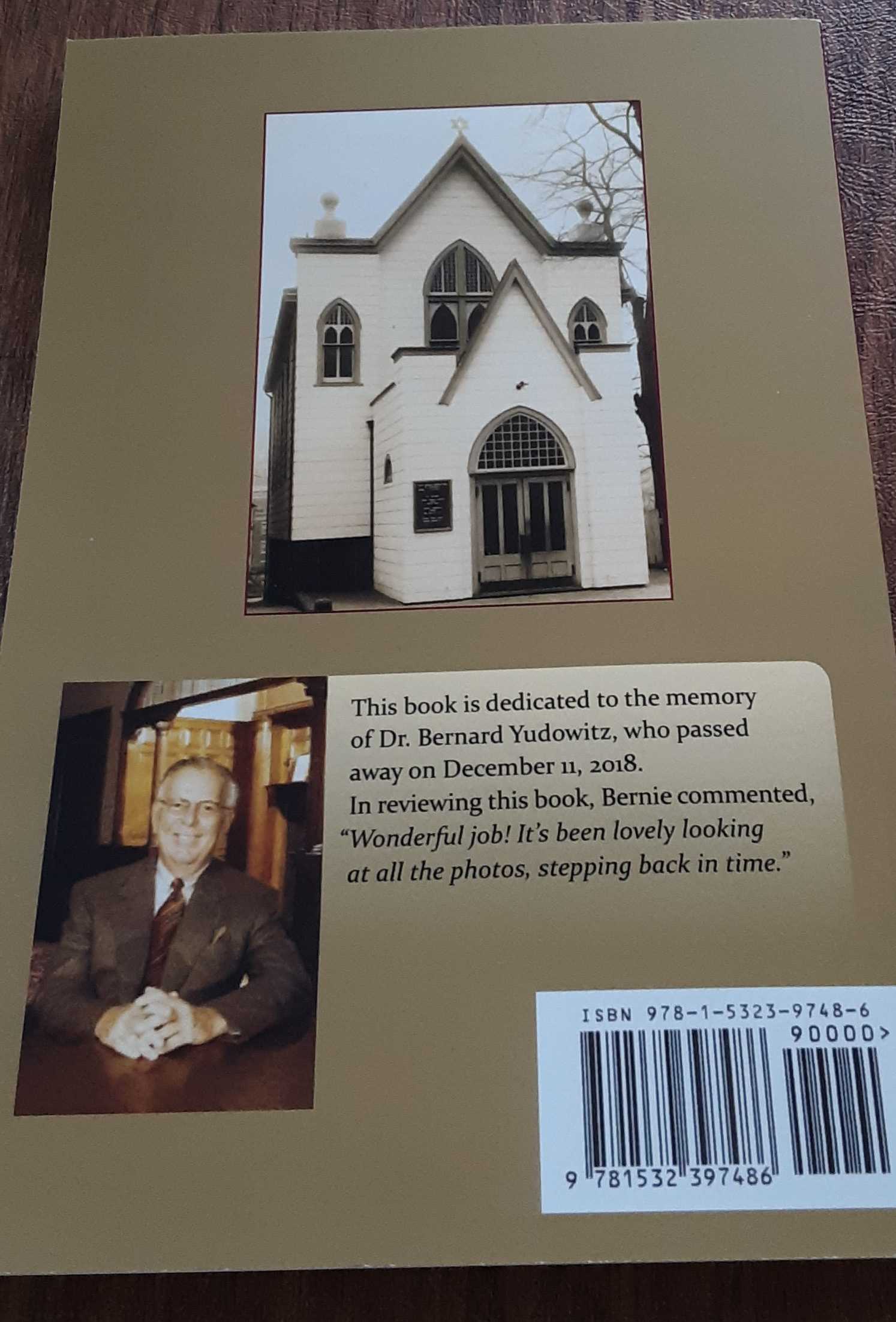 The book chronicles Peekskill's business community at the beginning of the 20th century and was the brainchild of Dr. Bernard Yudowitz who died in December of 2018. According to his wife Evelyn "He always spoke of his childhood hometown, of the wonderful people there and of the superior education he received from loving, capable teachers." 
In gratitude for his experiences as a 1951 PHS graduate, he helped preserve some of the WPA art murals of the old Peekskill High School building, now displayed at the middle school. He provided funds for a new Field Library front desk. He helped restore the paintings of Arthur Frischke now at the Field Library and he also was a benefactor of Peekskill's First Hebrew Congregation. He did get to see a proof of the book before he died. 
The Peekskill Museum hosted an event on Sunday that featured a slide show and talk for the 50 people who attended. Curran was joined by Chuck Newman and Robin Goldsand who spoke of their experiences in compiling pictures and family histories of the more than 100 Jewish owned businesses in downtown Peekskill. 
The books are just about sold out, but attendees were able to order new books that will be printed soon. Orders can also be placed through the Peekskill Museum by calling 736-0473 and leaving a message with a name and phone number.
The meticulously researched book also includes sections on Peekskill lawyers, doctors and dentists along with diagrams of the central business district pointing out the businesses and professionals. 
"We want to paint a picture with real life stories of the businesses, professional lawyers, doctors, pharmacists and shop owners. There is a sense of urgency to speak with those who remember our roots in the early and mid twentieth century so that we can pass this legacy on to others.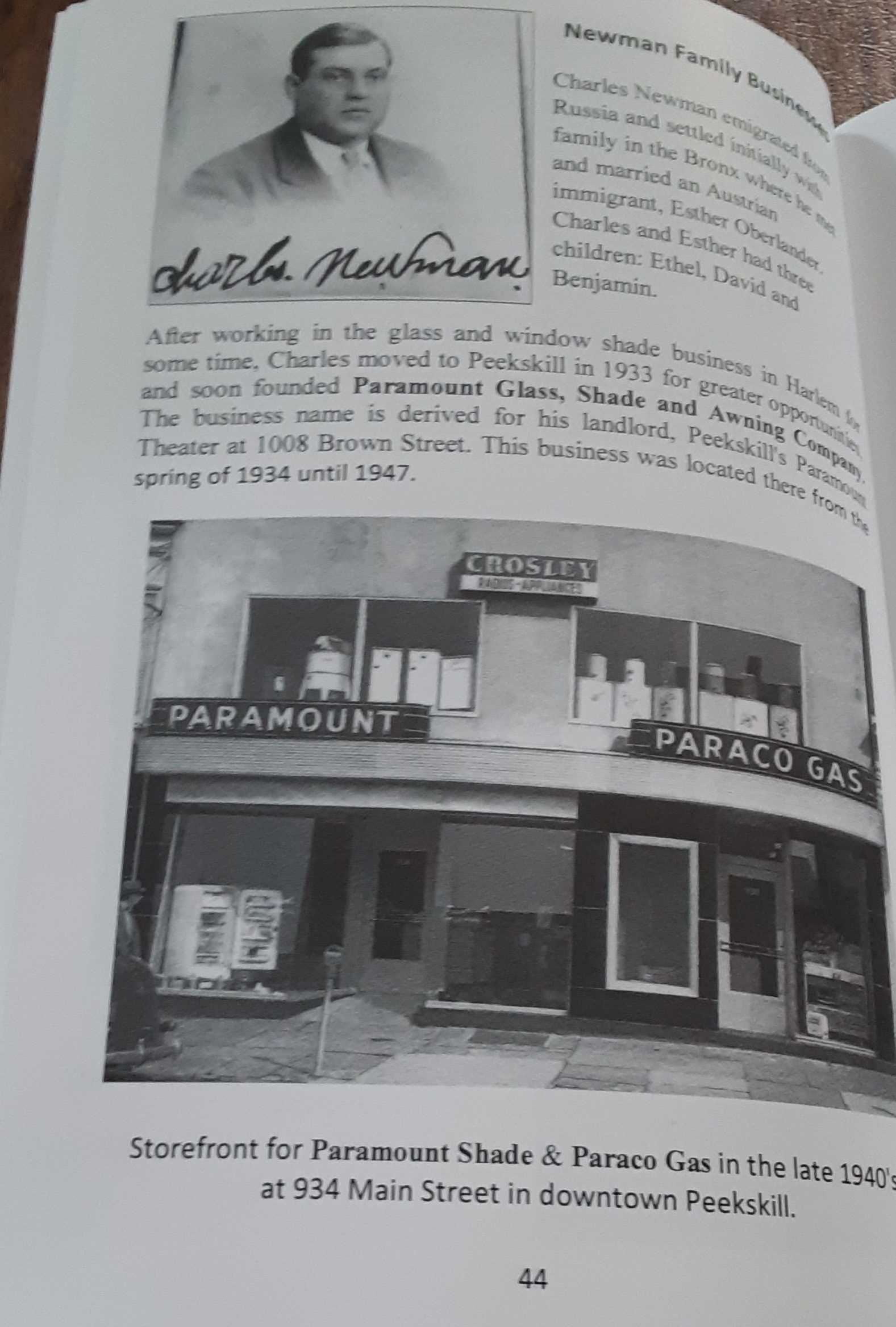 Downtown Peekskill in the 1900's was the retail hub for several Jewish summer colonies of Lake Mohegan, Lake Peekskill and Shrub Oak, wrote Robin Goldsand in the Introduction. 
The book is filled with archival photos of storefronts and proprietors and much family history. 
My memories of Jewish business owners center around the two-page advertisement that we ran every year for Hadassah, the Women's Zionist Organization of America. Miriam Goldberg and Selda Bloome were powerhouse salespeople visiting practically every business in Peekskill and securing ads for their centerfold. 
In the late 1980's when we were publishing the Herald, there were a handful of retail businesses in Peekskill who were regular advertisers. Visiting Mr. Rubenfeld who ran the women's clothing store on North Division Street was a treat because of the stories he told of Peekskill's heydey in the 1950's.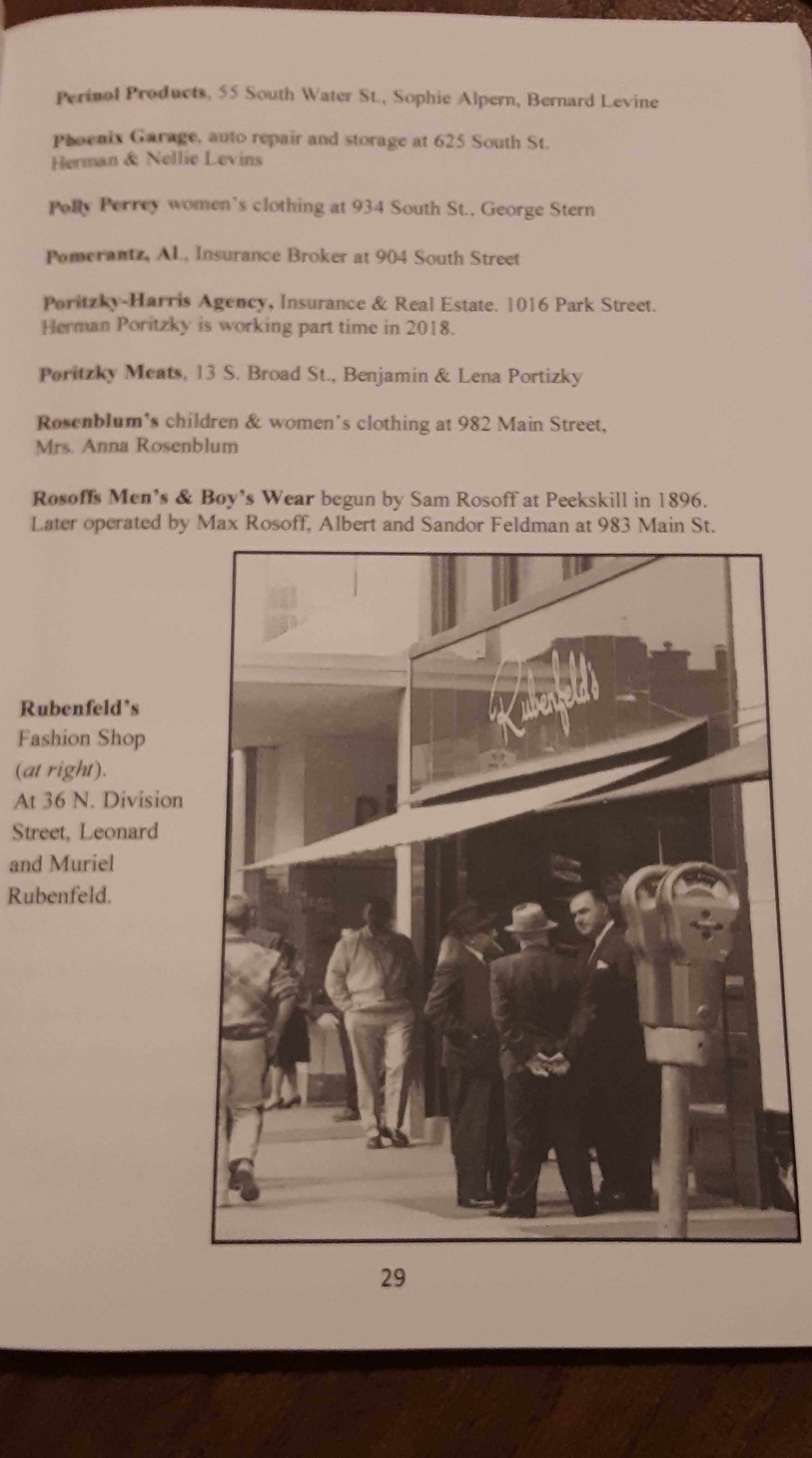 Attorney Ben Hersh was always quick to take an advertisement and spin a yarn or two about Peekskill history.  
Peekskill's Jewish Community in the 1900's is a treasure of family histories and vividly describes the depth of Peekskill's economy during the last century. Reading  stories of the multi-generational family businesses one agrees with Church Newman's description that 'growing up in my father's store on Main Street in the Peekskill of the 1960's, I felt like we were in a Jewish 'Mayberry, RFD.  We didn't have Andy Griffith's sheriff or Ronnie Howard's Opie, but the community was warm and expansive. It felt like our family knew everyone and they knew us." 
Jewish families have been in Peekskill since the days of the Dutch traders and one new member of First Hebrew, Carolyn Ruback, can trace her family lineage back 11 generations to Peekskill's first successful businessman, Jan Peeck, this city's namesake.