Musical Tribute to Master Craftsman Paul Laubin
The tribute concert at the Paramount on Sunday afternoon wasn't for a famous rock band but rather to an artist who created instruments in Peekskill that entertain millions of listeners around the world. The musical celebration honoring the life of Paul Laubin featured world class performers playing oboes and English horns made by Laubin.  Laubin died at his studio on Central Avenue March 1, 2021. His obituary in the New York Times is here. 
For two hours, about 100 guests listened to performances by musicians who travelled from as far as Switzerland to honor the master craftsman, who lovingly created the double reed woodwind instruments from rosewood, cocobolo or grenadilla. Laubin, 88 when he died, grew up surrounded by oboes as his father Alfred started the business.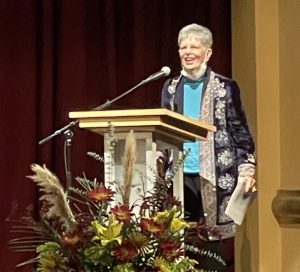 Laubin's widow Meredith welcomed guests and told how she owed her life to her husband of 54 years, literally, as he donated a kidney to her 17 years ago when she needed a transplant. She compared listening to the music to meditation where one can close their eyes, slow their breathing and let the music relax them.  She acknowledged those members of the Laubin family in England and Germany who were watching the concert via livestream, and she expressed gratitude to the Paramount Hudson Valley Theater for allowing the event to be held in such a desirable acoustic space – as well as the same city where her husband worked for so many years. He moved to the second floor space at 638 Central Avenue in 1988. 
The musicians chose the selections they performed – from pieces by 18th century German composer Ludwig van Beethoven, to Jay Ungar, born in the Bronx in 1946. Ungar composed The Ashokan Farewell, which was used as the title theme of the PBS television miniseries The Civil War. That selection was performed by Dorothy Darlington on the English horn.  A selection entitled, Friendship's Garland, composed by Thomas Dunhill, an English composer whose work was popular in his own lifetime (1877-1946) and is now seldom heard, was performed by Sherry Sylar on the oboe and James Rensink at the piano.  
The theme of friendship permeated the afternoon as performers spoke of their affection for Laubin and his perfectionism regarding their instruments as well as the personal friendships that grew from their relationship with him. 
Pianist James Rensink read Poem by John Henry Mackay, set to music by Richard Strauss: 
And tomorrow the sun will shine again  And on the path I shall follow  It shall again unite us, happy ones, Upon this sun-breathing earth…And to the wide shore, with its blue waves,' We will quietly and slowly descend, Speechless, we shall look into each other's eye, And upon us will descend the muted silence of happiness….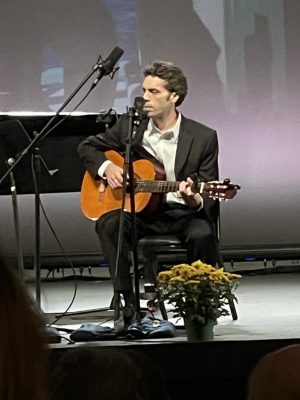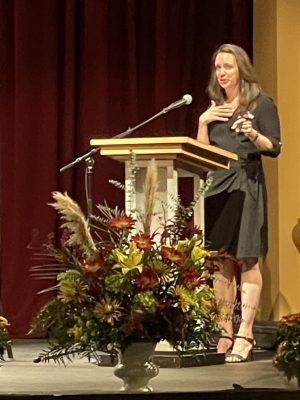 Laubin's daughter Michelle spoke of her father, who put money aside each week from the time of her birth, even when times were lean, so she could attend college. "And no, I don't play an instrument, I went to law school," she explained as the audience chuckled.