Lawn Sign Litter Becomes Beautiful Christmas Decoration
We all know the difference between "Recycling" and "Repurposing" but how many of us actually repurpose?  I know my house gets cluttered when I keep things we no longer use.  I think, 'I'll find a use for it someday' and, in most cases, that day never comes and I eventually throw it out years later, lest my family members begin to wonder if I've become a hoarder.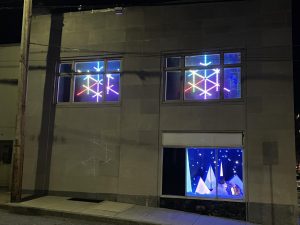 One very enterprising Peekskill resident and business owner actually does repurpose.  I was on the political lawn sign de-littering crew last month, and my friend asked, as he has in the past, that we give him all the lawn signs so he could repurpose them.  I never did ask what he actually does with them. But to my delight this year, I see he has repurposed the lawn sign wires into frames for 7-foot snowflake decorations in the second floor windows of his building on Main Street.  Other signage elements are used as structures to create the window displays on the street level. "My goal is always to keep things out of the landfills, a decision we made with our companies years ago," said Sepp Spenlinhauer.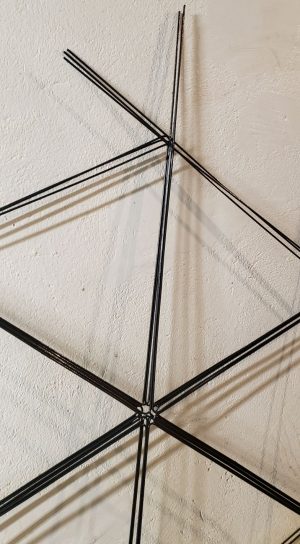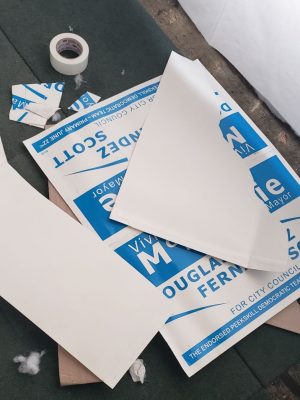 Spenlinhauer who designed the snowflakes, and his partner, Brian Fassett purchased The Peekskill Evening Star building about six years ago to house their businesses. One of their businesses, Eclectic Precision, is the creative company behind the exquisite Westchester Winter Wonderland light show at the Kensico Dam.  Their motto is "Expanding the Art of Lighting", and Winter Wonderland is surely an example of that.  "That project repurposes many years of our art for a new audience. Reinterpreting our work into a new theme is quite fun actually,"said Fassett.
Every year they've owned the building they've decorated the windows with beautiful winter holiday displays to the delight of passersby.  This year the display includes Spenlinhauer's latest ingenious creations on the second floor of the building at the corner of Main and Decatur streets.  The Peekskill Evening Star building housed Peekskill's daily newspaper from 1922 to 1985.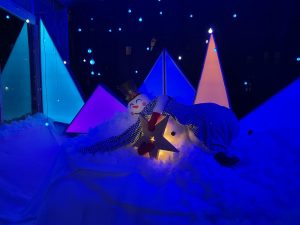 Leslie Masson, a Peekskill resident of 25 years, is the proprietor of Stella, the Trolley.