Construction and Cabinetry Dovetail Perfectly at New Showroom
Craftsman only works in natural wood
Tagging along with her dad – who came from New York City to hike in the area every weekend – was how Marcel Dumnici and his wife Danielle discovered Peekskill. Along the way, Danielle's father bought a few buildings here, and the couple, who moved to Cortlandt two years ago, decided to open a showroom on Park Street for their new business. 
Dovetail Architectural Millwork is a partnership between Dumnini, 31, his wife Danielle, and their friend Darjan Pajovic, who has an architectural design background. Dumnici's background is in general contracting.  "We both bring our expertise to the table," said Dumnici, 
The three came up with the name Dovetail because it represents joining two elements. "You're combining two pieces of wood." The tongue and groove box joint uses wood that Dumnini sources from three mills in the area, one in Brooklyn, another in New Jersey and a third in upstate New York. "All of them employ craftsmen," said Dumnini.  His desire to look at a job as a place to learn something new and not just get it done distinguishes his work from others.  "It can be as simple as putting in base wood molding during the summer and it doesn't take because of the heat. You have to take the time to learn new ways. You have to learn to be with it, it can't be just a job," said Dumnini, who was born in Romania and came to the United States when he was 7 years old.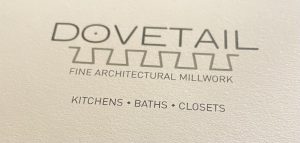 Since he was 18 he's been working in the construction industry; first with his father learning the trade through demolition and laying foundations. By the time he was 21, he identified that he wanted to do interior work – and was employed by a few companies before starting his own business that specializes in kitchens and baths – and now employs ten people. Dovetail is his second company. He wanted to give his clients the benefit of having all the products he used under one roof. He specializes in kitchens, and always bought cabinets from somebody else to give to his customers. His business also includes closets, vanities, mirrors, window units, doors, storage and custom millwork for libraries. Unlike most retail cabinetry these days, none of what Dumnini installs is made from particle board; 100% of Dovetail's millwork is constructed from natural hardwoods. 
Most of his work is in the five boroughs of New York, but he sees expanding into the Hudson Valley and specifically Peekskill as growth for both of his companies. He's enthusiastic about Peekskill, noting the friendly aspect of walking in the downtown where people will stop and talk with you. "Coming from Long Island, that was not the case," he said.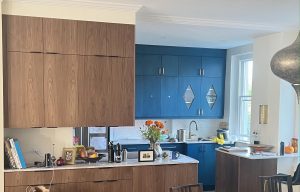 His wife Danielle, who he met in high school some 15 years ago, is the office manager and provides customer service to clients. When a client comes in they discuss budget, and options are offered. There are good quality pre manufactured pieces, Dumnini said, that can see a customer spend between $7,000 to $9,000 for a 10' x 10' kitchen. He said custom work costs from $800 to $1,200 a per linear foot of cabinetry. 
This summer, when he took over the space at 1012 Park Street that once housed Gerry Tandy's Antiques and Jennifer Wenk's gift shop in the 1980's and 1990's, Dumnini worked on it every chance he got on the weekends and at night, installing hardwood floors, new electrics,blocking for cabinets, and a bathroom.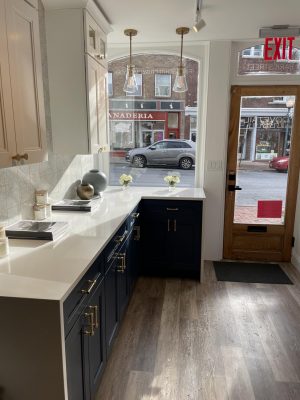 The showroom is open by appointment and on weekends from 12 – 5 pm. The business is online at DovetailFAM.com.