Polar Plunge Returns to River on Saturday
Event raises money for the This Is Me Foundation
Brave and hearty people have until the end of today to register for the New Year's Day Polar Plunge sponsored by the This Is Me Foundation. The plunge takes place at Riverfront Green at noon on Saturday. Plungers can register here. The public is invited to cheer and support those getting wet in the cold Hudson for a good cause. Those who want to support the event, but avoid the plunge, can donate also. 
Money raised from the event, which didn't happen last year, goes to scholarships awarded by the This Is Me Foundation. 
The This Is Me Foundation was founded by sisters Lauren & Caitlin Brady who were each diagnosed with alopecia areata (an autoimmune disease that causes hair loss) while in high school. It was often a struggle to deal with, but they always remained as positive as they could and they never spoke publicly about the condition.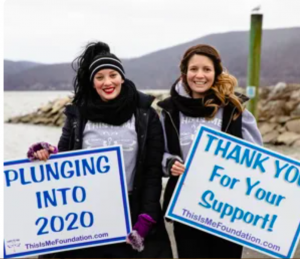 In January 2011, after watching Miss Delaware 2010, Kayla Martell, take her wig off on national TV and explain she would compete in the 2011 Miss America pageant wearing a wig, as she too had alopecia, Lauren & Cait knew they needed to do something to inspire others just as Kayla had done for them. Just 3 weeks later, on February 12, 2011 "This Is Me" was born as a two and a half minute YouTube public service advertisement. The video was created to not only raise awareness about alopecia, but to try and inspire anyone who faces any insecurity.
In January 2012, the Brady sisters began giving scholarships as part of "This Is Me." These college scholarships are awarded to local high school seniors enrolled in college who have displayed leadership skills while having faced adversity of any kind or helped others through adversity and high school seniors in the United States who have/had alopecia.  Since 2012, they have awarded 89 $500 scholarships locally and nationally. 
"The scholarships are presented in honor of our dear friends Ryan Risco & Cait Chivonne Polhill who left this world far too soon, but forever instilled in us their support and kindness as we faced our own adversity. We face each day with them in mind and use their legacies to inspire us to help others," said the sisters.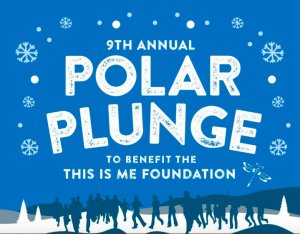 The first Polar Plunge, where participants strip down to their bathing suits and run into the cold waters of the Hudson River, on Jan. 1, 2013, attracted 11 entrants and raised $2,400. In 2018, a record-setting 80 participants raised more than $13,500. As of this morning, there are pledges halfway to the $15,000 goal with 52 plungers registered.