The Riveting Ms. Josie
"A hundred and one — lots of fun!"
That slight alteration of Rodgers & Hammerstein's catchy tune "Honey Bun" from the musical South Pacific serves as a fitting description of Josephine (Josie) Vavrek, long-time Buchanan resident, who reached the awe-inspiring age of 101 this past August.
The South Pacific reference is no fluke:  Josie does have somewhat of a connection to that area of the world, having been among a group of women hired to work at the re-tooled General Motors plant in Tarrytown during World War II, the menfolk being off to war and GM transformed into a defense industry manufacturer.  She was tasked with assembling the wings for the Navy's Avenger TBM torpedo bomber plane —the plane that a 20-year-old Navy aviator named George H. W. Bush was piloting when it was shot down by Japanese anti-aircraft gunfire near Chichi Jima in September 1944.  The future President, still managing to release a few of the Avenger's bombs, bailed out and was stranded in the waters of the Pacific Ocean for four hours before being rescued.
But first things first.  Born in Buchanan, NY on August 20, 1920 — a mere two days after ratification of the 19th Amendment, granting women the right to vote — little Josie Rutkoski was one of the first daughters born into the modern era of American womanhood.
Her family moved to McGuire Avenue in Peekskill when she was four years old. When she attended Hendrick Hudson High School she played on the girls' varsity basketball team.  Always athletic — "It's probably why I'm living so long," she concedes — she enjoyed basketball and bowling, roller-skating, swimming and boating on the Hudson River.  When she was 18, she would rowboat on the river with a girlfriend, maneuvering dare-devilishly close to the humongous Dayliner, plying its way upriver carrying sightseeing throngs from New York City.  The Dayliner's churning through the water created quite a wake, but Josie and her pal — eschewing life preservers — sailed expertly through the waves, never tipping overboard.
One day, while on a swimming outing at Lounsbury Pond at the present Blue Mountain Reservation, a group of teenage boys were horsing around nearby, and their beach ball bounded in her direction.  Catching it, she coquettishly refused to give it back.  Eventually, she relented and returned it to Eugene Vavrek who, smitten, began his courtship of Miss Josie. "That was the start of the whole thing," she confessed.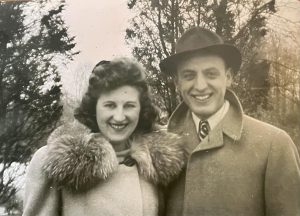 Industrious as well as athletic, she made a few extra dollars during high school by babysitting and housecleaning for Mrs. LaDue, who ran LaDue's Dairy and, hence, needed help running her own household.  Josie earned a dollar a day as well as all the chocolate milk she desired. A sweet deal!  But Josie requested she also be allowed to have a half-day off on Wednesday, so as to go swimming at Lounsbury Pond with Eugene.
Upon graduating from high school, she followed in the footsteps of her father and a few siblings and began working at Fleischmann's Distillery, this area's major employer, doing turns in the Yeast House, the Gin House, the Whiskey House and the Pound Room, so called because the yeast would come down a chute, be cut, and placed on a scale to ensure it weighed exactly a pound.
At the same time, she attended Wilson Business School in Peekskill, learning typing, shorthand and other business skills. She held quite a variety of jobs in the ensuing years, working at a hairnet factory in Peekskill, Hilliker's in Ossining, the Hilliker-owned John R. Jones store on Division Street in Peekskill and Whelan's Drug Store.
Every now and then, she would even model for Sheltie's United, a store in Peekskill which would host periodic fashion shows of the latest women's styles.
But a girl needs more than work in her life and, in early 1943, she travelled south to an Army base in Louisiana where Eugene was stationed and, on March 26, became Mrs. Eugene Vavrek.  Shortly thereafter, she travelled south once more to Newport News, Virginia to see her new husband off to Europe, where he was to serve in the Signal Corps for the duration of the war.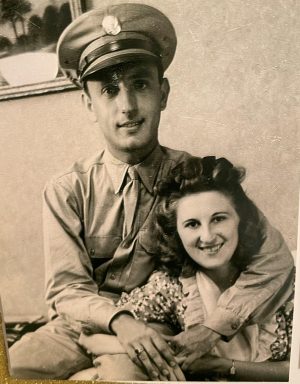 Back on the home front, women were needed more than ever to fill the jobs men had vacated.  Hearing that women were being recruited to help build military aircraft at the GM plant in Tarrytown and that such work paid a whopping 79 cents an hour — "the best-paying job around," she says — Josie's subsequent move was a no-brainer:  She applied to a school in Nyack to learn the drilling and riveting skills GM required.  Passing with flying colors, she landed the job.
With those skills under her belt, she was designated a "major riveter," a step above the more basic type of work being performed at the plant.  She was doing "men's work" — putting two pieces of the plane together — and was paid accordingly; at the end of her almost three-year stint at GM, she was making $1.29 an hour, allowing for "Josie the Riveter" to accumulate enough of a nest egg for the young couple's eventual down payment on a house on Bannon Avenue in Buchanan, which remains her property to this day.
(A note about the seemingly ubiquitous title "Rosie the Riveter":  Turns out it doesn't really refer to one distinct woman; rather, any woman doing such work during those years had the right to be called "Rosie the Riveter.")
The war ended, Eugene returned home, the house on Bannon Avenue was purchased and yet another career beckoned for this Renaissance Woman — at 35, she decided to attend St. Joseph's Hospital School of Nursing in Yonkers, earning her LPN degree.  For the next eight years, she worked at Peekskill Community Hospital in several departments.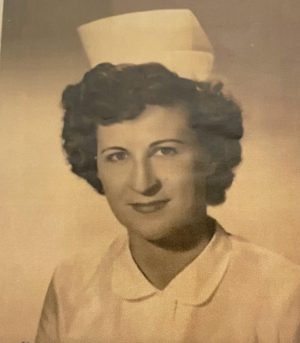 Along the way, Josie entered another arena:  politics.  Not particularly interested in politics in her youth, nevertheless, at the urging of friend Harold Buckner, she became a district leader in Buchanan and wound up serving for 40 years on the Westchester County Republican District  Committee, including four years at the New York State-level.  Her behind-the-scenes political work consisted of making countless phone calls and endless campaigning; over the years, she put together more fundraising dinners for Republican candidates than she can remember.
As one would expect, she did meet a few dignitaries along the way, acquiring an enviable collection of personal memorabilia and memories — family photos from Presidents George H. W. Bush and George W. Bush (including artwork painted by Bush the Younger), a citation from Senator Bob Dole, and being present when President and First Lady Ronald and Nancy Reagan made an impromptu appearance at a New York City hotel during a Republican gubernatorial campaign event.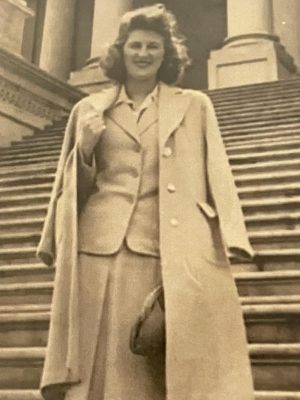 And, yes, she's been invited to an inauguration or two, notably when George Pataki was sworn in as Governor of New York in 1995 and when George W. Bush took the oath of office as President of the United States in 2001.
One doesn't get to be a centenarian without suffering the occasional injury or ailment, and Josie has had her fair share over the years:  She was struck by an automobile — not once, but twice — at six years of age and again when she was 12; she had back surgery which ended her active nursing career; pancreatitis which hospitalized her for seven months in 1973; a partial loss of high-pitched hearing from working near loud machinery during her Rosie the Riveter years; and her heart and eyes don't work as well as they did once upon a time.  She even survived COVID-19 earlier this year.
But her mind and her memory are in fine form.Her tip for remembering people's names is to actually say the person's name three times when conversing with them.  And, if something is on the tip of your tongue and you can't quite place it, run through the alphabet:  A… B… C… Likely, it will come to you before long.
Such a full life deserves to be remembered and fêted by others as well.  To mark her centenary on August 20, 2020, the Village of Buchanan issued a proclamation, a parade of cars, honking, wound past her Bannon Avenue home — this was during the early months of the pandemic, after all — but folks then disembarked to join in the festivities on the lawn amidst the flowers and balloons and the big "Happy 100th Birthday, Josephine" banner.  Even the White House sent greetings.
The hoopla was repeated this past August as she turned 101, with a crew from News 12 showing up at the NYS Veteran's Home in Montrose to capture the day on video.  Apparently, once you reach 100, birthdays seem to be as big a deal as when you were 4 and 5!
On a sad note, Eugene is not here to help his wife celebrate, having passed away in May 2017 at the age of 98, just a year shy of their 75th wedding anniversary.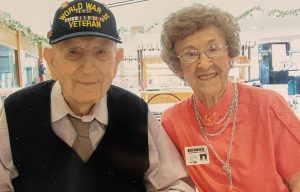 No longer riveting plane sections together, or boating on the Hudson, or modeling the latest fashions, Josie does keep engaged in life and independent in other ways.
"I did my income tax until I was 99 years old," she comments with pride.  She remains a die-hard New York Mets fan and enjoys doing artistic coloring books; she has several in the works right now, to be gifted to her granddaughter Amy and great-grandchildren Brentley and Brooklyn.  "I want them to be able to say, 'My great-grandmother did this when she was 101'!"
She seems as surprised as anyone she's had such a long life.  Sure, she was always athletic and active.  She always liked to eat fish and stuffed cabbage, a specialty of her Polish heritage; as nutritionists now know, fish is preferable to meat in the cardiovascular sense and cruciferous veggies, particularly pickled ones, are the icing on the cake!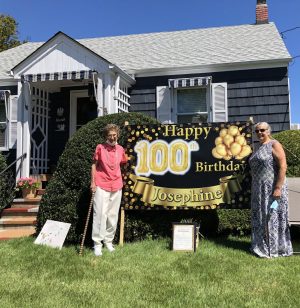 She does not like onions and does not touch liquor. But her longevity is mysterious, especially to her.  Perhaps it can be credited to something a bit more intangible — a zest for life, an innate vitality. When asked how old she feels, she replies, "I still have energy. I'll say… 70."
"I've had an amazing life, an interesting life, a great life," she marvels. Josie the Riveter, here's to more colorful years in store for you!