Paul Laubin, Oboe Maker, Dies in Studio
Peekskill craftsman Paul Laubin, a world renowned oboe maker, was found dead by police in his workshop on Monday night. Peekskill police were responding to a call to check on the welfare of the 88-year-old at his studio at 638 Central Avenue and when they arrived they found him unresponsive with no apparent foul play suspected.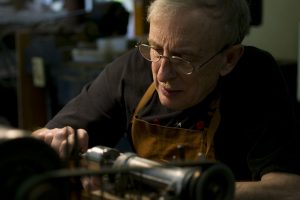 Laubin and his son Alex, like his father before him, have been making oboes for generations. Musicians often wait decades for one of Laubin's  handmade oboes, known for their beauty and durability. A double reed musical instrument of the woodwind family, oboes made in his workshop sell for approximately $10,000 to $14,000 each – with fewer than a dozen instruments crafted each year. Made of rosewood, cocobolo or grenadilla, the wood stays outside, covered, for ten years to strengthen the wood and refine the sound. It is then brought into the workshop where it is shaped into a cylinder and put in a kiln for a year. Having been exposed to outside air, the instrument is better able to handle outdoor summer concerts and drafty orchestra pits.


 Laubin moved his workshop from Elmsford to Crompond Road in 1982 and six years later took over the upstairs space at 638 Central Avenue at a time when the street was deserted and had relatively few commercial businesses.
 Paul Laubin learned the craft from his father Alfred Laubin who made his first oboe in 1931 as an experiment using a hand-held drill with a brace to rough out the bore and melted down his wife's silverware to form the keys. The excellent intonation and mechanical reliability impressed other oboists and soon a waiting list of musicians seeking A. Laubin Oboes and English Horns was born.  
 Arrangements for Paul Laubin are being handled by the Joseph F. Nardone Funeral Home, 414 Washington St. No services are planned as of yet.