A snapshot illustrating one of Peekskill's strongest attributes was on full display Monday night at the high school during the annual scholarship and awards ceremony. Over the span of three hours, 111 scholarships and awards were presented to seniors. 
My sister Helene Chaisson and I were there to present the Vincent H. Clarkin PHS scholarship to Mya Guardino, a student who plans to study one of the disciplines my father taught at Peekskill High School; communications, journalism or filmmaking and film study. It was a great delight to see that she was the student Master of Ceremonies for the event, displaying her communications skills with tremendous poise. 
In the auditorium packed with students and proud parents, there was an entire section of community members who were ready to present awards and scholarships. The presence of so many non-relatives of the graduates is a clear indication of the strength of this community.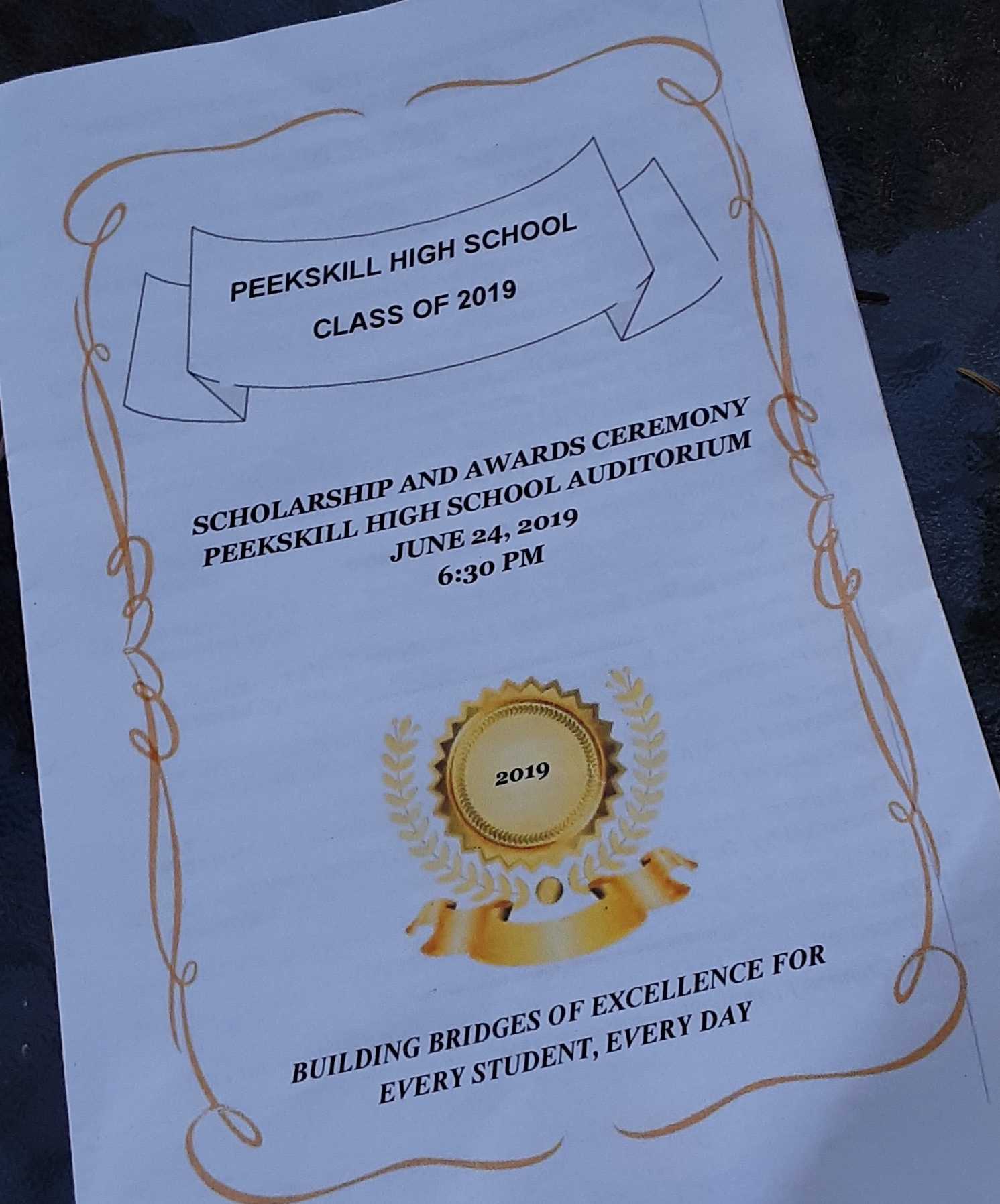 Their presence is a testament to belief that is summed up in the Nelson Mandela quote at the end of the printed program for the evening, "Education is the most powerful weapon which you can use to change the world."
By investing financially to the continuing education of young people, residents and Peekskill organizations are conveying a powerful message of support that amounts to more than mere words. The scholarships and awards, totaling some $300,000,  came from disparate sources such as Representative Nita M Lowey for the Congress of the United States award to a scholarship from the Chinese Fuzhou Church of Queens. The Women's Club of Peekskill presented an scholarship as did the American Association of University Women. The Marine Corps gave out a distinguished athlete award along with a musical and athlete award. There was a Rotary Club award and a Ladies Auxiliary American Legion award along with scholarships from the Garden Club of Peekskill, the Courtlandt Lodge No. 34 of the Free and Accepted Masons and the Corinthian Lodge. 
Family members and friends of deceased graduates and teachers of the Peekskill school system were giving out scholarships to honor and recognize those they loved. In the case of Roxanne Woodruff, a former grade school teacher in Peekskill, her presentation was emotional. She was awarding the scholarship in memory of her son, Matthew Rickett. The receiptant happened to be a student she taught in 6th grade the year her son died. The Matthew Rickett scholarship was awarded to a young man on the soccer or track team who is college bound and shows sportsmanship, friendship, good character, leadership and strong academic performance.
     The family of teacher Valerie Machado who taught for 14 years in Peekskill elementary schools before she died of breast cancer at age 40 decided to remember her by recognizing the success of her students.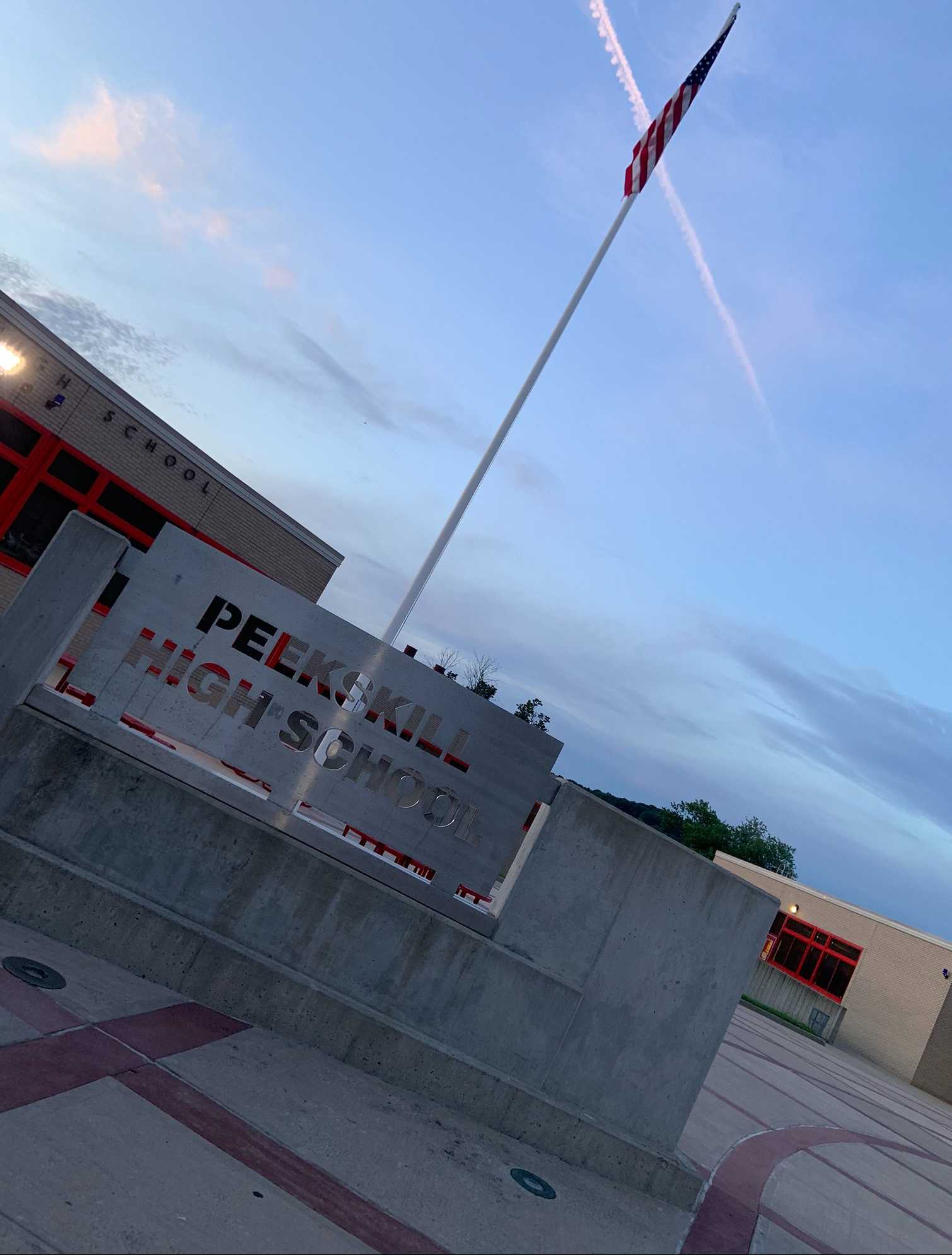 Education was incredibly important to her and she firmly believed that each and every student in her class could and would do great things.  Ms. Machado would be so proud of her students' academic success and of their promising future read the description of the award.  The scholarship is for tuition, books, room, board or anything else related to her students' higher education and was presented by a family member and her colleagues Staci Woodly and Carmen Freed
There was a scholarship in memory of basketball star Elton Brand's mother, Daisy Brand. The Paul Robeson and Tomchin Family $10,000 scholarship is given to each year to one student of color who is heading to a college or university, or a training program such as nursing or trade school. The receiptant is someone who has shown ongoing commitment to raising awareness of the political, educational, social and economic equality of minority group citizens.
      Lauren and Caitlin Brady presented the "This is Me Scholarship' inspired by the memory of Ryan Risco and Caitlin Chivonne Polhill. It was created to recognize those who have overcome adversity or who have guided others in defeating their own challenges.
Members of the Peekskill Police and Fire Department were in uniform presenting  scholarships on behalf of fallen colleagues. The Kevin Bristol Scholarship (fireman) was given by his widow and The Charlie Wassil (policeman) was presented by his sister.  Firefighter Pat MacLennan joined in the presentation.  
Newly established this year by the The Peekskill City School District Special Services Department is Overcoming the Odds award and was given to senior Barbara Rivero. Moving around the stage in her motorized wheelchair, Rivero was routinely applauded and cheered by her classmates. This award is named after her to recognize her outstanding achievement and will be given to one graduate every year in honor of Barbara's perseverance and resilience read the declaration.
There were a number of businesses from the Peekskill community giving out awards, for instance the Nonna's Pizzeria & Restaurant scholarship was given because one of its employees is graduating this year. There was a scholarship for a student studying science from the Glaser Orthodontics group and the Lamarr Barnes scholarship is for a student who has attended the BOCES Tech program and plans to continue their education in a trade field or begin their career in the trade Industries. 
The White Plains Linen scholarship, presented by Sonia Yeagley and Cindy Caragine was created to help a local resident youth further their education. In awarding the scholarship, White Plains Linen explained that being the largest employer of Peekskill, and a family run business it is an honor to serve Peekskill and by giving a scholarship, they are looking for students that shine academically but also serve the community with great pride and commitment. 
     The names of awards and scholarships recited aloud from the stage created a veritable who's who of Peekskill history: Jack Burns, Carmelia & Nicholas Bertoline, George Samson, Rev. Dr. G. Franklin Wiggins, Eleanor Jackson, Sarah T. Baker, Alex 'Bud' Risoli, Donald P. Horton, Robert D. Fullenweider, Katherine Wasserscheid, Pietro A. and Leila Mead Deluca, Bea Konnerth.  Those people and the remembrance they invoke speak to the depth of character and integrity that was present in the residents of Peekskill's bygone days. By no means are those qualities lacking in the residents of Peekskill today. To witness the talent, determination and creativity present in the graduating class of 2019 is to feel optimistic about Peekskill's future.