Wind, fire – and sustainable vision – power new Peekskill bakery
On an otherwise unremarkable Tuesday in late July, a sailing schooner made a port call at Riverfront Green Park, delivering raw materials to a Peekskill business via the Hudson River. 
This wind and waterborne delivery – once a daily way of life in our formerly industrial river town – had likely not happened in the previous hundred years or more.. The 500 pounds of flour (in 25 pound sacks) from an upstate stone mill was destined for Signal Fire Bakery, a new business at 706-708 North Division Street. The shipment arrived on the wind powered Apollonia and was a natural extension of the business philosophy that guides owners Erin Detrick and Liz Rauch of Signal Fire Bread.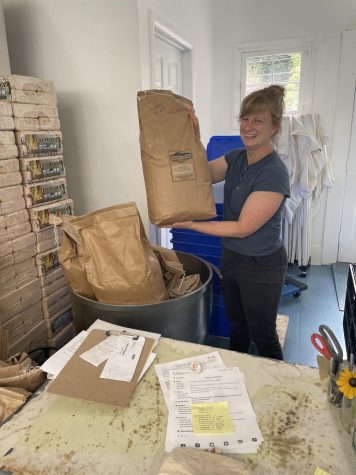 "One of our primary missions is to work with regional grain producers that contribute to and reinvigorate that field," said Rauch. Unlike most bakeries, Signal Fire doesn't buy white flour to produce their wood fired, naturally leavened loaves of bread. 
The stone ground grains weren't the only thing arriving by boat for Signal Fire. In May, they received their 6-ton oven, unassembled, from Italy and spent the next few weeks putting it together. Under the instruction of a technician from the manufacturer who traveled from Vancouver, Canada, the two poured concrete to build the foundation for the oven before assembling it with the help of their husbands and some friends. "One of the advantages of doing that work ourselves, is we know how every part of the oven works," said Detrick.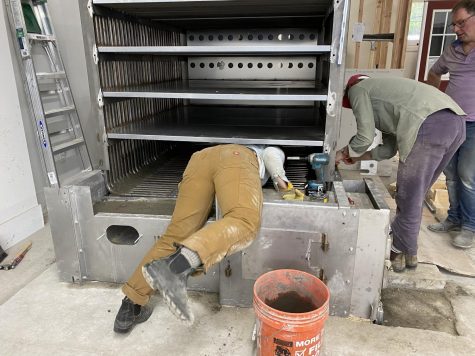 Working with fire to bake is not a simple way, said Rauch, 40. "That's part of the fun of it," she said , "it keeps you engaged." The challenge is to get the oven to 525 degrees to heat it up and then hold it there. In order to do that, they need to pre-fire the oven for six hours and then let the heat saturate it as it cools down. The next day when they're ready to bake, it takes two hours for heat to reach 350 degrees to bake the 600 loaves they produce. 
Rauch and Detrick are used to challenges, having raised money to purchase the $65,000 oven to expand their business. Detrick, who moved to Cold Spring in 2018 from NYC where she was a baker, knew she wanted to start a bakery.  She heard about a baker at Sparrowbush in Livingston, NY who was baking bread using a wood fired oven. He didn't have money for employees – and she didn't have money for a space – so they reached an exchange agreement where she would provide labor for him and use his oven to bake her bread.  
At the same time Liz Rauch, 40,  was baking bread in her kitchen and giving to friends as gifts. "I was interested in sourdough starters," explained Rauch, and she began experimenting with them. She was also unhappy in her job doing data analysis for a solar company. Through people in the community they were connected with each other and decided to collaborate.  Traveling an hour and 20 minutes each way to the wood fired oven in Livingston to bake and then sell at the Cold Spring Farmers Market every Saturday since 2019 was becoming unsustainable for the two, both mothers of young children. 
They decided to stop baking in December of last year for six months and concentrate on raising funds to purchase an oven and find a space locally where they could bake. On December 31, 2020 the deal fell through for the space in Cold Spring they were going to rent. A month later they found the North Division Street listing on LoopNet, a commercial real estate website; and by February they had a signed lease for the space that housed For All Theater in 2020. The first thing they did was paint the entire space white. (Ironically, the theater had it painted black from the white that it was when it housed a dance studio). 
Their fundraising effort that lasted a month netted them $26,000 – nearly half of what they would need to purchase the $65,000 oven that was configured for wood bricks. They wanted an oven that would allow them to bake with wood-fired heat, a renewable source. They appealed to the email list of their loyal customers in the Garrison and Cold Spring areas, explaining why they wanted to stop baking and concentrate on fundraising and finding a permanent local home. They took a personal loan for the rest of their startup costs.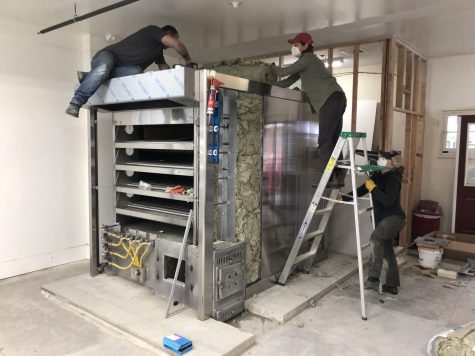 Someone recently described their wood fired oven as a stream train. And if the wood fired oven wasn't enough of an 'old school' method of baking, their Champion Duo-Flex Universal Double Arm Mixer model was manufactured in the 1920s. They found a refurbished one at a company in Pennsylvania and paid extra to put a cover on it.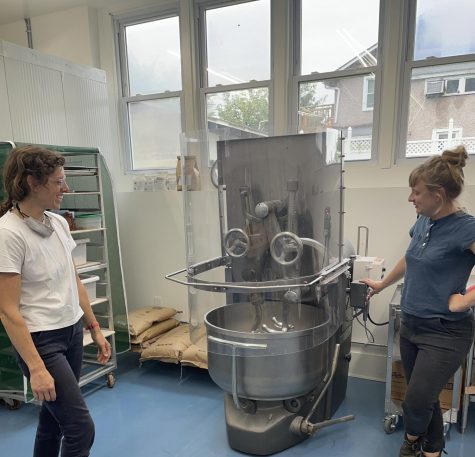 They've pledged to donate at least 20 percent of their fresh product at all times to families in need, through food pantries. They are committed to sourcing their ingredients locally, from NY-grown and stone-milled organic grains. And they are limiting their growth to what's possible at a human scale – guaranteeing that service to the community remains their focus for the long term. 
Their $4 baguette is the biggest seller, and their Miche, a large round, is an unusual rustic bread. "We're building on thousands of years of bread baking," said Detrick. "Bread is so universal," adding that she doesn't feel ownership for the recipes she creates. 
Their store hours in Peekskill are: Thursday from 12-3 pm for walk up sales; or pre order here. 
They vary what is offered each day. On Thursday it is East Mountain Levain ($8 for hearth size or $12 for pullman size); Sesame Levain for $9 and Rustic Baguette for $4. 
On Friday they are open from 12-3 for walkup sales or pre order here. On Fridays they offer East Mountain Levain, (hearth/pullman for $8 /$12), Sesame Levain for $9, Corn Grits Levain $9, Seeded Levain $9, Seeded Spelt Pullan (whole loaf only) $14, Ammerland Rye (whole loaf only $20), Red Fife Miche (whole loaf only) $22 and Breakfast Biscuits $3. 
Detrick and Rauch both work the Cold Spring Farmers Market at Boscobel, 1601 Route 9D in Garrison from 8:30 am to 1 pm where they can meet and talk to customers. Their bread is also available for purchase at Marbled Meat Market, Hemlock Hills Farm, Fishkill Farm, Blooming Hill Farm and Dolly's Restaurant at Garrison Landing.