Celebrating Earth Day in a kitchen garden
Earth Day was Monday this week and to observe it, I took a class at the teaching kitchen at New York-Presbyterian Hudson Valley Hospital. Planning Your Garden for Spring was offered in the Dempsey House on the campus of the Crompond Road hospital. 
Chef Emilie Berner is the coordinator of the Chef Peter X. Kelly Teaching Kitchen that was founded in 2014 as part of the hospital's Harvest for Health initiative that began the year before.  Harvest for Health includes the teaching kitchen, named for the famed Hudson Valley chef and restaurateur, a bimonthly farmers market from May through November and an organic garden developed with direction from Stone Barns Cener for Food and Agriculture n Pocantico Hills.  Through monthly cooking classes, community outreach including physician lectures and participation in local health fairs, Harvest for Health emphasizes healthful eating as a way to prevent chronic disease and promote health. 
Gardener Tamara Benjamin of Garrison spoke to the 20 students along with Berner, answering questions and sharing stories of the best ways to grow crops in this area. 
At the end of the 50 minute lecture,  students took a tour of the garden on the grounds of the Dempsey House and saw the crops that were planted in the past few weeks.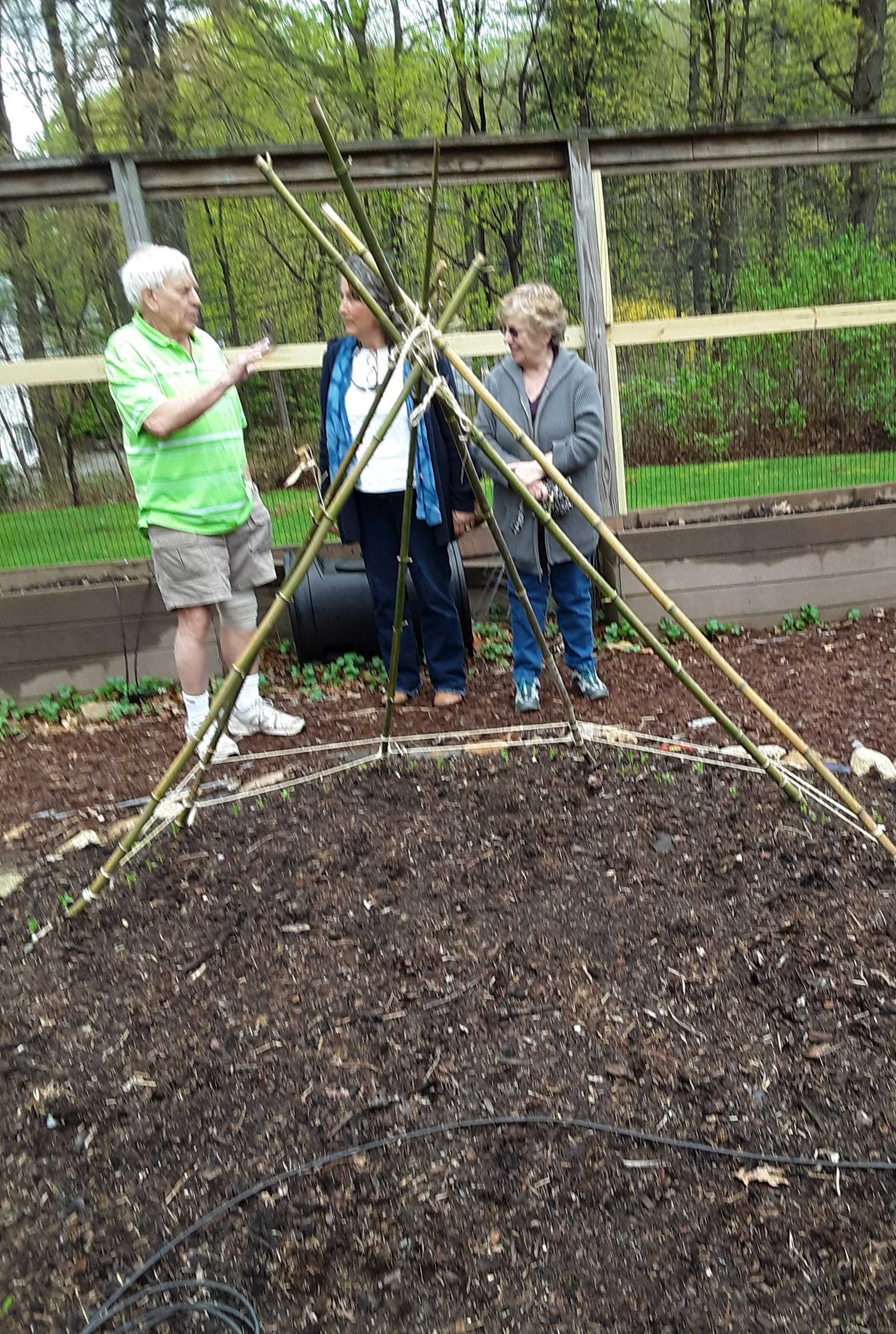 Peas, beets, leeks, arugula, carrots and chard have all been planted. Berner suggested that people buy from seed the following plants: beets, Swiss chard, Fava beans, Beans (bush, runs, scarlet runner) nasturtium, cilantro, borage, arugula, squash, sunflowers, corn, winter squash, radishes, carrots, greens, leeks, sugar snap peas, dill, fennel, carrots. 
She suggested buying the following from starts which are seeds that have already been planted and are small, well-established plants: tomatoes, cucumbers, eggplant, potatoes, cutting celery, onions, watercress, oregano, basil, thyme, mint, johnny jump ups – (pansies), lavender, rosemary, nepeta, marigolds, sorrel. Putting those in the ground in late May is a safe bet.
In a handout given to students, she showed how companion planting works best. Berner told of how she grew the "three sisters"  (corn, beans, squash) for the past 2 years in the garden on the Dempsey House property. Beans begin to climb on the corn and the squash goes in around the beans. The beans put nitrogen into the soil. This is an example of companion planting. It is a way of agriculture that native Americans use. In the material each student was given Berner spelled out which vegetables do well planted near other ones. For instance beans can be planted alongside anything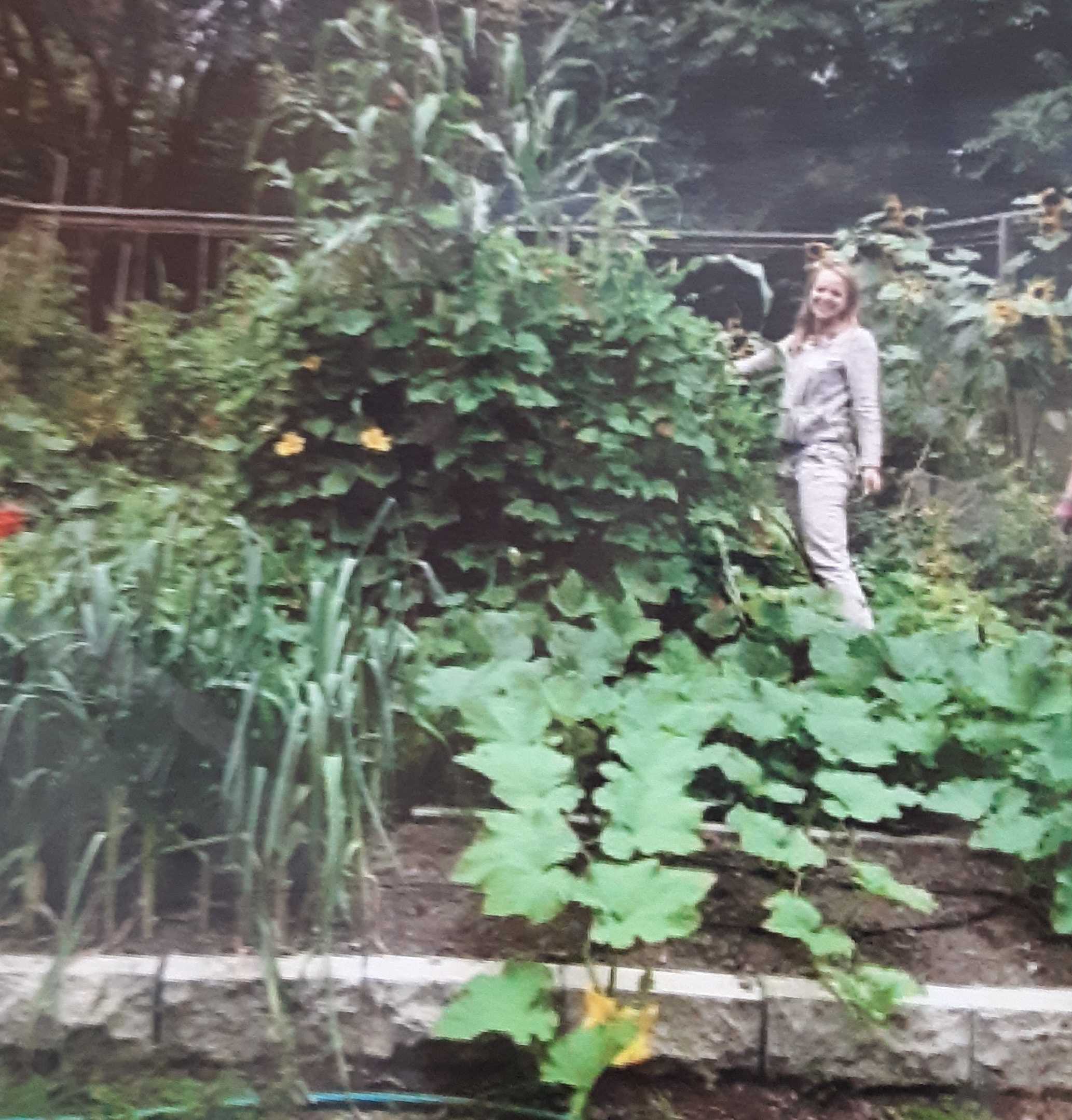 except garlic, onions, peppers and sunflowers. Cabbage doesn't like to be planted alongside broccoli, cauliflower, strawberries, tomatoes. Carrots have an aversion to anise, dill and parsley while corn eschews tomatoes. Cucumbers should not be planted next to aromatic herbs, melons or potatoes. Lettuce can go alongside anything except broccoli. Onions don't like to be near beans, peas and sage while peppers don't like to be near beans and kohlrabi.  Radishes don't like to be near kohlrabi. Tomatoes don't like to be near broccoli, Brussel sprouts, cabbage, cauliflower, corn, kale and potatoes.  Fennel is the only plant that has no friends to plant alongside. 
Through a wide ranging question and answer session students learned that it's best to grow garlic but that if you're going to do so, expect a 9-month gestation period. Garlic heads that are not soft and all intact need to be planted in mid-October and won't be harvested until August. If you can't grow your own garlic, then purchase garlic from local farmers markets said Berner. Garlic that is imported from China and other far away countries are lacking in the power of antioxidants.  
Benjamin offered a germination tip to people who buy seeds and then didn't plant all of them. After storing them in a cool, dry place, when you're ready to plant again, take the reserved ones and wrap in a damp paper towel, if they sprout then you can plant in the soil. She spoke of the way to have lettuce all summer long, by succession planting. "Every two weeks put some seeds in the ground. And when it gets real hot in July, harvest the lettuce, as it will bolt in intense heat." 
Benjamin and Berner discussed old time home remedies to deal with pests and other critters that destroy gardens. Collecting Japanese beetles and putting them in a jar with soapy water will keep them off your plants. An organic product, Rotenole is very effective for squash bugs or stink bugs. It's not great for bees, so it's best to use very early in the morning or late in the day when bees aren't around said Benjamin. 
There was a discussion about growing carrots and how they like sandy soil along with the best way to make compost.