Is Peekskill Ready for Legal Cannabis?
On Wednesday afternoon, news broke that after eight years of unsuccessful attempts, Democrats in the New York State Legislature had reached a deal to legalize marijuana in the state. Multiple unnamed sources reported that following weeks of negotiations – both internally and with the Governor's office – the Legislature has a bill with enough support to pass in both houses next week, and eventually be signed into law by Governor Cuomo. While the exact timeline for enactment remains unclear, it seems likely the drug will be legally available for purchase by adults in the state by some time in 2022.
New York joins fifteen other states that have already legalized recreational weed sales to adults, but is just the third state (after Illinois and Virginia) to legalize via state legislation – rather than by voter referendum.
Now that marijuana is likely to become a legal recreational product alongside alcohol, tobacco, and Whiskey River cheeseburgers, let's take a look at how it might affect daily life in Peekskill.
To Weed or Not to Weed?
Note: specific details of the latest legalization proposal have not been made public. Information has been trickling out to the media from unnamed sources. The specifics in this piece are our best information as we go to press – and may well be updated in the bill's final draft.
No one can say for sure if Peekskill will even host one or more pot shops (or dispensaries as they're commonly referred to in the US), but it seems more likely than not. One of the many contentious conditions that slowed negotiations this year was whether local municipalities would have the power to ban dispensaries from within their borders. Governor Cuomo favored granting cities and counties of over 100,000 residents that right. If the Senate's 2021 MRTA language survived the most recent negotiations, all municipalities will be able to pass "opt-out" laws – but those laws will be subject to voter referendum, giving residents the effective ability to veto them.
Short of a new law restricting or prohibiting them outright, the Common Council would have the ability to control the hours of operation and location of dispensaries or growing facilities, and "provided such ordinances or regulations do not make the operation of such licensed retail dispensaries unreasonably impracticable", ie may only be open from 5 am to 7 am, or restricted to zoning districts with virtually no consumer traffic.

Will the Peekskill Common Council simply allow dispensaries in commercial districts like downtown? The advantages of hosting these businesses may well outweigh any downsides. The latest text of the State Senate's 2021 bill proposes a 13% excise tax on all sales (in lieu of normal state and local sales taxes) – with 9% going to the state, and the remaining 4% to local municipalities; reportedly there's an additional 1% for cities of 1 million or more residents, i.e. New York City. 


In any case, a significant amount of revenue would flow to Peekskill's coffers from legal marijuana sales. From January to September 2020, the 80 dispensaries in Massachusetts sold a combined $539 million in legal cannabis products – despite being shut down for two months due to the COVID pandemic. That's nearly $1 million per dispensary per month. At that rate, the Senate plan's 4% to municipalities would mean just one Peekskill-based dispensary could generate as much as $460,000 in tax revenue annually for the city. That's more than the city took in from all building permit revenues in 2020.
There's an argument that allowing local recreational marijuana sales would encourage consumption among residents, or "attract a criminal element" to Peekskill. But a 2015 federal study estimated that nearly 10% of the state's adults already use marijuana regularly. For comparison, around 14% of New York residents smoke tobacco cigarettes. According to the National Academy of Medicine, "There is little evidence that decriminalization of marijuana use necessarily leads to a substantial increase in marijuana use." And among teenagers, legalization actually seems to reduce rates of usage, as the allure of the "forbidden fruit" effect shrinks, and availability shifts from unregulated street dealers to dispensaries where all buyers are asked for proof of age.
Asked for his thoughts on the possibility of legal cannabis sales in Peekskill, Police Chief Don Halmy responded "I have strong professional concerns over possible negative impacts from dispensaries and therefore urge serious caution by legislative bodies, both state and local, with regard to permitting recreational marijuana dispensaries. Having said this, police routinely must adjust our strategies based on changes in the law. I look forward to seeing new state policy as it becomes available and to helping the public and the city council make informed decisions on this and other public safety policy matters."
How Soon Could Peekskill Be in the Legal Recreational Cannabis Business?
The Herald looked at the turnaround time from legalization to the first legal sales in all eleven states where legal recreational cannabis sales have actually begun (several other states such as New Jersey have legalized but not yet issued sales licenses; in Vermont and DC, it's legal to possess but not sell recreational marijuana). 
In the first six years of legalization, beginning with Colorado in 2012, through Michigan in 2018, the time from enacting legislation legalizing sales – to the actual commencement of sales – was quite lengthy: averaging 580 days for those nine states. But some of the most recent states to go from legalized to actual sales have cut that time significantly.
Illinois signed a law permitting recreational weed sales to adults in July, 2019, and the first dispensary sales began in January, 2020 – just 160 days later. And Arizona went from voter approval on Election Day 2020, to product on store shelves in a record eighty days. Virginia – the latest to legalize in February – built in a nearly three-year moratorium before sales begin, but that's unusual, and unlikely to happen here.
It's inconceivable that New York – a heavily bureaucratic state – could put all the necessary pieces in place in just three months, it does seem possible that the Empire State will be ready to roll out the first legal joints by early to mid-2022.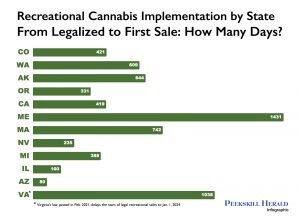 Investing in Communities Damaged by the War on Drugs
It's impossible to say for sure whether Peekskill would attract one or more dispensaries. On one hand, the city is a relatively dense population center for northwest Westchester County. It's also arguably one of the most diverse and liberal places in the Lower Hudson Valley. There's plenty of available and relatively low-cost retail space in our downtown. And it seems at least some of our elected city officials would be supportive of the jobs, tax revenue, and tourists a dispensary would likely attract. 
On the other hand, Peekskill is only somewhere around the 100th largest city in the state – and there are dozens more towns with greater populations of prospective customers. But the Cannabis Control Board will have the power to distribute licenses with some geographic equity. And more importantly, the new agency will be tasked with assigning licenses to communities most negatively impacted by decades of disproportionate drug law enforcement. 
There aren't many published statistics detailing arrests for specific offences by race in northern Westchester, but a 2018 report found that in Peekskill from 2013 to 2017, 44% of all low-level marijuana arrests were of Black individuals, whereas the overall Black population is just 20%. That imbalance gets worse in communities with smaller Black populations like Pelham, where only 12% of residents identify as Black – but Black people made up 100% of all low-level marijuana arrests in that time period. The study found that Latino communities in Westchester were also arrested at higher rates than their population at large in that period (though not in Peekskill). Both trends play out county-wide, with Black residents of Westchester County being arrested on marijuana possession charges at a rate 15 times higher than whites – despite studies showing both races use the drug at similar rates.
The text of the current MRTA Senate bill indicates the proposed Bureau of Marijuana Policy would give preference to "social and economic equity applicants", including "individuals from communities disproportionately impacted by the enforcement of cannabis prohibition; minority-owned businesses; women-owned businesses; disadvantaged farmers; and service-disabled veterans".
There's dozens of other considerations, but the above criteria could help land one or more licenses in Peekskill, where low income and high diversity (relative to much of Westchester) means there's a relatively large cohort of the populations targeted by the bill as beneficiaries. Other Westchester cities with similar demographics and relatively dense populations that seem likely destinations for dispensaries include Mount Vernon, Yonkers, New Rochelle, and White Plains.
 The proposed law includes a raft of other social justice initiatives including providing education and incubation services for first-time and small business owners; community reinvestment of tax dollars; and forgiveness and in some cases even expungement of previous low-level marijuana convictions.
Throughout negotiations, the Legislature's plan has focused on beginning to repair the damage done by decades of imbalanced enforcement of marijuana laws, including a cycle of conviction and incarceration of Black males for low-level infractions, making it difficult to find legitimate future employment, often leading many to turn to long-term criminal behavior for survival.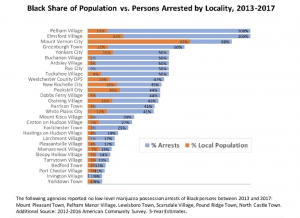 What Would a Canna-business Look Like in Peekskill?
If and when a license for recreational cannabis is issued for a Peekskill dispensary, it's hard not to picture it in a high-profile downtown storefront, like the former Ford Piano space on South Division Street, for instance. But the reality may be that such a business will want dedicated off-street parking, especially given the prospect that many customers will likely come from surrounding communities – maybe even surrounding states like Connecticut (although CT governor Ned Lamont has a proposal on the table to legalize and have stores open by May, 2022).
A Peekskill dispensary could wind up in a strip mall with plenty of off-street parking, like Blue Mountain Plaza on Welcher Avenue, or even the Crossroads Plaza downtown; though most new cannabis retailers tend to position themselves as upscale businesses – so a storefront with off street parking like the new retail spaces at One Park Place might be a likelier option. Indeed, many US pot shops look more like boutique cosmetic stores inside than the shady back-room operations one might imagine.
The proposed law prohibits retail sales of cannabis "within 500 feet of a school grounds" – which would likely eliminate a few commercial spaces on Washington St near the Middle School, and the new mixed-use development at 216 South Division, which is only about 240 feet from the High School. Peekskill's elementary schools are in largely residential neighborhoods.
An interesting aspect of the proposed MRTA legislation is a license designation for "on-site consumption". This appears to allow for cannabis-only lounges – separate from dispensaries, and with no on-premise alcohol sales: something akin to the famous "coffee houses" of Amsterdam (and possibly the first of its kind in the US). A cannabis lounge might well be a better fit for Peekskill's walkable downtown than a dispensary.
The MRTA, as we understand it, also allows for home delivery; so it's possible that by 2022,  legitimate weed couriers will zigzag Peekskill's city streets alongside Seamless, DoorDash, and Domino's delivery drivers.
Finally, word is the new law will allow those with a green thumb to grow up to six cannabis plants at home; this could spawn a new interest in gardening among Peekskill residents.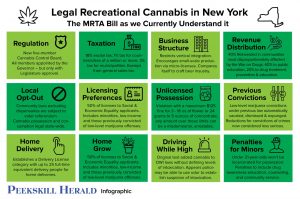 Are Peekskill Elected Officials and Candidates On Board?
Given the possibility that the Peekskill's Common Council could be considering legislation to prohibit, restrict, or otherwise regulate cannabis businesses, the Herald reached out to the Mayor, Council members, and all the announced candidates in June's Democratic primary race for their positions on the possibility of legalized sales coming to the city (so far there's no announced GOP or third party candidates for the November general election). Our questions went out before Wednesday's news, prior to some of the latest details becoming available.
Of the current elected officials, only Council members Dwight Douglas and Kathie Talbot responded. Douglas (who is also a PDCC-endorsed candidate in the June primary) said "I would have to see what restrictions and conditions are in the legislation, but properly regulated I would support adding dispensaries of legal recreational cannabis as a permitted use in the downtown and perhaps other commercial districts.  If the legislation permitted setting specific fees for this use, then the income could be directed to programs to serve persons previously incarcerated for possession of marijuana (hopefully the legislation would free all persons presently incarcerated for this offense)." 
"Often folks have a hard time gaining suitable employment after time spent in prison. I have served as a volunteer in Bedford Hills Correctional Facility for over ten years and have a good sense of the difficulties the women may face when they get out." 
Regarding what opportunities and risks he sees in legal recreational cannabis sales coming to Peekskill, Douglas opined, "There may be some risk to this, and without the legislation in front of me I can't fully respond, but Peekskill is a dynamic, creative, welcoming community and somewhat of a risk-taker by its nature and history."
Council member Talbot's response was a bit less decisive: "This is a complicated issue and the council has not discussed it as yet so there's not much I can offer at this time. I'm sure there will be much discussion among the council, staff and community and the city will need education and input if and when this subject comes up for consideration."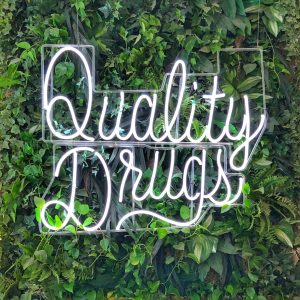 The three "Progress4Peekskill" candidates who replied were all decidedly in favor of Peekskill hosting one or more dispensaries. "The Marijuana Regulation and Taxation Act, is something I have been advocating for since before even taking office," said Council Member Vanessa Agudelo. "I do not have any issues with having either recreational cannabis dispensaries in Peekskill, or any cannabis related businesses that may attain one of the various licenses being considered by the state government. However, I strongly believe that when we legalize marijuana, we must do so in a way that rights the wrongs caused by Harry J. Anslinger and prohibition  that used cannabis as a weapon to criminalize people based on the color of their skin."
On the question of opportunities and risks for Peekskill, Agudelo sees economic as well as social justice benefits. "Besides the vital criminal justice component mentioned above, recreational sales have the potential to bolster our local economy and feed more business into our city. The city also has the ability to set a local tax on sales, revenue that should be set aside to create initiatives that help undo the racist impacts of prohibition here locally such as job training and expanding both adult and child education programs."
Agudelo's running mate for a Council seat, Amy Perlow, goes even further in her support: "I would absolutely support recreational cannabis dispensaries in Peekskill – not only by "opting in" to allow their presence, but by proactively seeking to bring them to our city. This is an opportunity to generate tax revenue and invest it into our community – one that has historically suffered from marijuana criminalization. Such criminalization has been linked to communities of color like ours, as have inequitable COVID-19 impacts and generational wealth gaps that must all be addressed. For this reason, only the Marijuana Regulation & Taxation Act (MRTA) will suffice, as it approaches legalization through a lens of equity. I urge all Peekskill residents to call upon our governor and legislators to pass the MRTA." 
Perlow has thoughts on how potential local tax revenues should be utilized: "A portion of tax revenue must be used for community reinvestment in a way that directly impacts those who suffered as a result of marijuana criminalization in Peekskill. Restorative justice, job training, housing, and educational supports are all possible avenues for these funds. The generosity and hard work of a community coalition raised tens of thousands of dollars last year for mifi hotspot subscriptions so Peekskill students could access remote learning. As those one-year subscriptions are due to expire this summer, we should consider the potential of using marijuana tax revenue- a solution that is both structural and permanent – to ensure access to technology for all."
Mayoral candidate Conor Greene also weighed in. "I strongly support the proposed Marijuana Regulation and Taxation Act. It is long past time to end unjust marijuana laws that are racially and unfairly enforced and to tax and regulate the responsible personal use of recreational marijuana in our state and community…Peekskill should absolutely welcome the opening of a reasonable number of dispensaries in appropriate commercial areas. The economic benefits are clear, starting with the tax revenue that could fund education, housing, after-school programs, job training, parks and recreation — not to mention the jobs created, especially in communities that have borne the brunt of the racist war on drugs. Allowing dispensaries to open here would mean more retail spaces filled and more foot-traffic downtown and in other commercial areas, which would benefit all of our businesses."
Greene is clear that the new industry should be focused on repairing damage to communities caused by disproportional enforcement of drug laws. "Marijuana legalization must come from a place of racial justice. Obviously legalizing marijuana is important because of how the current laws are unfairly enforced. But it must go much further and actually provide benefits and economic opportunity to communities of color like Peekskill that have been harshly impacted by draconian drug laws over the past decades. Local licensing for dispensaries must be done in a way that gives preference to communities of color and those who have directly been harmed by unfair drug laws."
The positive vibes around the possibility of the Friendly Town hosting one or more legal cannabis businesses extend to at least some residents too. While many we spoke to were reluctant to go on the record, Peekskill resident Kristen Rantuccio said "I would love having a recreational [cannabis] store or two in Peekskill! Not only for the convenience – but after seeing all the other businesses and 'tourism' it brought to border towns in Massachusetts like Great Barrington – I think it would be great for the local economy."