Quilts Contribute to the Fabric of Community
"Peekskill is a small town with history and a great sense of community and art," says quilter Pauline Jackson. So when Jackson wanted to help raise funds for the nonprofit Hudson Valley H20 (HVH20) co-founded by her son, Ian Berger, she came up with the idea of making quilts of iconic places in Peekskill. Jackson says that proceeds from the sale of the quilts are "entirely a contribution" to the nonprofit water sports and environmental center on the Peekskill riverfront.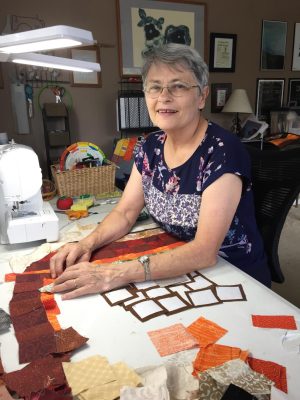 Jackson, who has been making quilts of historic buildings since 1996, had some ideas of what she might like to quilt from numerous visits to Peekskill. She also asked her son and the HVH20's other board members for suggestions. She narrowed the list down to 15 places, ranging from Fleischmann Pier to the AME Church to the Standard House.
The artist then spent the next year making the quilts. Jackson describes her process as, "choosing the best photo of the place, downloading it onto a thumb drive, and then having it reproduced at a FedEx store near me into a quilt-sized photo which I use as a template during the quilting process." The quilts, which are meant to be hung on a wall, are generally around two or three feet tall and wide.
Jackson, who has been quilting for 27 years, is completely self-taught. "I taught myself by picking up a needle and thread, choosing some fabrics and subjects, and creating a quilted picture. I learn as I go," she says. "
While she once quilted entirely by hand, the retired school psychologist has more recently been using a sewing machine to enhance or take the place of hand stitching.  "Using a machine has relieved a lot of the muscle tension in my hand," Jackson says. "The machine also has all kinds of other capabilities like special stitching, which I enjoy using."
Jackson says that "Picking out fabrics for a particular quilt is one of my most favorite quilting activities." Jackson has a lot of fabrics that she has saved over the years and categorized according to color but still makes two to three trips to the fabric store when she makes each quilt.  "I love the way my imagination works when I am choosing fabrics in a store that I think can represent different aspects of each quilt," she says. "I have often thought that I paint with fabrics." Although her choice of color is dictated by subject, she generally prefers "muted colors and small patterns."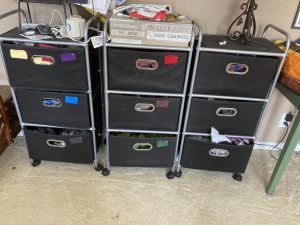 The work, though a labor of love, can be all-consuming. "When I am in the middle of a project, I generally don't think of anything else," Jackson says. "I often dream about the quilt I am working on, especially when I am trying to solve a problem I am having with it."
Prior to making this series of Peekskill quilts, Jackson quilted several old Florida buildings in Saint Augustine as well as landmark buildings in Jacksonville. She quilts subjects and places that have "emotional significance for people." Jackson's first project was a large quilt depicting a coral reef for her son Ian's Christmas present. Jackson enjoys making gifts of her quilts. She tells the story of neighbors who sailed on their own ship from Florida to Germany. When these neighbors told her they sold their ship, she says, "I knew I had to make a quilt of the ship for them," she says.
The Jacksonville, Florida, resident grew up in Ossining and often visited Peekskill when she was a child. These days, Jackson and her husband spend two weeks each year in Peekskill visiting family. In addition to her son, Ian, and his family, Jackson has an aunt and a sister who live here. Two of Jackson's favorite activities while in Peekskill "are going to the Spanish market to buy food for a special meal to cook for my family and hiking in Depew Park," she says.
Jackson cannot imagine a life without quilting. "I will probably quilt as long as I have eyes to see, hands that sew, and a heart that cares for what gives meaning to people's lives," she says. "I quilt to connect with people."
These quilts will foster connections in myriad ways. Viewers will connect with Jackson's work and the city when they get to admire–and possibly own–one of her Peekskill quilts. The proceeds from her quilts will then go to help HVH20 achieve its goal of fostering a connection to the environment, and the Hudson River in particular, for the entire community.
The Flat Iron Gallery in Peekskill will host an exhibit of Jackson's quilts in November, with an artist's reception on Saturday, November 12, from 1:00 to 5:00 pm. The Peekskill quilts on sale there will mostly be priced between $750 and $1,000. Jackson will create quilts on commission. You can reach her at [email protected] to learn more.
Writer Jeannette Sanderson says Pauline Jackson's quilts have inspired her to finish a quilt she started many years ago. You can learn about the fascinating people and projects of Peekskill in the Peekskill Herald. We are in the midst of a membership campaign where every dollar donated is matched up to $1,000 per individual. Become a member today here.