Kayak and Paddleboard Lessons Launching at Peekskill Waterfront this Summer
In a little over two months, visitors to Peekskill Landing Park will be able to rent kayaks and stand-up-paddleboards, take lessons for either – and for many, experience the Hudson River in ways they never could before.
A nonprofit called Hudson Valley H2O plans to bring paddlesports to the Peekskill Waterfront every weekend this summer, and make getting out on the water accessible to anyone who wants to. Until now, for most of us, visiting Peekskill's waterfront parks has meant gazing fondly at the gorgeous Hudson River tableau, enjoying the breeze and maybe taking a selfie or a few sunset pics to post to Instagram. But HVH2O hopes to help non-boat-owning Peekskillians break the "fourth wall" – and actually get into the river itself for the first time.
"Most people never get beyond the river's edge in Peekskill," says Ian Berger, volunteer Executive Director of Hudson Valley H2O. "We want to give people the opportunity to paddle in – and learn about – the beautiful Hudson River and the surrounding environment."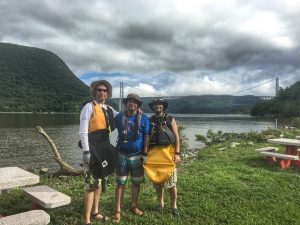 "When the final plan for Peekskill Landing was put together, there had been a hope that when we put in that dock for kayaks and canoes and paddle boards, that it would help activate and bring activity to the riverfront – and help support local businesses along the waterfront; to be an attraction that visitors would come for, as well as local residents," recalls HVH2O's President and former Peekskill Mayor Mary Foster, whose administration oversaw construction of Peekskill Landing Park in 2014. "About four years ago, Ian put out a call to the community saying he had an idea to create a paddlesport center – a not-for-profit meant to encourage paddleboarding, kayaking, and environmental education around the riverfront and the river itself. 
"There was a small group of residents who answered the call and said 'This is a cool idea! What can we do to help?' It really is a community organizing kind of activity, and at this point we have a small group of dedicated teachers and kayakers and paddle boarders who are working to bring this vision to life," explains Foster.
HVH2O first appeared on the wider community radar in 2019 when it applied for funding through the Downtown Revitalization Initiative (DRI) to construct "a community paddling and environmental education center along Peekskill Landing" – to include a storage facility for kayaks and paddleboards. This element would be key in overcoming the barrier to entry for casual paddlers or curious first-timers, allowing for a robust rental fleet as well as on-site storage for privately-owned watercraft for folks who don't have a place to store their kayak or paddleboard at home; and others who don't have a car or other means to transport their boats.
The DRI proposal also includes onsite changing rooms, a facility for scheduling kayak and stand-up paddleboard (SUP) lessons, and an environmental education information kiosk, focusing on water quality and aquatic life.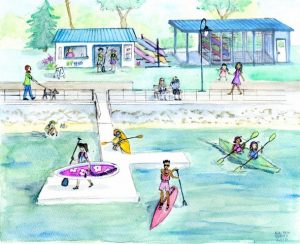 For Berger, the idea was always about community. "I wanted to do it as a nonprofit, because this sense of community has always been really strong for me. The sense of being together with people and working with people; spending time together. Even before COVID, we were very isolated. I wanted to have a place where people could gather – a place where people who love the water and love the riverfront could just come together."
In 2019 the group began offering limited paddleboarding lessons, launching from the Riverfront Green shoreline because the pilings holding the floating kayak launch in Peekskill Landing Park had been damaged by winter ice. But just months after the launch was repaired, COVID began to change everyday life.
Given the challenges of the ongoing pandemic, HVH2O decided it was best for the group to remain in port for 2020, delaying the launch of one-on-one lessons, which would be challenging to give while also observing social distancing rules and masking. "It's impossible to wear a mask in the water," chuckles Berger. "I tried it once, and as soon as it gets wet, it's like…" (Berger simulates a wet mask throbbing with every breath – something between hyperventilating into a bag and being waterboarded).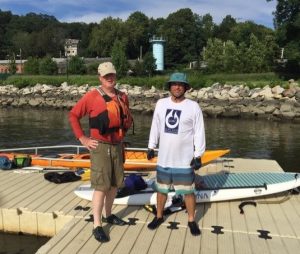 But while the 2020 paddlesports season ran aground, back on shore the group stayed active in local environmental education, and in laying the groundwork for what will hopefully be an epic debut in the summer of 2021. The team purchased a rickety boat trailer and spent hundreds of hours restoring it by hand; they can now deliver up to ten kayaks and paddleboards with one vehicle – which is key, given that the state hasn't approved any DRI proposals yet. 
When the boats hit the bay in late May, the first reaction for many passersby may be "Is it safe to get in the river? Will I grow a second head?" Berger agrees: "There's that long-standing tradition of the Hudson being terribly polluted. And it was. It was horrible. But it's not any more. There are still issues with PCBs and eating fish…and we don't do fishing," he says, smiling. "Otherwise the Hudson River is fine – it's not polluted. It's dirty – because it's a river, and rivers pick up silt. That's why we have things like river deltas. It's dirty, but that's a natural thing." He goes on to point out that there's already several annual competitive swimming events on the Hudson, in nearby cities like Newburgh and Poughkeepsie.
According to Berger, the benefits of having the HVH2O site are numerous. "First it provides a place which announces 'You can get into the water here! We will help.' Again, many people have never been able to do this, and having this community resource right at the riverfront will provide this opportunity," says Berger, enthusiastically. "As well, this will make Peekskill a watersports destination. People will start to come to Peekskill for the paddling, adding to the economic activity at the riverfront."
"Peekskill is lucky. In general, access to the river is kind of limited. We're the only really major place to get into the river between Croton and Cold Spring. It's not like the Mississippi where you have these sandy shores. The Hudson is really rocky, so getting in and out is tough. The train lines and private property limit access too."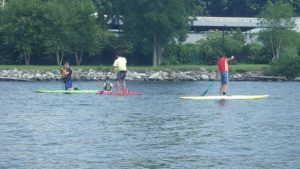 Asked how Hudson Valley H2O's model differs from that of nearby Annsville Creek Paddlesports Center, Berger admits "there's definitely some crossover between us and Hudson River Expeditions, but what we want to provide is a local Peekskill resource. In order to rent a boat [at Annsville], you need to get in a car and drive there. HVH2O is walkable from the city, and easily accessible." Berger goes on to explain that the Annsville Creek facility is a for-profit business that caters to kayakers, while as a nonprofit, HVH2O will offer walk-up lessons for a $20 donation – and strongly emphasizes paddleboarding as well as kayaking. "Our goals are to provide a service as best we can, and create a gathering place for  those who love the river."

"The HVH2O initiative is for everyone who wants to learn about the river or paddle in it," he continues. "We don't see those two things as separate; they're just different kinds of learning. My ideal person is someone who may not think learning about the river is accessible. Sometimes income gets in the way. Sometimes you've never been told you can paddle or learn the science. We see it as an initiative that provides both of these to the Peekskill community to — as we discussed — break down that barrier between the community and the river."

A final component of HVH2O's mission is to educate residents and visitors about the ecology of the Hudson River. Their vision includes providing interactive displays about water quality, water chemistry and aquatic life. The group's five member board boasts no less than three teachers (including Berger), and Dan Novak, who studied the river in college – a full-time environmental and life science educator who directs the Environmental Sciences Center at Northern Westchester BOCES.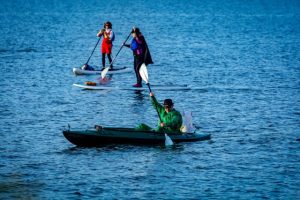 The organization is seeking volunteers to help staff the summer events. If you don't already have paddlesports experience, the staff is happy to provide training. And as a 501(c)(3) with significant expenses around equipment and park permit fees, donations are both tax-deductible and highly appreciated. 
HVH2O's 2021 goals don't end at weekend lessons and rentals. The group has also been planning what may be the first-ever stand-up paddleboard race on the Hudson River north of New York City, to be held in Peekskill on October 9th. The "Bear Mountain Paddle for Puerto Rico" is a joint fundraiser along with a home for autistic children in Puerto Rico, and will feature dozens of amateur and professional paddleboarders racing from the riverfront boat launch to the Bear Mountain Bridge and back. 
But even with bits of winter ice still visible in the shallows of Peekskill Bay, HVH2O's focus is squarely on getting boats into the water for residents and visitors starting Memorial Day Weekend.
"We're hoping that this season can create a lot more visibility around us and help us grow to the next level," while awaiting the DRI grant, says Foster."We're trying to put a stake in the ground, that if you want to enjoy the river – whether you're putting in a motorized craft, a passive craft, going on a Trinity cruise, or you just want to hang out at the river, Peekskill is the place to be ." Interested in donating to or volunteering with HVH2O? Email the group at [email protected], and find more information at their website, https://www.hvh2o.org/