New Age Shop Offers Ancient Wisdom 
Educator finds his pearl in downtown Peekskill store location
In the ancient world of Greek mythology, offerings to the goddess Persephone were left where two roads converged,  a spot where a traveler had to decide which way to go. Knowledge of that fact didn't escape John Cardo when he was shown the space in April that would become his retail store at 1014 Main Street. Since construction was happening at the building's storefront, he entered the space through the back door. "As soon as I walked up to the front and saw the intersection (of Bank and Main streets) I knew this was the right space for the business," said Cardo, 47.
Persephone's Pearl is a spiritual center and retail shop where the items for sale are made locally with intention and authenticity, said Cardo, who is on a year-long sabbatical from his job as a high school social sciences teacher in the Bronx. The 2,000 square foot store opened in June.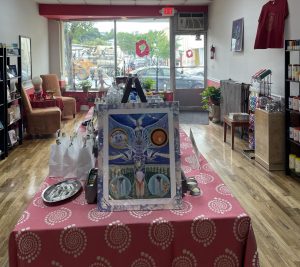 "Now that we're all settled in with a variety of items, I'm able to do the work that is my forte," said Cardo, who has three master's degrees –  in divinity, education and educational administration. He's a teacher at heart and is experienced with building community; having worked as a youth pastor at a Michigan university, along with four years of social work in a mobile crisis team for St. Luke's Hospital in New York City; and years teaching and being a department chairperson for the New York Board of Education. He also teaches incarcerated youth. Cardo and a team of practitioners offer workshops that contribute to Persephone's Pearl being more than a store, but a spiritual center as well.  
Persephone is a maiden, mother and crone, said Cardo. "I dedicated the store to her because she's the goddess of transitions. She's the mother of the underworld who brings spring. People come in here and find things they need to help them through their transitions. There's little bits of everything in here; from oils and incense, crystals, tarot cards and books to jewelry."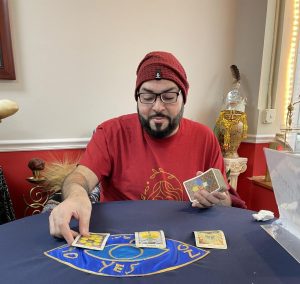 Cardo and Kelly Lapadula offer tarot card readings for clients.  "I am very secure in my spiritual roots," he explained. " I listen, stop and turn and I'm always brought to where I need to be." Currently he's living in Peekskill with his parents and sister – which wasn't his intention, but it worked out that way. They all moved to Peekskill, within a few months of each other. He's awaiting the renovation of the space above his shop so he can live there. 
The nearest spiritual shop is in Wappinger Falls and the next closest one is in Poughkeepsie. Cardo says each of them have their own vibe and after visiting them, he returned to Persephone's Pearl knowing that it too, had its own particular style; not only as a place to purchase spiritual items, but also where people can hang out and form community. On the night before Halloween he hosted a seance that some 30 people attended. Today, Thursday, marks the beginning of the store's Holiday Spirit Jubilee Week, which will see artisans who sell items in the shop come and explain how they make their products.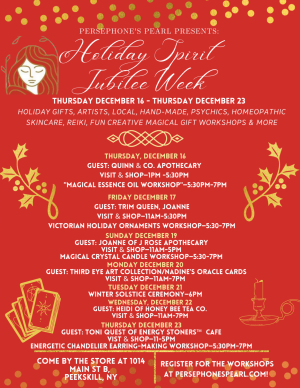 The biggest sellers, aside from readings, are jewelry, stones, and books – which include tarot and oracle cards. Cardo also sells oils, incense, powdered incense and candles.  The candles are poured by a friend of his in Salem, Massachusetts. "She uses my recipes, and I trust her to pour them, since I can't pour." He drives the three hours to Salem to pick them up.  Candles come in votive, pillar and jars.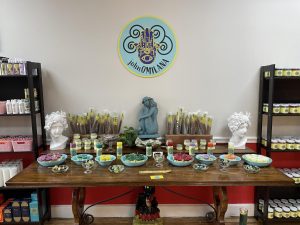 For information about reading fees and workshops visit their website here.