Cannabis Dispensaries and Lounges Will Be Allowed in Peekskill 
Council Vote Falls Short to 'Opt Out' 
In a closely watched vote, Peekskill's Common Council defeated legislation crafted to keep cannabis dispensaries and consumption establishments  out of the city at Monday's meeting.  Around the issue of dispensaries, Council members Agudelo, Douglas, Fernandez and Talbot voted against the 'opt out' language. The same four voted against the 'opt out' consumption sites vote, joined by Mayor Andre Rainey.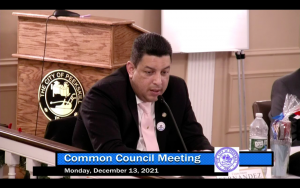 Councilwoman Vanessa Agudelo called for a discussion around the issue before the vote was taken because there was no conversation about the proposed local law at last week's work session of the council.  She read from prepared remarks citing the issue of legalization of marijuana was more than a criminal issue, but rather a social justice issue. "Justice can only be achieved if it incorporates a two-pronged approach; first, solutions that eliminate the detrimental impact of the issue causing injustice; and two, solutions that work to prioritize communities most harmed by ensuring priority access to the benefits of those solutions."   
Reading from a prepared statement, Councilman Dwight Douglas said he was in favor of 'opting in' to allow both dispensaries and lounges. He spoke of changing his opinion on the issue of lounges after the Nov. 22 public hearing where he learned that residents of federally subsidized public housing could lose their homes if they were to smoke marijuana inside them. He also addressed other comments in the public hearing about marijuana being a 'gateway' drug. He spoke of his experience as a youth counselor and a volunteer in prisons and noted that the legalization of marijuana is one way to break the connection to other drugs. That connection exists because the street dealer of illegal drugs has, in many cases, access to more dangerous drugs and the goal of maximizing profit by marketing and providing the other drugs.  He also cited his decades of experience in municipal planning and zoning and said the city has those powers which can determine where the dispensary and lounge will be located. The second leverage the city has is that of  financial management. "The new revenue received can be used to create targeted programs that serve families impacted by the war on drugs, in areas such as housing, jobs, education and mental health," said Douglas. 
Councilwoman Kathie Talbot recalled the time about six or seven years ago when there was a lot of fear around a tattoo parlor opening in Peekskill and noted that there is one in operation now in the downtown and there has been no problem with it being there. She said she heard the same fear in recent discussions about dispensaries and lounges opening in Peekskill. She also referenced that marijuana was not always illegal, and the new law ensures that the product will be monitored by state agencies prohibiting contamination – which is not the case with street marijuana. 
The fourth vote in favor of 'opting in' was Ramon Fernandez, who had not made his opinion on the subject well known before Monday night. He cited his personal opinions around drug use but then spoke of being in favor of 'opting in' if the revenue that will come to the city can be used for programs to dissuade kids from using drugs in the first place. 
Mayor Andre Rainey didn't speak on the issue for the record at the time of the vote, but was a yes for 'opting out' of allowing dispensaries.  At the roll call for allowing on-site consumption establishments, he was a 'no' for opting out.  
After the meeting he explained why he split his vote: "I voted against the dispensaries because I feel there's not enough information about how it's going to be run. A lot of people are promising that once the dispensaries get here we're going to give all the money to mental health and youth and education and there's no guarantee for any of that. There's what, 11 liquor stores, in the city of Peekskill?  And is any of that revenue going to mental health and education?  I don't think so and until we have some more solidified direction and guidance from the state for what they are going to approve of, I just think it's necessary for leadership to make a decision based on that." 
"The lounges are important, we're in hard times, people are having issues that marijuana helps and I think that it's important if the law allows marijuana then give the people somewhere to enjoy it. I can't say that I'm happy that the city has 12 liquor stores but I do feel good that there's  restaurants where they can hang out and have a drink with their friends and celebrate a birthday. There's a cigar lounge in the city where people can smoke at. It's the same thing, with marijuana for recreational or for medical purposes. It's legal as it should be. I pray to God that I'm not down at the park with my son and daughters throwing a frisbee and somebody in the park is just going to smoke because they want to. I think it's our responsibility to ensure that we accommodate people's needs because again, weed is legal and we have to adjust to the times in a way that works for everyone. I think it's responsible to at least start preparing to present a place for people to actually enjoy marijuana whether it's recreational or medical, just like we do the liquor stores and the cigar lounges." 
In voting for 'opting out', Councilwoman Patricia Riley said that as a career educator she taught children to say no to drug use and she respected the opinions of her colleagues but that she just didn't feel comfortable voting to allow dispensaries or lounges. She said she didn't think there was enough information. "There are too many if's out there." 
Mayor-elect McKenzie who voted yes to 'opt out'  echoed Riley's comments and said she didn't know what the effect of allowing dispensaries and lounges would be on city services. She also talked about the expense of the licensing process and didn't know how people who were impacted by the criminalization of marijuana would be able to afford the licenses. She cited figures of $250,000 for a license and $800,000 for a dispensary. 
In voting to stay 'opted in' to both types of cannabis retail licenses, Peekskill joins Westchester municipalities Bedford, Croton-on-Hudson, Mount Vernon, New Rochelle, Pound Ridge, Sleepy Hollow, White Plains and Yonkers, per this SUNY Rockefeller Institute tracker created by researcher Heather Trela. According to the live document, the Village of Tarrytown has opted out of on-site consumption but will allow retail dispensaries. Other Westchester municipalities have yet to hold formal votes at this time. Local governments that take no action before January 1st will automatically stay "opted in" to allow the new cannabis retail licenses. The Cortlandt Town Board split its 'opt-out' vote 2 – 2  at a special meeting on Dec. 6. The tie vote means that the proposed local law to 'opt out' does not pass, thereby allowing recreational cannabis establishments in Peekskill's closest neighbor. 
Other Hudson River communities that have officially "opted in" to at least allowing retail dispensaries include Cold Spring (where voters approved retail only in a permissive referendum); Haverstraw, Poughkeepsie, and Kingston.