Candles and Clothes Are to Dye for at The Lounge House 
New Retail Store on Main Street opened in November 
Two childhood friends from Putnam Valley decided it was 'less scary' to move their online businesses into a brick and mortar location in downtown Peekskill if they did it together, so Lia Cagliostro and Maggie Winfield opened The Lounge House in November. Located at 922 Main Street on the street level of the Lofts on Main, the business specializes in handmade products that create a relaxed, cozy environment for home. 
Both women had online businesses that were growing, and knew their customers would travel to Peekskill to buy Mom Made candles, hand poured by Winfield, and lounge clothing tye-dyed by Cagliostro. The Lounge House's customers include Magdalena Bellinger, wife of NY Knicks player Obi Toppin. Toppin, who graduated from Ossining High School, likes the Cut & Carry winter scented candle, according to Winfield.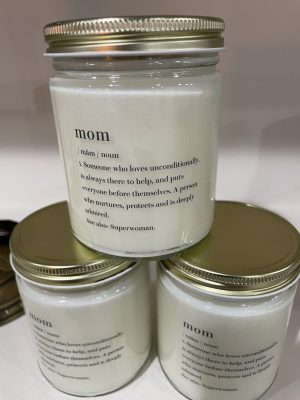 "We knew we wanted a space that would not be like anything around here," said Cagilostro who ran a hair salon in Dobbs Ferry until the pandemic forced her to close and not renew her lease. "The day after the forced shutdown by the governor, I reached out to my clients and asked if they'd be interested in buying tie dyed pants and shirts and got a good response," said Cagliostro, 32. She had seen that tie dye was coming back into fashion and immediately started watching videos on how to tie dye clothing and found a wholesaler where she could source the lounge pants and tops. "I knew people were spending time at home and wanted to look cute and put together." In the first hour of offering items, she had $1,000 in sales. That was 20 months ago and now she's perfected her technique. 
Winfield took a different route to begin her cottage industry. "I've always been obsessed with candles. When I got home, even before taking off my jacket, I was lighting a candle because it was making my space be like an oasis, a sanctuary for me."  In 2018, she was commuting to Manhattan for a sales job while pregnant – and knew she didn't want to be doing that when her daughter was born. It was her mom, Betsy Flor, who suggested she start making candles. "You've always loved them," said her mother. That was the impetus she needed – as well as knowing she didn't want to be away from her daughter. She started learning everything she could about candles and began pouring them in her kitchen. "I think of candles and the vessels they're in as a decor, or a statement to express taste and style," said Winfield. 
Both women, who met each other in childhood because their moms are best friends, are committed to having a shop where people can purchase things that are made by them or other artisans in the area. "We wanted a small boutique experience," said Cagliostro, pointing to the wire signs and birch racks holding clothing. During the summer Cagliostro was on vacation in Montauk and Winfield in Hilton Head, and they scouted out ideas for design and layout of boutiques in those towns.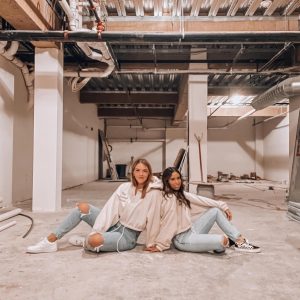 And for the second time, it was Winfield's mother who nudged her daughter, but this time she suggested that the two of them go into business together. They decided to give it a try, and the space at Lofts on Main was the first one that Cagliostro saw when she was looking for commercial space in the area on Zillow. The space was 'raw' when they first saw it. Just the structure with no sheetrock, utilities or flooring. The developer of the space originally planned for it to be a location of Mrs. Greens food market. The women designed what they wanted the space to look like, and started brainstorming a name. 
It was Cagliostro who said the idea came to her one morning in the shower. "I realized the things we were selling were what you were wearing and smelling when you were lounging around in your house." Between their two Instagram accounts and The Lounge House's Instagram account they have nearly 8,000 followers. They've hit their sales goals for the first couple of weeks in business and are learning more each day about producing their products.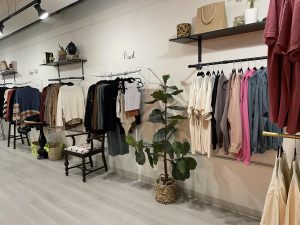 Winfield is considering making a drive to Pennsylvania to purchase the soy wax she uses to create her candles, because the prices have risen and the shipping is now more expensive than the wax. She explained there is a 12-step process to create a candle, from the research into the smell combination of the essential oils she uses, to pouring, naming and packaging. The average cost of a 10 ounce candle is $30, and the burn time is approximately 45 hours.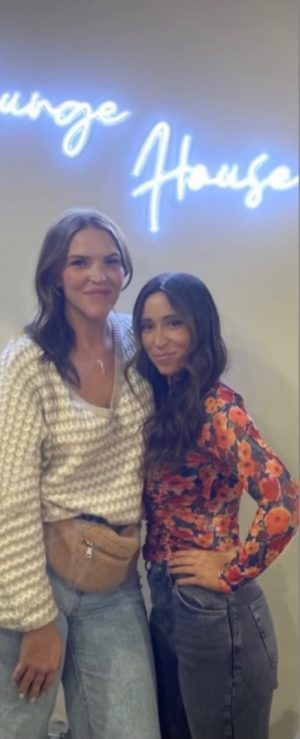 Cagliostro says there are eight steps to creating her lounge pants and tops, from blending the colors, washing, letting them sit and then drying and washing another time. Both women can personalize clothing and candles they produce. 
The Lounge House is open Wednesday through Friday from 11 am  to6 pm, Saturday from 10 am to7pm, and Sunday from 11 am to 5pm.