Police Make Arrest in Thursday's Restaurant Row Crash
Three pedestrians Injured and facades of restaurants damaged
Peekskill police arrested a 56-year-old male resident on Friday in connection with the car crash on restaurant row Thursday night that saw three pedestrians injured, one critically. 
According to Lt. Jack Galusha, police arrested the driver of a dark blue Cadillac SUV that crashed into an unoccupied Nissan SUV that was parked on North Division Street, then careened onto the sidewalk, took down a tree and a parking meter and plowed into three pedestrians who were gathered in front of 3 North Division Street at 8:15 pm. The Cadillac, with the driver pinned inside, came to rest in front of G&H Caribbean restaurant.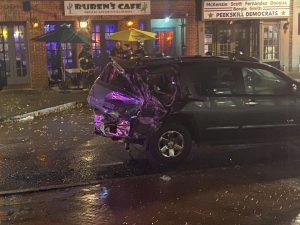 "This is still an active investigation with the Westchester County Police Department, who are assisting in accident reconstruction," said Galusha. Because the investigation is ongoing, he declined to say what the specific charges were, but noted they were related to Driving While Intoxicated. The driver was arraigned in Peekskill City Court on Friday after being treated and released from Westchester Medical Center. 
According to Galusha, two of the pedestrians were treated and released from Westchester Medical Center and one remains there with critical injuries. All three are men. 
The block of North Division Street between Park and Main streets, informally known as Restaurant Row, is often closed to traffic using bollards on Thursday through Sunday evenings.  Businesses such as Ruben's, Whiskey River and Annabella's frequently put tables on the sidewalk and in the street for diners. Thursday was an unusually warm evening with people eating outside Whiskey River and milling about in front of Westchester Community College's Art Workshop during an opening reception for a Peekskill Arts Alliance show. "There would've been a lot more injuries if this happened on a weekend evening," said Galusha. It's not immediately clear why the block remained open at that hour on Thursday; it's believed the business owners have some latitude on whether to close it off for dining or not.
"We are horrified by the destruction and serious injuries this driver caused after losing control of his SUV," said Conor Greene, co-founder of the pedestrian advocacy group Peekskill Walks, reacting to the incident. "Our thoughts remain with the four people injured. No matter the ultimate cause of this crash, it's not an isolated incident — in the past few weeks alone there have been a number of serious crashes, including vehicles rolling over, being driven into buildings, and hitting pedestrians. The vast majority of these incidents are preventable through enforcement, better roadway design that makes it harder for drivers to speed, and education and outreach to address the culture of reckless driving that's been allowed to persist. The city cannot ignore this. Our streets need to be safe for everyone."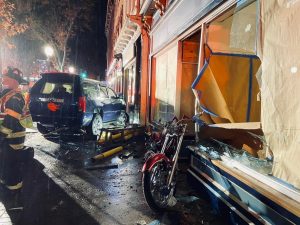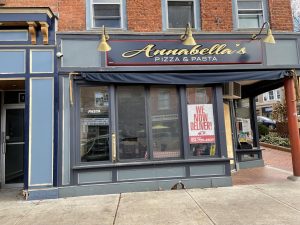 The day after the crash there were shards of glass on the sidewalk in front of several Restaurant Row businesses whose storefronts were damaged in the crash. A phone could be heard ringing at Annabella's Pizza & Pasta, but no one was there to pick it up: the restaurant's shattered door had been shuttered with plywood overnight.
G&H Caribbean Restaurant – whose facade had also been damaged – had reopened by Friday afternoon.  Next door at 5 North Division, the former Ruben's restaurant, which is under renovation as it's being converted to a Brazilian steakhouse called 'el Troubadour', was boarded up. The storefront suffered serious damage when the Cadillac careened off from it during the incident.