The Art of a Gallery Lasting 25 Years
Flat Iron celebrates Silver Anniversary with 25 percent off sale
For 25 years visitors have been traveling to the upper floors of the Flat Iron Building in downtown to source exquisite pieces of art, jewelry, pottery, and other treasures at the Flat Iron Gallery.  When the Gallery opened its doors in 1996 on the second and third floors of the historic building, Peekskill's artist district was a fledgling enterprise. That one of the original businesses in the Downtown Artist District is celebrating a quarter century anniversary is a testament to the quality of the merchandise for sale and the vision and tenacity of its founder, Wendie Garber.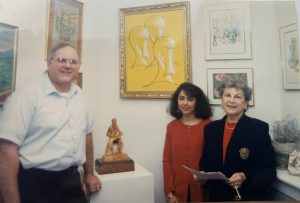 The idea was the brainchild of Garber, a painter and full time art teacher in the Hendrick Hudson School District and William Muller, a painter, sculptor, violist and violin maker. The business was open only on Saturdays and showcased the works of Muller and Garber. They slowly began to exhibit artwork by other area artists and after a year, Muller stepped aside from the co-directorship because he needed more time to work in his home studio building violins. 
The third floor space was called the "Flat Iron Salon" where larger paintings and sculptures were displayed. Garber gave up that space in 2013 and concentrated on developing a community gallery exhibiting works by local artists and hosting and marketing monthly theme and solo shows.  When she retired from the school district 15 years ago she expanded the gallery hours and began showing more handcrafted jewelry along with hand painted scarves and 'wearable art'. 
Garber is particularly proud of a sale that came from the 3rd floor salon space; a portrait commission of Governor George Pataki, painted by Andrew Lattimore. The portrait hangs in the 'Hall of Governors' in Albany. 
There are currently about a dozen artists, including Garber, displaying one-of-a-kind creations in the Gallery.Hours are Friday – Sunday from 12-6 and by appointment during the week. Beginning this Sunday, Nov. 7th, everything on display in the gallery will be 25 percent off until December 31 as a way to show appreciation and gratitude to customers.