Emotions high at Tuesday cannabis hearing
Emotions ran the gamut from pleading to passion at Peekskill's public hearing on cannabis dispensaries during Tuesday's public hearing. About 30 people were present and a handful of others via the Zoom screen in council chambers for the hour and a half hearing.  
The majority of people who spoke were in favor of the city 'opting in' for the regulated dispensaries in the wake of New York State's legalization of marijuana in March. Municipalities who decide to prohibit cannabis businesses to open within their boundaries need to  "opt out" by December 31 of this year. If no action is taken by that date, dispensaries and lounges may open once approved by the state's new Cannabis Control Board.
The people who pleaded with council members to 'opt out' of having dispensaries in Peekskill cited the negative impact of such dispensaries on youth. "Children learn by what they see. If they look in and see people puffing away or chewing gummies, what are we saying to them? What happens to the children of this city?" questioned Kathleen Buliosi. 
The people who spoke passionately about allowing dispensaries and lounges to operate in Peekskill told of the personal benefits of using marijuana. Lysa Hoffman, 53, spoke of her experience with medical marijuana which has 'kept me alive' when she experienced the death of her husband four years ago. "Listen to those of us who use cannabis responsibly who know how to take it and want to do good things for this city we love.  Peekskill has built its economy on booze and entertainment.  Drinking is bad for the central nervous system, bad for the liver and bad for your waistline," she told council members.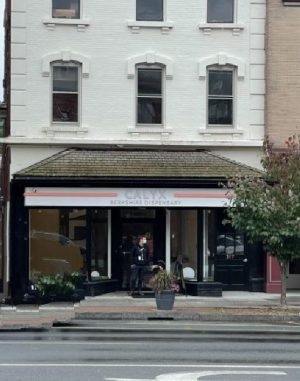 Former state trooper John Donahue, 88, spoke of his 14 grandchildren and 22 grandchildren and the 'grave danger' the community was facing by allowing cannabis dispensaries and lounges. He cited reports showing vaping among kids as a problem along with young children using marijuana. Donahue quoted Native American chief Sitting Bull saying "we got to put our minds together and do the best we can for our children and improve the lives of our children" and this is not the best way to do this.
As a 30 year old, Greg Gutkes said he's attended too many funerals of people who died from the drug fentanyl. "Medical marijuana is a medicine. Not a drug. It is medicine for anxiety, depression, ptsd, and use of chemotherapy. We need to separate drugs from medicine and we need to take cannabis out of the hands of drug dealers and put it in a controlled environment." 
A number of people who spoke against Peekskill allowing cannabis dispensaries suggested that the council wait and see how the regulations shape up as the industry is in an embryonic phase in the state and Peekskill could 'opt in' in the future.  That was countered by people speaking about the economic benefits to Peekskill in tax revenue. If Peekskill were to allow dispensaries there would be a tax of 13 percent divided among the state (9 percent), city (3 percent) and county (1 percent). 
Mishiba Taylor spoke in favor of cannabis lounges, especially for people who live in public housing and can't smoke in their homes.  The city is contemplating new regulations banning smoking of any type in parks and that leaves people who want to smoke with no place to go, she said.  She spoke of her desire to become a cannabis entrepreneur and said that as a member of a minority and a woman she would be eligible for a cannabis retail license given by the state.   The state has said people in communities impacted by marijuana laws will get first preference for licenses. 
Two non-residents with an interest in the subject provided comments via Zoom. Steve Rabinowitz of White Plains has been an addiction services specialist for 35 years, and as a consultant in addiction services has travelled the country visiting dispensaries and has seen clean and well regulated businesses. "A lot of mythology has been put forward." He said [in cities with dispensaries] there is a strong decrease in opioid use. "No one dies of cannabis use. Prohibition has not stopped addiction." He advised the council to "not take the route of fear and believing in false narratives when it comes to dispensaries." 
Speaking favorably about the jobs created in the eight-year old medical cannabis industry in the state, Saul Guerreo wanted to ease some of the concerns of people. Guerrero represents Local 338 who make up 70 percent of the state's medical cannabis workers in the areas of cultivation, processing, manufacturing and retail.   He spelled out the economic realities of what cannabis jobs pay:  salaries in dispensaries are in the $18-22 range, pharmacists make $60-65 per hour while workers in cultivation sites earn some $18-25 per hour depending on the role. Medical marijauana sales generate $300 million for the state annually.