Pandemic Helps Peekskill Woman See the Light 
Dayna Gralla has 5K Instagram Followers
The word pivot has taken on a meaning far different from the basketball maneuver it was associated with prior to March 2020. The hospitality industry – along with the worlds of education and corporations – experienced how to pivot in new ways when society shut down due to the coronavirus. This included individuals. The pandemic was the vehicle that allowed Dayna Gralla to keep one foot in the world of health, but turn in a completely different direction involving healing.  
After nine years of working in hospital emergency rooms and psychiatric wards, she's taken her unique perception abilities and applied them to herself as she embarks on a new career, aided by the nearly 5,000 followers she has on Instagram. The 30-year-old Peekskill resident is transitioning to becoming a holistic wellness coach giving people insights about their lives and assisting them in finding meaning in their circumstances – all while getting healthy. She's a self-described 'non-traditional healer'. 
Taking the leap away from a formal medical setting to starting a business using ancient methods of healing wasn't entirely unpredictable  for Gralla. Since she was a young girl, she had the talent to intuit other people's emotions without using her five senses. The clairsentient abilities of perception she had as she was growing up were irritating to her: "It was involuntary and I was insecure about it. I had a lot of nervousness around it. But I no longer harbor that insecurity. It's like a current you tap into and you go with it."  Her keen ability helped lighten the mood when someone around her was in a vulnerable place, and it led her on the path of a nursing career – a practical place for someone who functioned well in chaos.  
Her work in an emergency room during the pandemic forced her to examine what she was doing with her nursing education and knowledge.  "The part about nursing that was worth it for me was connecting with humans; but here I was putting on a helmet, multiple masks, an air purifier and working with patients. There were too many degrees of separation and I couldn't remain in the environment," said the 2009 Lakeland High School graduate about why she left traditional nursing. She landed next at a major news network as the Wellness Nurse for employees. But that didn't last long because all the employees of the company were working remotely and hardly anyone came into her office in the basement of the Manhattan building. She was the first nurse the company hired for their employees since 1976, and she had high hopes for the position, but left after eight months. That was in February of this year. "I feel like I'm continually being pushed," she said. "My mom says I was born with one foot out the door," she jokes.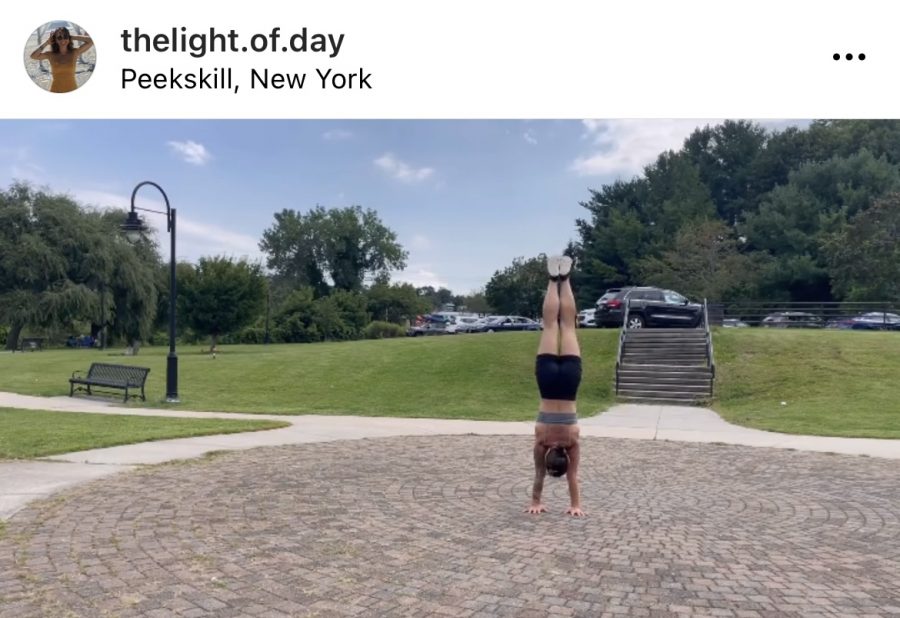 That foot her mother referenced did 12 years of competitive gymnastics growing up in Cortlandt Manor – along with dance, cheerleading and yoga.  It's easy to see how movement has shaped her life. She's prolific on Instagram with some 2,300 posts in the last 5 years. Recent ones show her using movement at locations throughout Peekskill such as the Depew Park pavilion, or Charles Point and the Riverfront.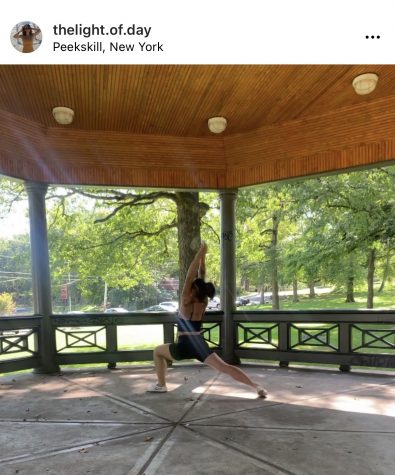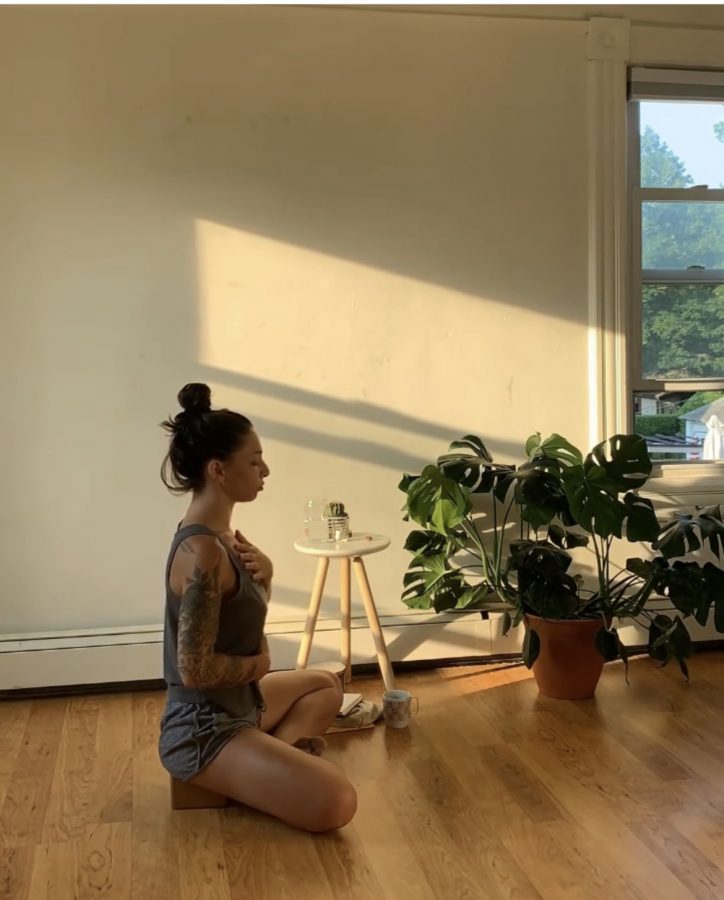 The ability to balance physically corresponds to a principal tenet of her coaching business. She sees a greater consciousness opening up for people around the masculine and feminine. The dominating power of the mind (masculine) needs to be balanced by the intuitive receptive power of the feminine and she helps people understand power with rather than power over such as society has lived with for centuries through patriarchy.
Often her posts are bold statements with words such as, "Before You Ask For Healing Make Sure You're Willing To Give Up What Made You Sick" with six paragraphs explaining how healing work is not circumstantial work.  "If you are operating out of 'as long as' you aren't ready yet." As 'long as' can be defined by what a person feels they can't live without such as certain foods or drinks. Much of her content comes from making people feel seen, loved, understood. People need to know they are seen and guided. Her goal is to return to school to pursue a degree as a Nutritional Therapy Practitioner. 
A modern-day mystic, she says to be a channel is to be nothing and everything at the same time. "Oftentimes, I'm directed to give a message. It's not mine to keep."  She accesses the flowing current by engaging in practices that allow her to tap into it. In keeping with the ancient custom of spending 40 days with a particular routine to provide clarity to one's life, she completed in August a 40-day morning ritual that included meditation, breathing exercise, yoga and journaling. She called it 40 Days of Devotion where she practiced intention, self reflection, gratitude, sitting with herself, feeling into her body, silencing her mind and loving every ounce of herself that showed up for 40 days.  
During that period, she awoke earlier than usual to begin meditating to empty herself from thoughts, desires and opinions. The first nine days were tough. "I was thinking, 'what am I supposed to do in this space for 40 minutes?' I would hear my inner critic and my thoughts were all over." By the tenth day, she felt comfortable.
Her big takeaway from that 40-day discipline was the sense of safety she created within herself despite the initial discomfort.  By ensuring, "I'm going to do this thing every single day, without questions, I'm going to meet myself there, I am rewiring my trust and safety within myself, when I say I'm going to do something I'm going to follow through with it." In the beginning she said she thought, "I can't do 40 days,'  and then you do it, over and over again and you continue and you prove how strong you are by sheer willingness to move through the discomfort." 
That's a valuable lesson because she believes "one of the human wounds we all deal with is disappointment, it stops us from completing or starting an activity or meeting new people. It takes away from our experience because we are afraid. Fear can be crippling in our collective consciousness. It is why community is so important. When you are putting yourself in a position to complete something, carving out that specific time for this thing, all these judgements and ego comes out, but in sitting with this discomfort, a sort of peace resides inside your belly."
 By sitting with the discomfort and moving through it yields the ability to make herself the priority.  "In our society, making yourself the priority has sounded selfish. Until now. But this is what needs to happen in order for collective consciousness to unfold, we have to meet ourselves."   Sitting in stillness and emptying the mind is a serene parallel to the stillness required to balance on a beam or do a handstand.  "Movement requires focus and you have to stop your brain from thinking," said Gralla.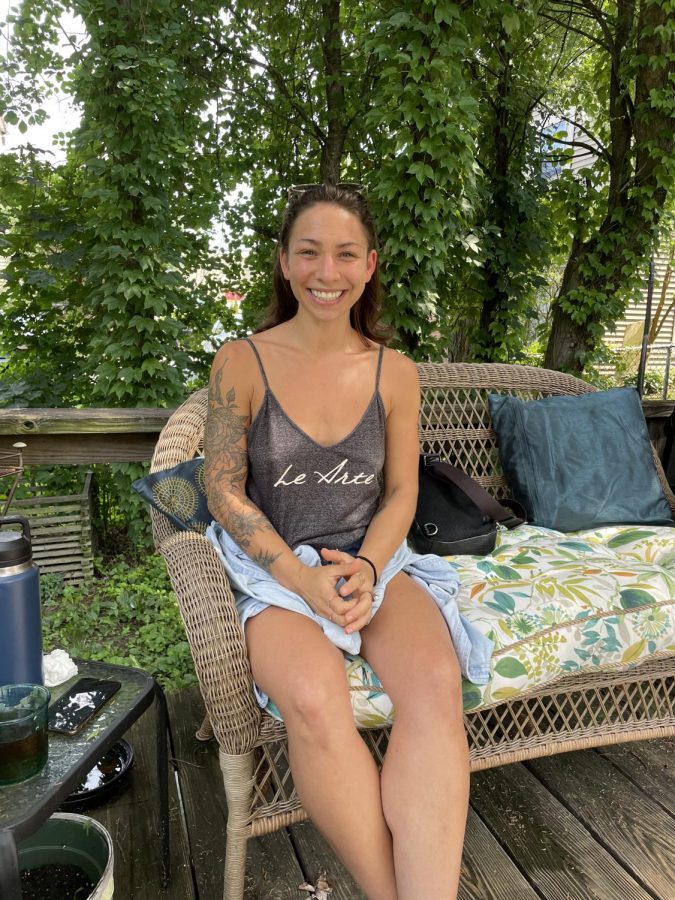 Through her Instagram posts, people connect with her. Last weekend she was hired by a woman in Brooklyn to create a full moon ceremony at the woman's apartment, honoring and acknowledging the power of the moon through dance, song and reiki.
When she was at a student at the University of South Carolina she began painting because as a creative outlet. "It became a therapeutic process." Her art was displayed at Peekskill Coffee House this summer and she continues to paint. This week she was at Primal Bowls in Yorktown preparing for painting a jungle scene mural on the wall. Primal Bowls is owned by a Peekskill couple.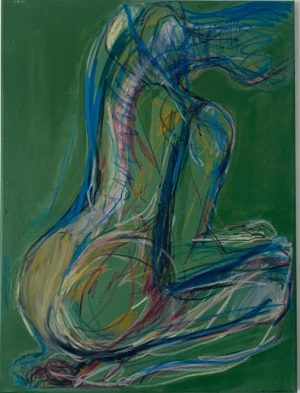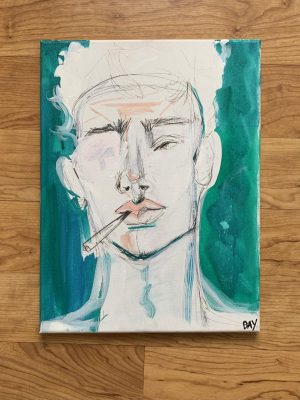 The work of transforming collective consciousness requires patience and persistence. By chronicling her journey, Gralla is shedding light that radiates well beyond her followers.