Cait Cuevo Spins Hoops As Art Form
Offers Free Workshop at Feel Good Music Series Saturday at 11
I have a confession to make. I cannot hula hoop to save my life. In my 38 years on earth, I've tried over and over again to hoop it up, yet every single attempt ends with that tricky little plastic ring throwing itself back on the ground, usually within three seconds. I see someone gracefully shifting back and forth on their feet like they were born knowing how to do it and a flicker of jealousy washes over me. It all looks so effortless. But for me it's most certainly not. I just can't do it. I say all this because who better to write an article on our local hula hoop artist than someone who can't make it happen, no matter what? And what better way to learn about her amazing teaching skills than to have her give me a lesson? Spoiler alert: she had me hooping in five minutes.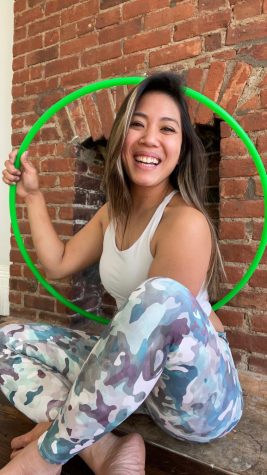 Meet Cait Cuevo, 28, hula hoop artist and teacher extraordinaire. A Yorktown native, Cait left her job as a data analyst in the corporate world at the start of the pandemic, took a leap of faith and now does what she knows she was born to do: perform and teach hula hooping. She's never looked back and our community as well as students all over the world are now benefitting from her leap into the unknown. She has a studio in The Flats building on Main Street where she teaches virtual classes to all age groups, a shop on Etsy where she sells and ships her homemade hula hoops all over the world and endless hula hooping content on her social media platforms. She boats an impressive 109,000 TikTok followers and 19,000 Instagram followers who have liked her content over 1.9 million times.
As so many of us experienced, Cait found herself without work at the beginning of the pandemic. She always knew in the back of her head though that she wasn't happy there anyway. Once the entire world closed down, she took the opportunity to explore what artists of all mediums found themselves gravitating towards, the online space. She started teaching free workshops on Instagram, then tutorials followed that, huge popularity and now her entire world revolves (pun intended) around hula hooping. And she couldn't be happier.
She graduated from SUNY New Paltz with a degree in economics and it was while in college in 2017 that she started hula hooping. "I used to work in the corporate world where my whole life revolved around that job. I'd go to work miserable and come home miserable. But now I'm excited when I wake up, thinking 'what am I going to do today? Make a tutorial video? Build hoops for people?" Cait's work ethic and commitment to spreading her art to anyone willing to try is inspiring. She took the opportunity online space offers and ran around the virtual globe with it. She refers to herself as a hoop smith because she makes them as well. Using irrigation tubing and tape, she sells them for $40.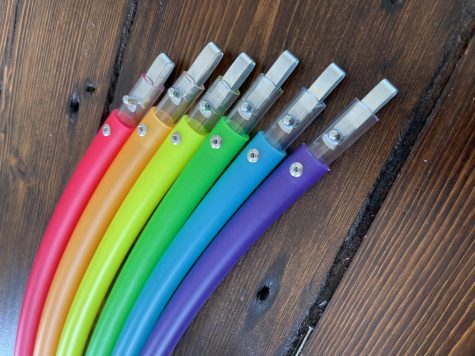 "When you're teaching in person there are only so many people you can reach. When you're online, you can touch many, many more lives. I have clients all over the world now."
Lessons from Cait:
When you're looking for the right hula hoop, you want the top of it to sit at your belly button while the bottom is resting on the ground. The bigger the hoop, the easier it is to master moves because it rotates slower around your body. Most hoops that people buy at Walmart or Target are too small to learn with. Visit her website to find guides on buying the right hoop for you.
Take your hoop around your waist, hold it against your back, make sure you're in a mountain stance, move the hoop to one side and throw it to the other while keeping as flat as possible during your toss.
Next, you're just going to shift your weight side to side like you're a grandfather clock. As the hoop is touching one side, you'll shift to the other side. It's a really subtle movement and realizing that makes a huge difference.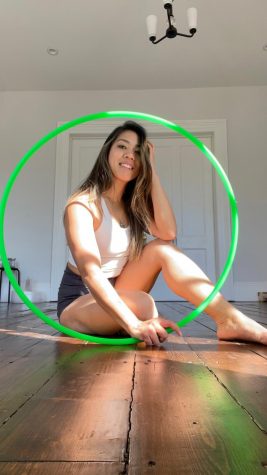 Now, stop thinking about it! Just let it happen. Once you get the concept down, you'll see it's easier than you thought it was. She's right.
Out of curiosity, I asked Cait if she'd ever met anyone who she knew right away couldn't ever learn to hula hoop.
"The only people who are incapable of hula hooping are the people who are incapable of taking direction. Stop thinking about it. Just do it. Once you find the rhythm of it, you've got it. What I love about hula hooping is how it applies to your entire life. You have to be patient. It's not about the goal or destination, it's an unlimited journey. You can keep doing this for the rest of your life and you'll never stop learning. It's a beautiful thig."
Update: I've been hooping while interviewing Cait for about 15 minutes now. This is unprecedented. She's officially a teaching genius with magical 'you can do this' powers everyone should experience.
Cait will be teaching and performing for free on Saturday Aug. 21 at 11 am. at the Feel Good Music Festival at Charles Point. Stop down and find your own rhythm.
Follow Cait all over social media where she has endless informative content including tutorials, live streaming classes, guides to buying hoops and so much more. On Instagram she's @ hoopwithcaith on Tik Tok@hoopewithcait You Tube@Hoop with Cait and Etsy shop @hoosbycait