Lyn Slater, the Ever-Evolving Accidental Icon
Lyn Slater is all about reinvention. The social worker and professor who became a fashion blogger and influencer at age 61 recently made another big change in her life. The woman known to her hundreds of thousands of social media followers as the Accidental Icon recently moved from New York City to Peekskill, from a small apartment to a big old house, to a place where she plans to continue evolving and growing.
Slater's first big transformation came about in 2014. A professor and social worker for years, Slater felt constrained in academia about how she could write and present herself. She started taking courses in New York City fashion schools where people commented on her great style and suggested she start a blog. After a great deal of research, she did just that.
Her blog got its name after photographers mistook her for a part of fashion week while she was waiting to meet a friend at Lincoln Center. When her friend came upon Slater being photographed, she called her an accidental icon, and the blog had its name.
Slater's blog, with beautiful photographs of the fashionable Slater taken by her partner, Calvin Lom, quickly garnered a tremendous amount of attention. Slater landed a contract with Elite Models of London and went on to be featured in international magazines. Her photograph was plastered on the sides of buses in London. She traveled around the world to give speeches and pose for photographs. Slater's work attracted more than 750,000 Instagram followers ranging in age from 13 to 90.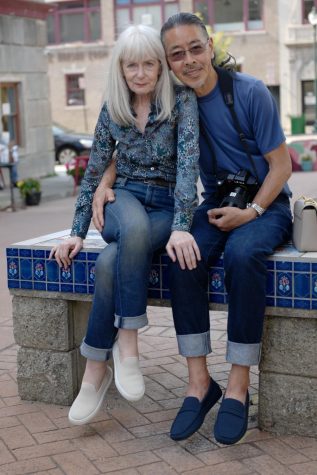 "My goal when starting my blog was to express myself more creatively, particularly through writing in ways that academia would not support," Slater said. Her work had a positive side effect. "Without intending it, my platform has been able to change stereotypes about what it means to be an older person at a time we are living much longer lives."
Slater, who is now 68, says that she was initially unhappy with some of the physical changes that aging brings. "One day I just decided to accept it because it's inevitable…. I decided to see how creative I could be in responding to it."
This Accidental Icon credits her wide appeal to the fact that she is an ordinary person who refused to follow society's dictates. "I am just an ordinary person who reinvented myself at age 61," Slater says. "This allows people to have another view of what it means to be older. If you are young and stressed about doing everything before you are 30 you can relax as you'll have endless opportunities to reinvent yourself throughout your lifetime. For those older I think I suggest you don't have to accept what society says about being old and you can be who you want to be."
The pandemic prompted Slater to think more about who she wanted to be. It also pushed her thinking regarding where she wanted to live.
"I was living in a small apartment with no outdoor space and was separated from my family. It was especially hard not seeing my daughter and granddaughter. Since we planned to move from the city when my partner Calvin retired, we just sped up the timetable," she says. Why Peekskill? "We wanted to remain in a diverse community, one that supported creative people and was close enough to the city for Calvin to commute and me to get in if I needed to for work. Being on the Hudson was a plus."
Slater is delighted to be making her home in Peekskill. "Peekskill is a city that seems to always evolve (like me) and so I am very comfortable here and being part of that process."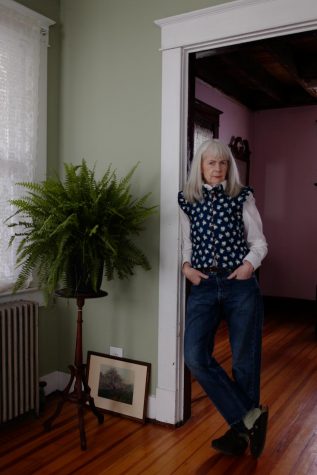 Since moving to Peekskill, Slater is very deliberately thinking about what she wants to do in this next stage of her life.  "While I was moving in this direction before, I've become more focused on sustainable living and design," she says. "I find myself posting less and spending less time on social media and am enjoying experiencing real life here instead."
Slater and her partner are working on fixing up their old house. "I have always been a historian, so diving into the research about what the original design of both the house and landscape is exciting. We're trying to recycle as many materials as we can and are trying to not buy anything new, so we've been having great times going to flea markets and antique stores. We want to do much of the work ourselves so it's a slow process but that's okay with us."
In addition to renovating an old house, Slater said that since the move she has been writing more, taking photographs of things other than herself, and choosing a craft that she really wants to delve into. "I have a passion for lifelong learning," Slater says, "and the artists community here is inspiring me to find a craft I want to practice."
Slater also wants to use her many talents to continue to make positive changes in the world at large and in her new hometown. "Living through a pandemic has created profound changes in me and a re-commitment to the social justice work I did as a social worker and professor," she says. "I've also become more focused on trying to create content that supports my community, environmental efforts and equity.""We'll see what that means as I continue to explore the countless possibilities of Peekskill."