A career based on the love of learning
Mary Foster retires after 37 years in Peekskill schools
By Regina Clarkin
A bright yellow patent leather pocketbook captivated the attention of the profoundly disabled girl who was Mary Foster's younger cousin. The child's fascination with that purse was the impetus for Foster's career in education that ends next week after 37 years in the Peekskill City School District. 
"How can I unlock her brain? I wanted to know why she could and couldn't do certain things," recalled Foster in an interview in her second floor office at the school district's Elm Street Administration Building this week.  The 63-year-old, who is retiring as assistant superintendent for Elementary Education, earned a PhD along the way while also doing a stint at the district's helm as interim superintendent four years ago.  
The curiosity about her cousin Lynn guided her in making decisions about a career choice. She believes she was lucky because she knew what she wanted to pursue from a young age. She 'found her voice' as a high school student at the all-girls Mary Immaculate School in Ossining and studied at Loyola University in Baltimore for a degree in elementary education and a masters degree in special education. After teaching for a year at a Catholic grammar school in Millbrook, she began her Peekskill career in 1984 at Park Street School which was an annex of Hillcrest Elementary School. Hired by principal Vincent Burruano, Foster taught in all of the elementary education buildings during the 19 years she spent in the classroom. The second eldest of seven children, Foster says it was principal Delores Jones of Oakside who first recognized her leadership abilities: "I was running a lot of the committees in the building, and she would say to me at the end of each year, 'you really ought to go into administration'" recalled Foster.  But she wasn't ready for that until 2001 after two of her three children were in their 20's and her youngest was 10. 
"I can't minimize the value of having family close by and having a supportive husband," said Mary. In fact, her doctoral dissertation is dedicated to her husband of 43 years, Bill, whom she credits as being the one person who is the 'wind beneath her wings'." She recalls the time when her children came down with chicken pox and she knew that she couldn't be out of the classroom for an entire week. She enlisted her parents and siblings to each pick a day they would take care of her children while she went to school. At this end of her career, it was again family that played a role in her decision to retire. "I tell people 'I'm leaving for love'." Her husband, who had a career in banking, retired two years ago and they bought a home at the Jersey Shore where his family is from. She wasn't ready to retire just then, and has been living in Buchanan with her dad who is 89 years old.
The journey from teacher to student of higher education for Foster began with earning a certificate from the Future Schools Administrators Academy (FSAA) offered by Putnam Northern Westchester BOCES and Teachers College at Columbia University. During the two years of coursework at the Academy, one of her teachers was Dr. Thomas Sobel, former Commissioner of the New York State Education Department. That program contributed to her becoming hooked on furthering her education.  "I love taking courses," she joked, explaining why it took her six years to complete the doctorate from Manhattanville College instead of three. "It was the writing of the dissertation that took the time. I'd rather take the courses," she said, laughing. 
With the certificate from the leadership academy in hand, she became the director of the Early Childhood Center (pre-kindergarten and kindergarten) at Uriah Hill after principal Jim Taylor retired. Two years later, she was asked by then Superintendent Judith Johnson to go to Woodside as the principal of the building with third and fourth graders. She ended her principalship tenure after five years at Oakside and moved to the central office as assistant superintendent for Elementary Education, a role she's been in for six years. 
In April of 2017 the district faced a challenge with the abrupt resignation of Superintendent David Fine. A few months later, Foster was appointed by the Board of Education as a 'placeholder, holding the district together' as she termed it while a search was undertaken for a new leader.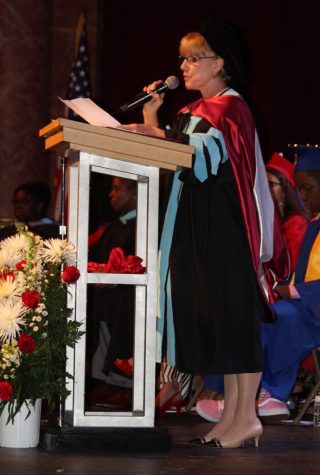 It was a year of learning for her, especially when it came to making tough decisions for situations around students not meeting qualifications for graduation or with behavior issues involving long term suspensions. She was grateful for education law and Board of Education policy which spelled out what could and couldn't be done.  Being in the position of making those tough decisions reminded her of the joking she and a colleague would do when they were young teachers at Uriah Hill, saying "If I was running the district, I would …"  
With the experience of actually having the power to 'run the district' she realized that as much as she loved the job of interim superintendent, she also loved leaving it and handing it over to someone else. "It showed me that it wasn't the role for me. The superintendent has to be political and has to be a visionary. I'm most comfortable working with principals and teachers at the elementary level. Superintendents need to have the lens of secondary education as well.  It was a learning opportunity for me to serve all the children of the district but it was never the role I coveted."
From taking a look around Foster's office, it's clear her passion is for the education of young children. Framed kid's artwork shares space with plaques from prestigious colleges and universities, attesting to her diligent and sustained studies.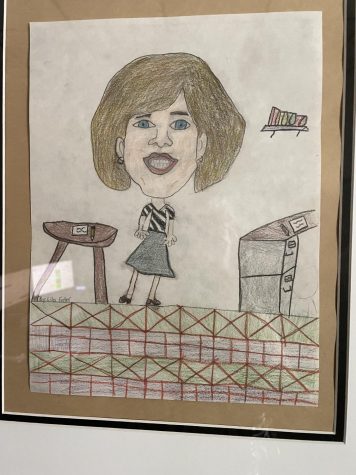 From her 37-year vantage point, she's seen major changes in the Peekskill City School District; the most pronounced being the shift in demographics. She is proud that the district's dual language program has been in place for 15 years and has expanded. It is now available for grades pre-K through 5 where kids are taught daily in English and Spanish, with a heavy emphasis on literacy.  The growing population of Latinex students was a contributing factor in her decision to write her doctoral dissertation on translanguaging as a teaching practice in dual language early childhood classrooms.  Translanguaging is when a multilingual person's full linguistic repertoire is used and honored, instead of trying to keep narrowly focused on a single language. "We believe, along with many experts, that growing up bilingual is beneficial for both children who are English Language Learners and those who are from English dominant homes," said Foster. 
She points to the creation of the Lisa Rolleri Parent Welcome Center at 400 S. Division Street as an example of the district putting money and resources behind its mission to reach out and engage parents. Creating the parent resource center, with a full-time director, is the way for parents to be asked what they need and heard. "In the past, we used to think we knew what parents needed and we'd create programs and then when people didn't come, we'd be disappointed," said Foster. There has been a shift in thinking, she explained, "If you're going to serve the community, you have to ask them what they need. Dr. Mauricio is very skilled at understanding what parents need," she said about the current superintendent. Peekskill is one of the few districts in this area with a center dedicated to parent resources. 
The emergence of a district-wide Parent Teacher Organization is another example of how she's seen the district evolve. "It used to be that we had separate PTO's in each building, they were all silos. That changed with one PTO that works for the good of all the students," said Foster. 
Her greatest administrative challenge has been reaching the goal of every elementary child in the district reading at grade level. "We still struggle with that," said Foster. She's encouraged about new strategies to increase vocabulary and one particular program, used in Oakside, which has been especially successful. Foster and Oakside Principal Crystal Hernandez have been so impressed with Infercabulary's success, they wrote a  proposal to present at a teacher's conference in January. They will learn in August if their proposal is accepted.  It was through a connection that Foster made at one of the courses she took that led to meeting the creator of the program, who is a speech and linguistics teacher.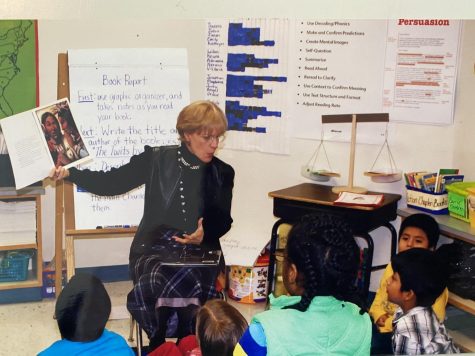 After her experience 'running the district' as interim superintendent, Foster was told that she could easily leave Peekskill and take a leadership role in another Westchester district. But that was never going to happen, she said, "because of the kids, I could never leave this district." Another change she notices in the culture of the district involves the passion that people bring to their jobs. "Peekskill deserves teachers who are passionate and have a can-do attitude. We tell people who are applying that if they are looking at Peekskill as a stepping stone, then it would be better that they pass on applying to us. I believe working here is a calling," she said. 
On June 30th, the Board of Education will name the library at Oakside Elementary School where she spent five years as principal, the Dr. Mary Keenan Foster Library. It's an acknowledgement to the inquisitiveness of that little girl with the bright pocketbook who has illuminated for thousands of children the power of learning.