Make Pugsley Park a Destination as a Town Square
By Rob Scott
Peekskill is a city that has given me so much. I'm proud to have lived here for decades, I'm proud to have started my business here, and I'm proud to be raising my family here. This is a city that is so special in so many ways, which is why I want to give back to make it even better by serving as a City Councilman.
Recent state grants, and the hard work of Mayor Rainey, Deputy Mayor McKenzie, and the City Council have us moving in the right direction. I want to build on that progress to achieve our common goals and dreams – starting with making our city more family friendly. That starts with turning Pugsley Park into the crown jewel of our downtown. I was fully committed to working day and night to transform Pugsley Park even before I heard that the City had received hundreds of thousands of dollars from the Downtown Revitalization Initiative Grant to do exactly that. Now, we have the opportunity to reimagine it as our "town square."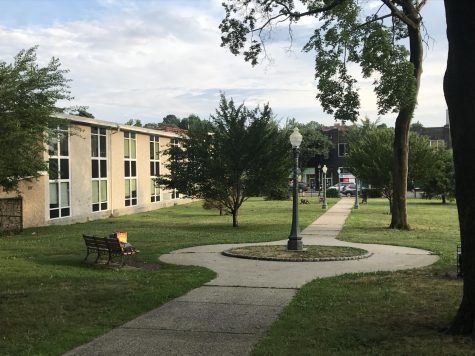 When we talk about making Pugsley Park a destination for passive recreation, I'm not talking about a couple of benches: I'm talking about landscaping with trees, bushes and flowers, and creative seating that will in itself serve as a destination and attraction. There are a number of parks around the country and around the world that have let their imaginations run wild when rethinking how people can sit and enjoy space; Peekskill has a number of truly creative artists who can create our own version of such an attraction.
There has been discussion of creating the option to rent parts of the park for exhibitions, whether of artwork or otherwise. We should sponsor competitions to bring out the true spirit of Peekskill through art in the park and display it proudly and prominently.
A park like that would be a game changer for our city. It would change the complexion of our downtown and fundamentally alter the way our residents interact with the city. But it would be just the start. We can build on the $4 million investment that is bringing the Boys and Girls Club into the Kiley Center. ($1.5 million from the state and $2.5 million from the county.) I would like to expand on the work I do as a volunteer lecturer with the Peekskill City School District where I teach kids about how to stay healthy, and through my non-profit that provides free, healthy meals to children in Peekskill. And I'd like to complete the process I started with UNICEF to get Peekskill certified as a "child friendly city," which means a better life for our kids.
Together, we have the power to define and redefine our city! Let's build a Peekskill that lives up to all of our expectations, hopes, and dreams.
Rob Scott is running for a Common Council seat on the Peekskill Democratic City Committee line. He is the proprietor of PK Blendz on Main Street.